Supply Chain Visibility Software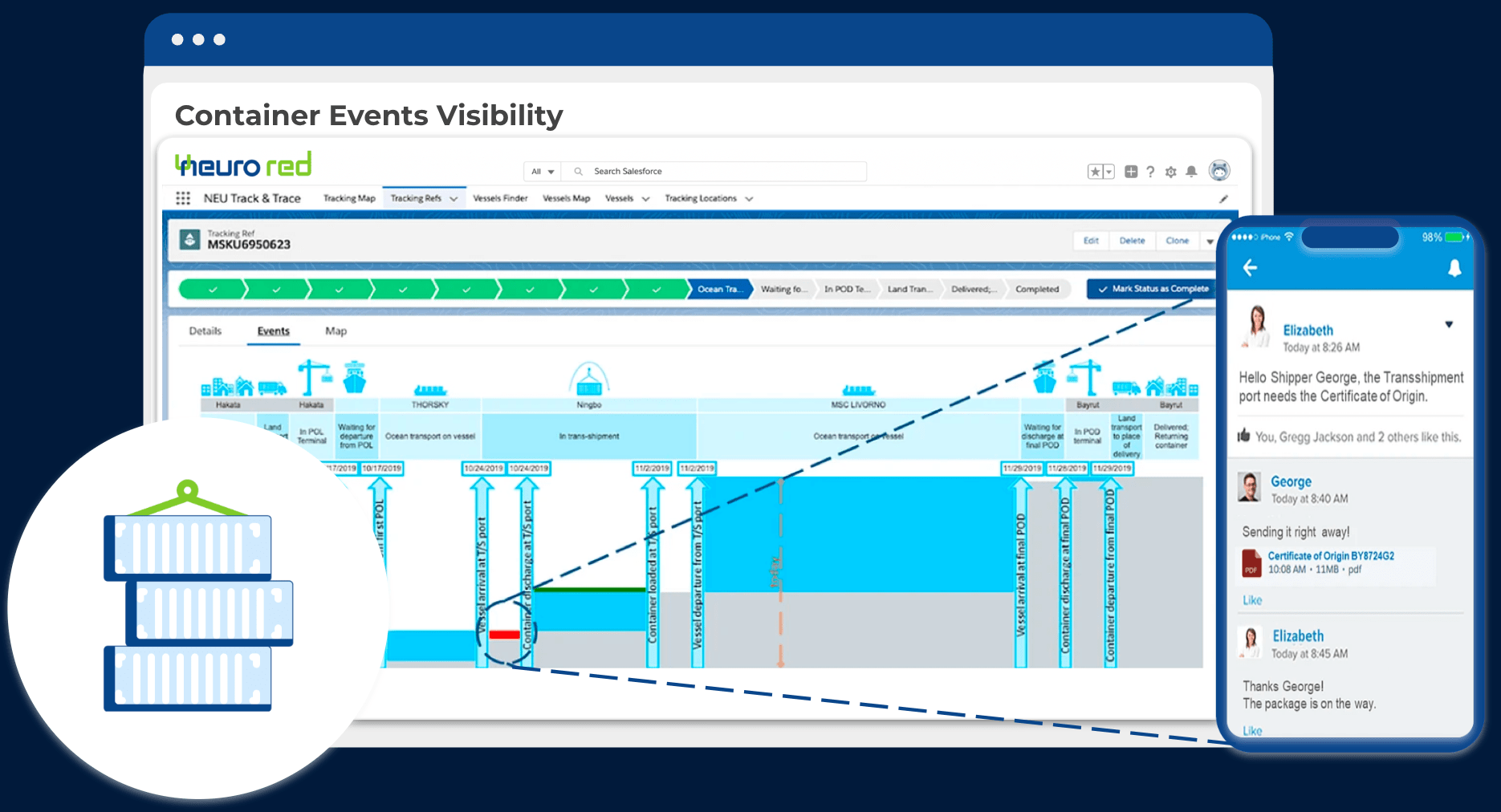 Real-Time Multimodal Transportation Visibility solution for enterprise-level, end-to-end tracking with an all-in-one supply chain visibility software. Fully compatible with Neurored's Supply Chain Control Tower.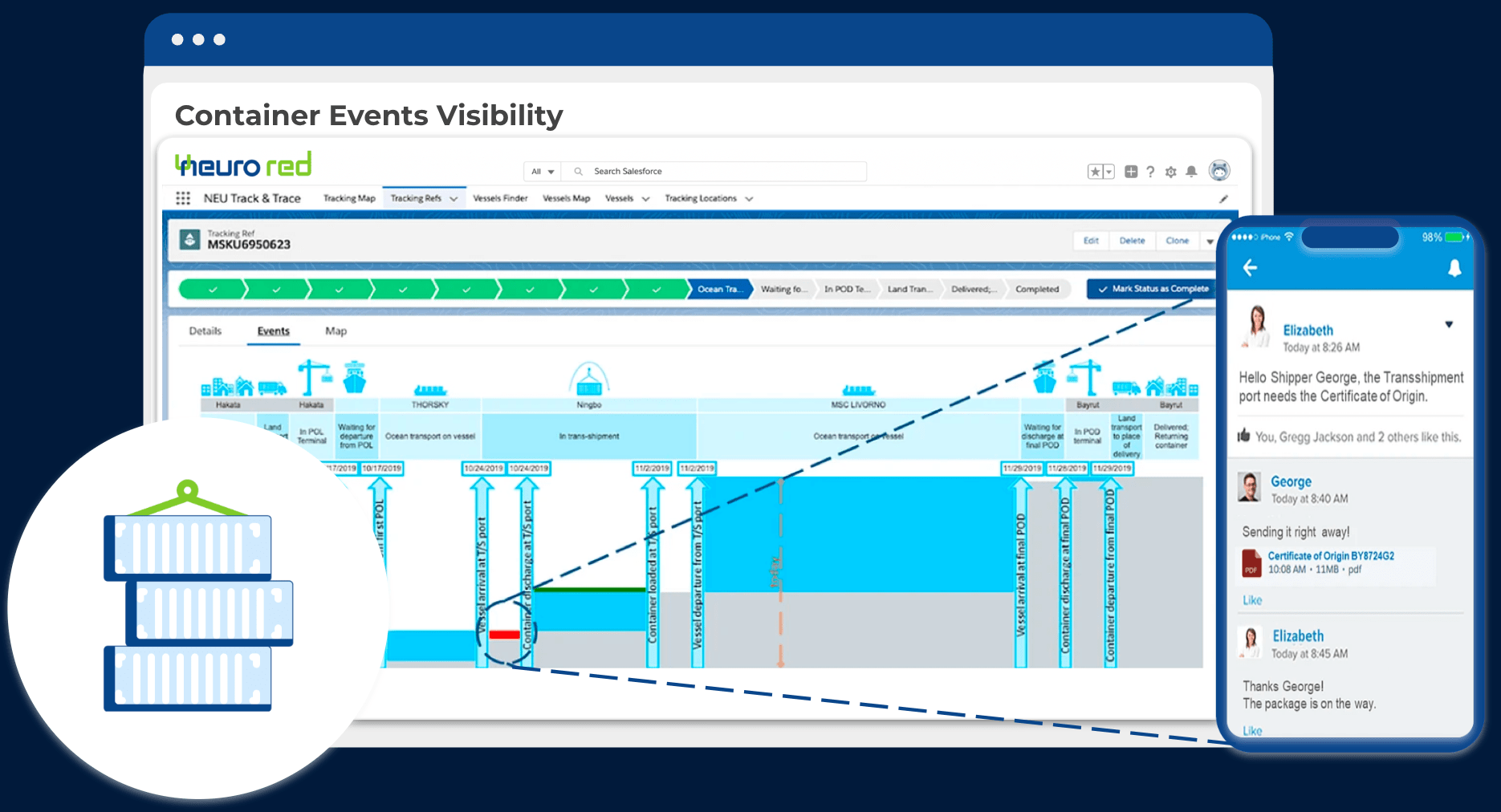 Supply Chain Visibility Software Features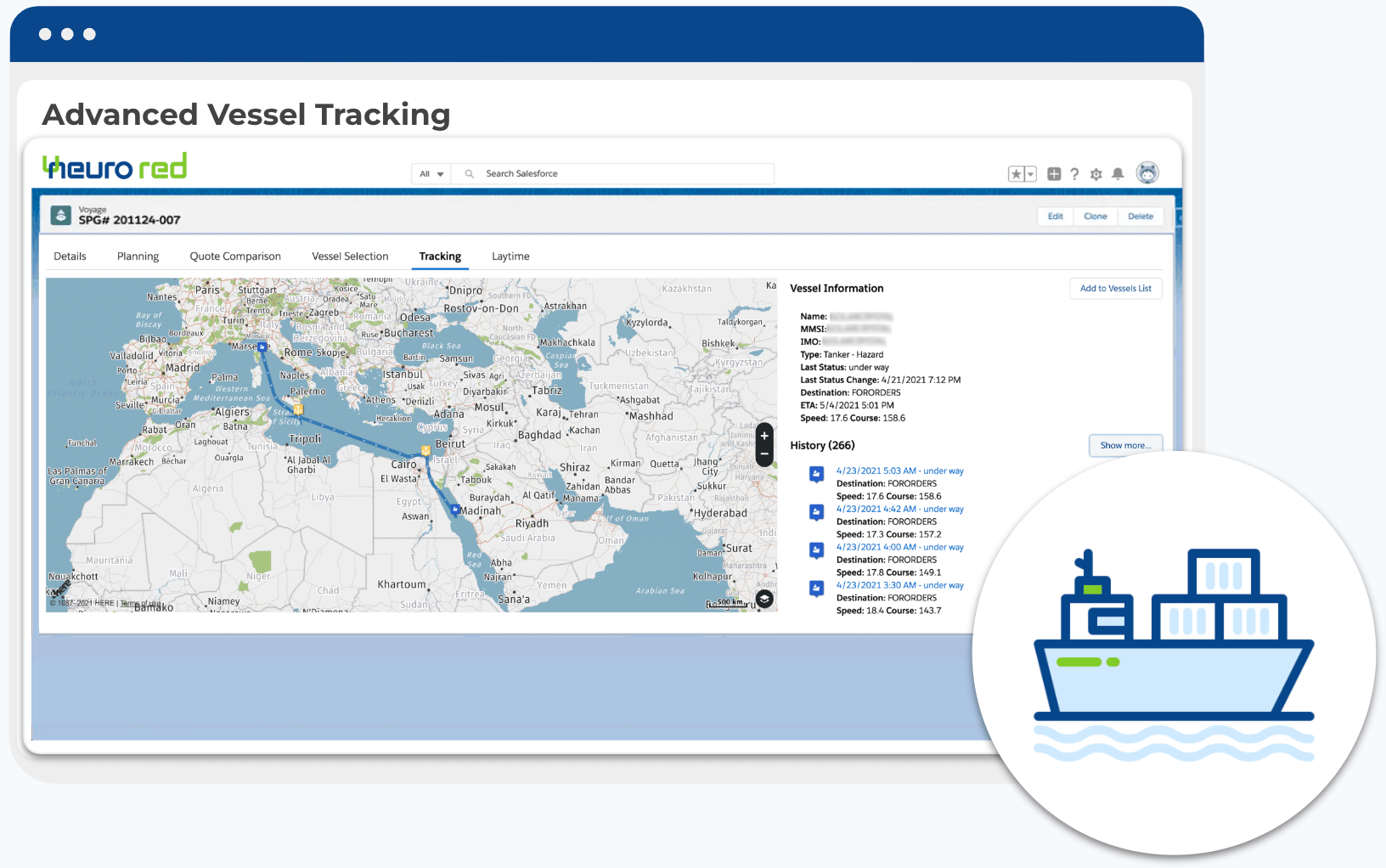 Track the real-time status of any vessel in the world. Get detailed AIS satellite tracking information and deviation alerts in case of exceptional circumstances. Neurored offers superior supply chain visibility by:
Tracking any and every vessel in the world
Offering high accuracy through the fastest refresh intervals on the market
Enabling easy API connections for customers

Container Events Visibility & Alerts
Get a real-time overview of events across the world from all leading container lines. Track all the relevant container events from pickup to delivery, get notified about logistical delays, and take corrective actions. With Neurored, logistics businesses get:
Visibility across 160+ Container Lines
Containers tracking events across ocean and road transport
Configure alerts based on – Demurrage and Detention; Delays (or advances); Errors and Expirations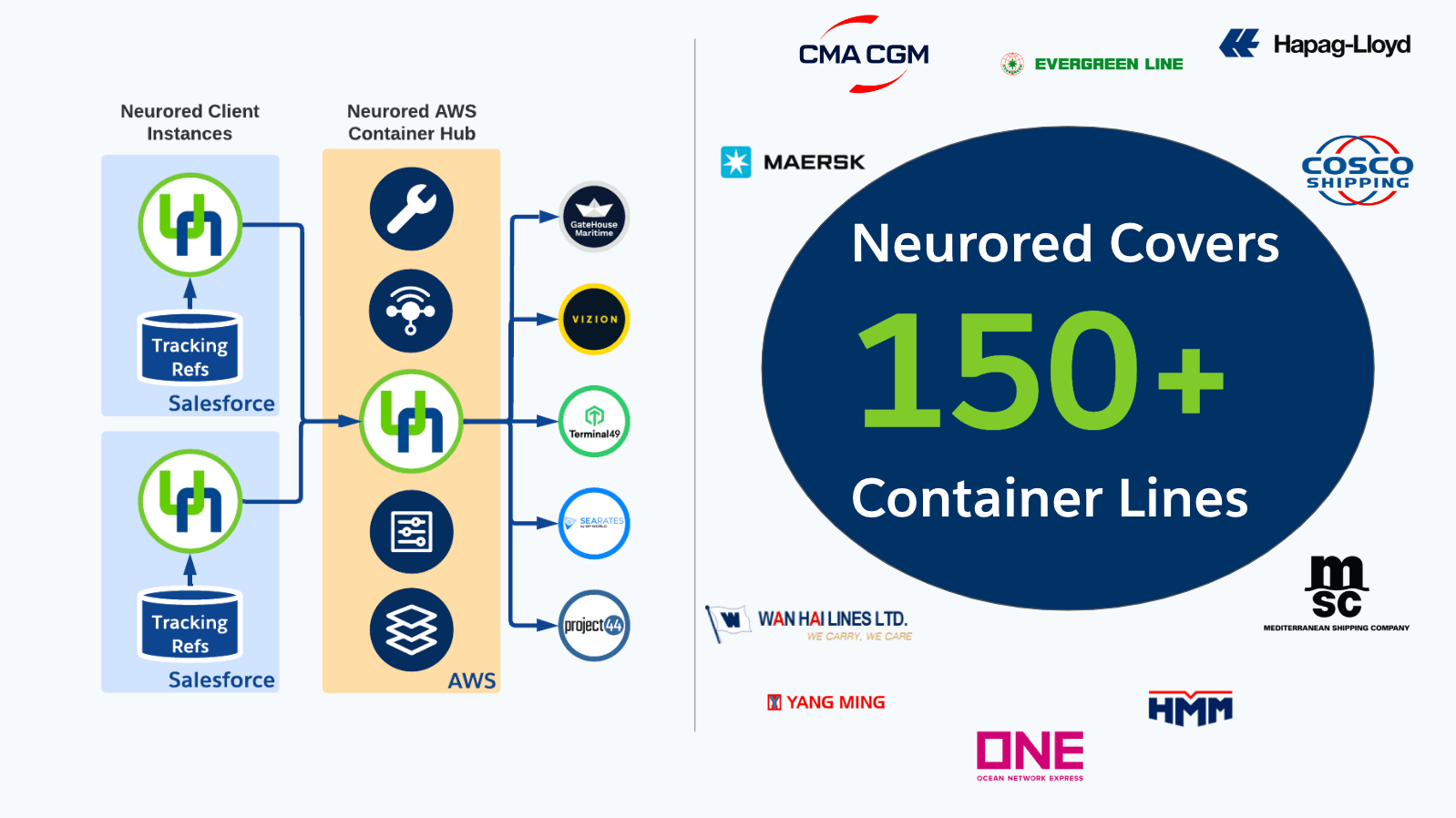 Aggregate tracking data from multiple data sources for better carrier coverage and data quality. Neurored has the most robust tracking data because it:
Integrates Multiple Tracking Suppliers: Ocean Insights, Terminal 49, VizionApi, SeaRates, and Gatehouse Maritime are just a few examples.
Automatically Looks for Tracking Sources Alternatives: if the data is not being received on any specific tracking refs.
Air-Cargo Freight Tracking
Utilize Satellite Air Tracking to receive Air Cargo Events straight from hundreds of airlines worldwide. Harness this data to establish deviation alerts for your team and customers. Neurored's supply chain visibility software provides the following:
Tracking coverage across 120+ Air Cargo Carriers
Air freight tracking across air and road transport
An easy API connection

FTL Road Transportation Visibility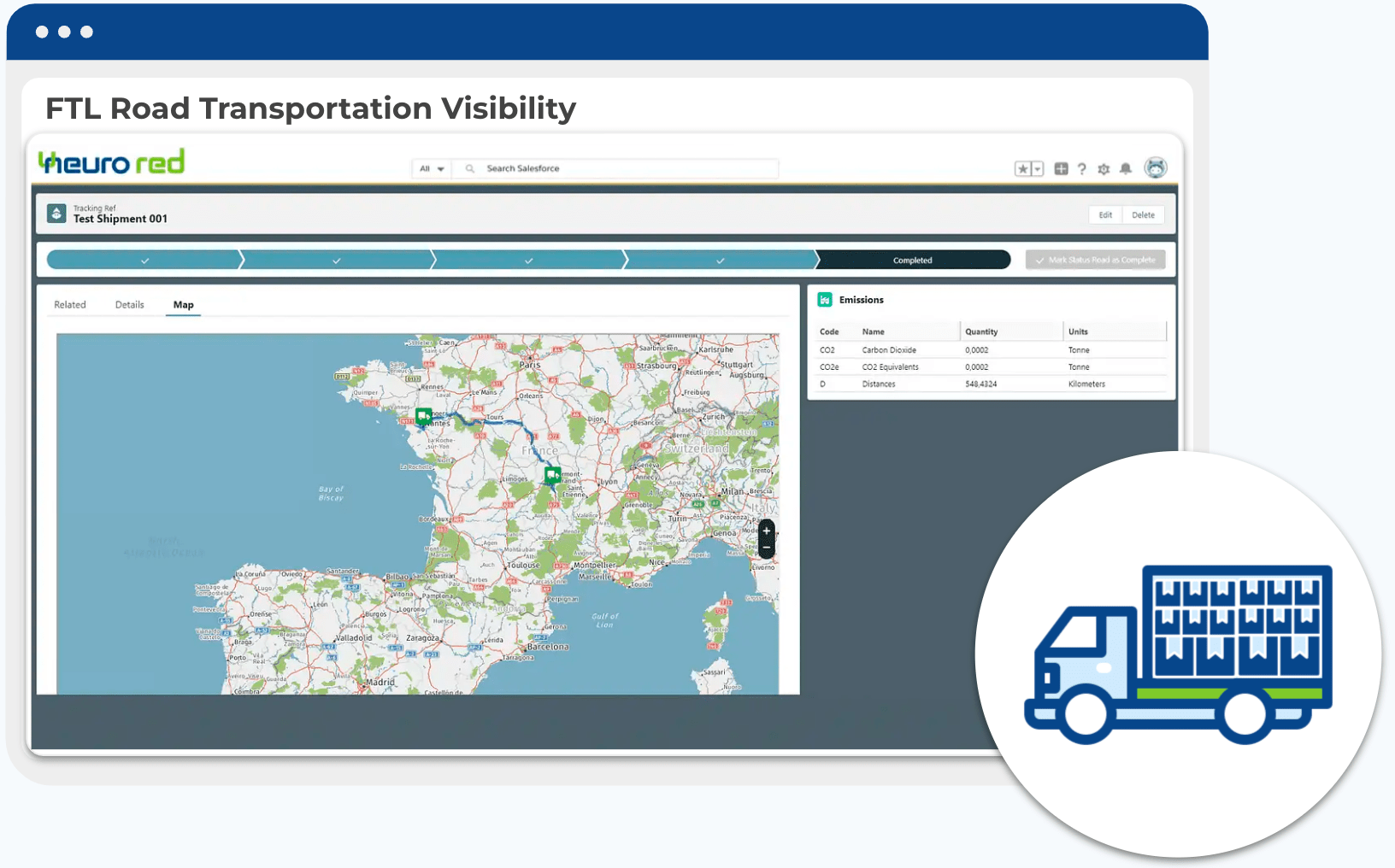 Track FTL truckload status, location, and events in real-time by connecting with Electronic Logging Devices (ELDs). Neurored's software helps logistics businesses get:
Tracking coverage across 8.5 million trucks and 70,000+ Road Carriers
Additional integration with any leading trucking carrier on-demand
Custom alerts for delays, route deviations, and geofencing non-compliance
Additionally, businesses can also manage fleet routing Neurored's Transportation & Logistics Optimization Software
LTL Road Shipment Tracking
Integrate with global best-in-class LTL (Less-Than-Truckload) visibility providers to get a real-time status, location, and events of all your LTL road shipments. With Neurored's visibility solution, supply chain teams can:
Get tracking information from 600+ Electronic Logging Device (ELD) Manufacturers
Create custom integrations with strategic LTL visibility partners on-demand
Stay alerted of delivery delays and route deviations
Dispatching teams can also plan LTL cargo routing and loading with Neurored's Transportation & Logistics Optimization Software.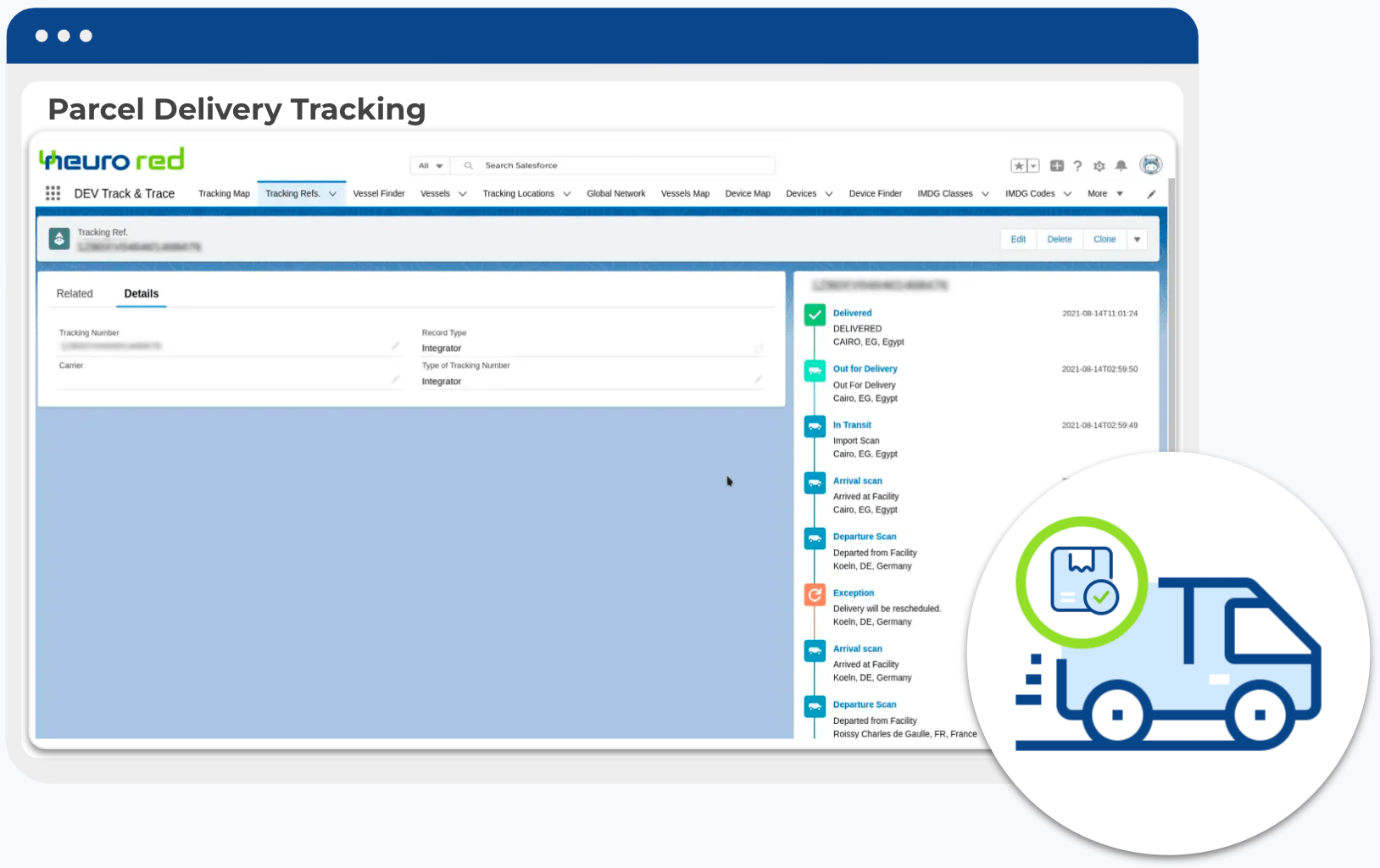 Leverage pre-built integrations with all leading global parcel companies. Neurored partners with the best-in-class providers in the industry to give you supply chain visibility at suitable levels of detail and cost. With Neurored, businesses can:
Integrate with 85% of all Parcel Carriers
Integrate with the customer's strategic parcel carriers on-demand
Get a native mobile app for delivery tracking and collaboration
Asset & Inventory Visibility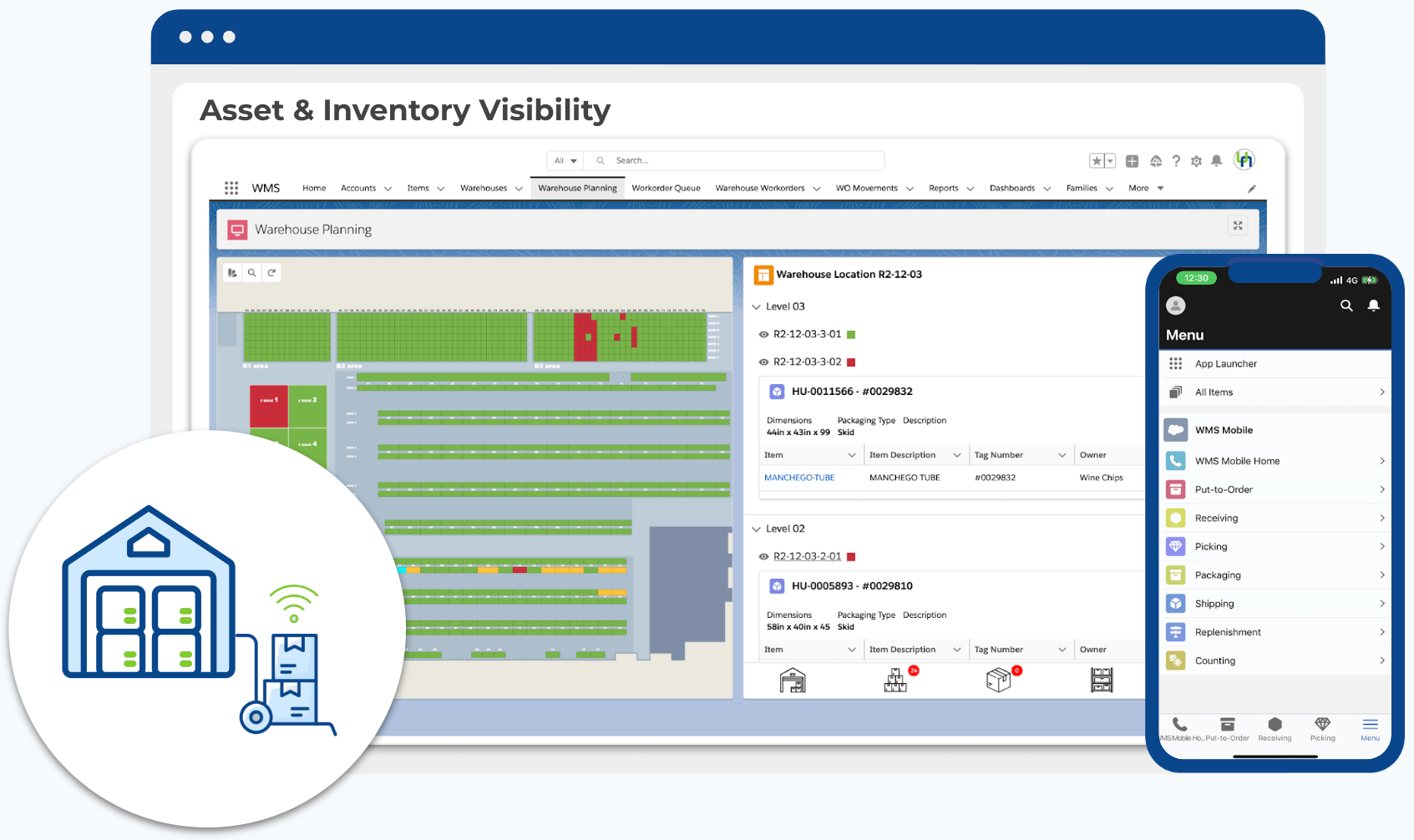 Get unmatched supply chain visibility by adapting to warehouses of any shape, size, and configuration. Neurored's software gives 3PL businesses better over their logistics by:
Providing superior inventory and asset tracking for clients and their customers
Enabling 3PLs to access Wifi/ BLE Tags & Access Points Technology as-a-Service
Allowing clients to offer Warehousing-as-a-Service services to customers
Want better control over your warehousing logistics? Check our Neurored's Stevedoring and Warehousing Operations Software
Multimodal Supply Chain Control Tower
Connecting all business systems with Neurored's Supply Chain Control Tower Software enables transportation & logistics businesses to efficiently track shipments globally across all modes of transportation (Ocean, Air, Road, and Rail). This helps businesses:
Deliver real-time, multimodal transportation visibility across the globe.
Get advanced metrics like carrier performance, inventory levels, and delivery analytics.
Identify, mitigate, and preempt logistics risks for smoother business operations.
Automate mundane tasks to save time and resources allocated to repetitive tasks.
Businesses can also empower customers to track their shipments through Neurored's Digital Experience Community Portals to save time and improve customer experience.
Detailed Carbon Footprint Monitoring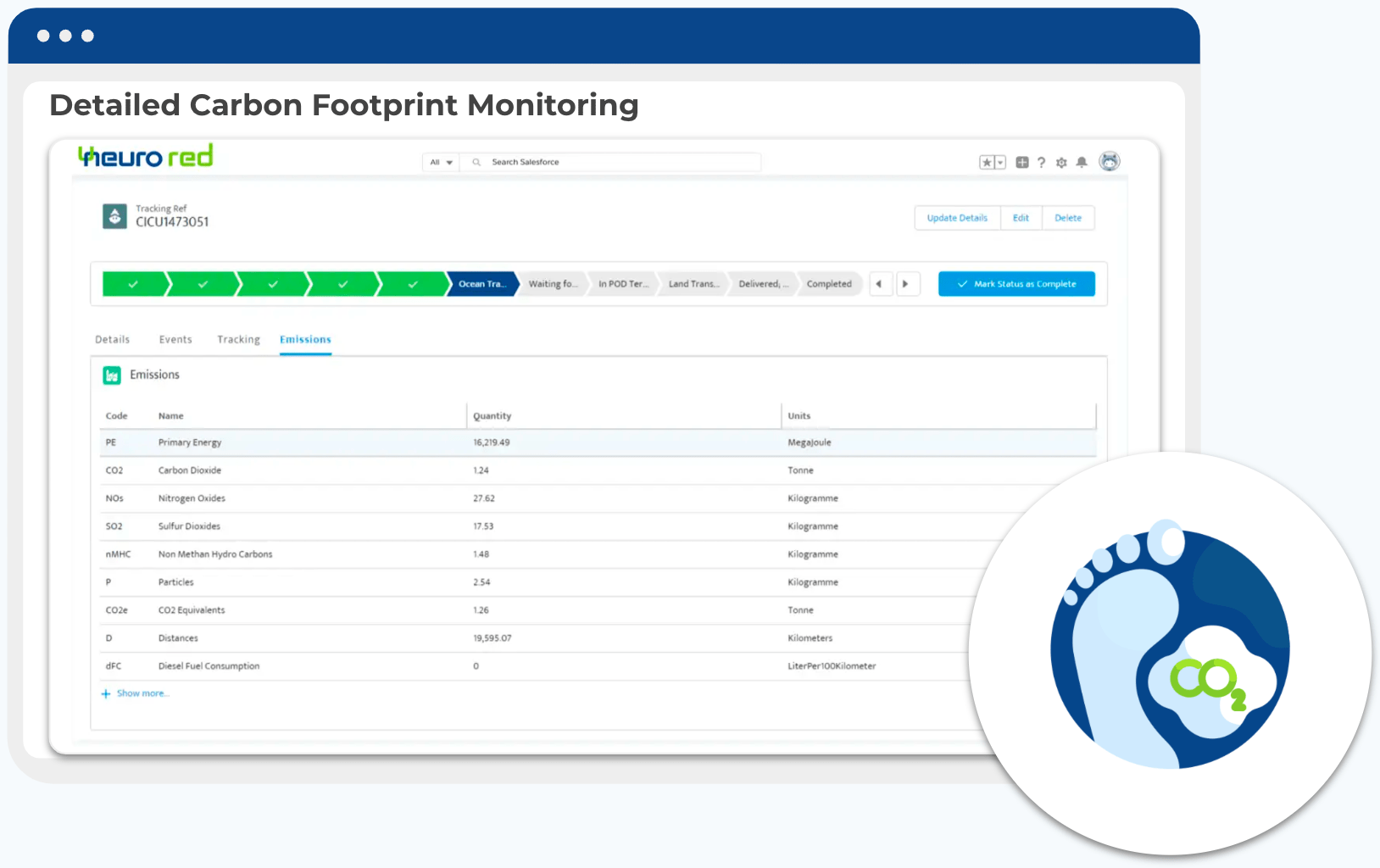 Enjoy accurate sustainability accounting by tracking metrics like distance traveled, energy consumed, fuel consumed, gases produced, and particles produced at the shipment and fleet level. Businesses that regulate their supply chain carbon footprint can:
Meet the sustainability goals of the company.
Offer premium services to environmentally-conscious customers
Avail of tax credits and lower long-term logistics costs by consciously investing in green technologies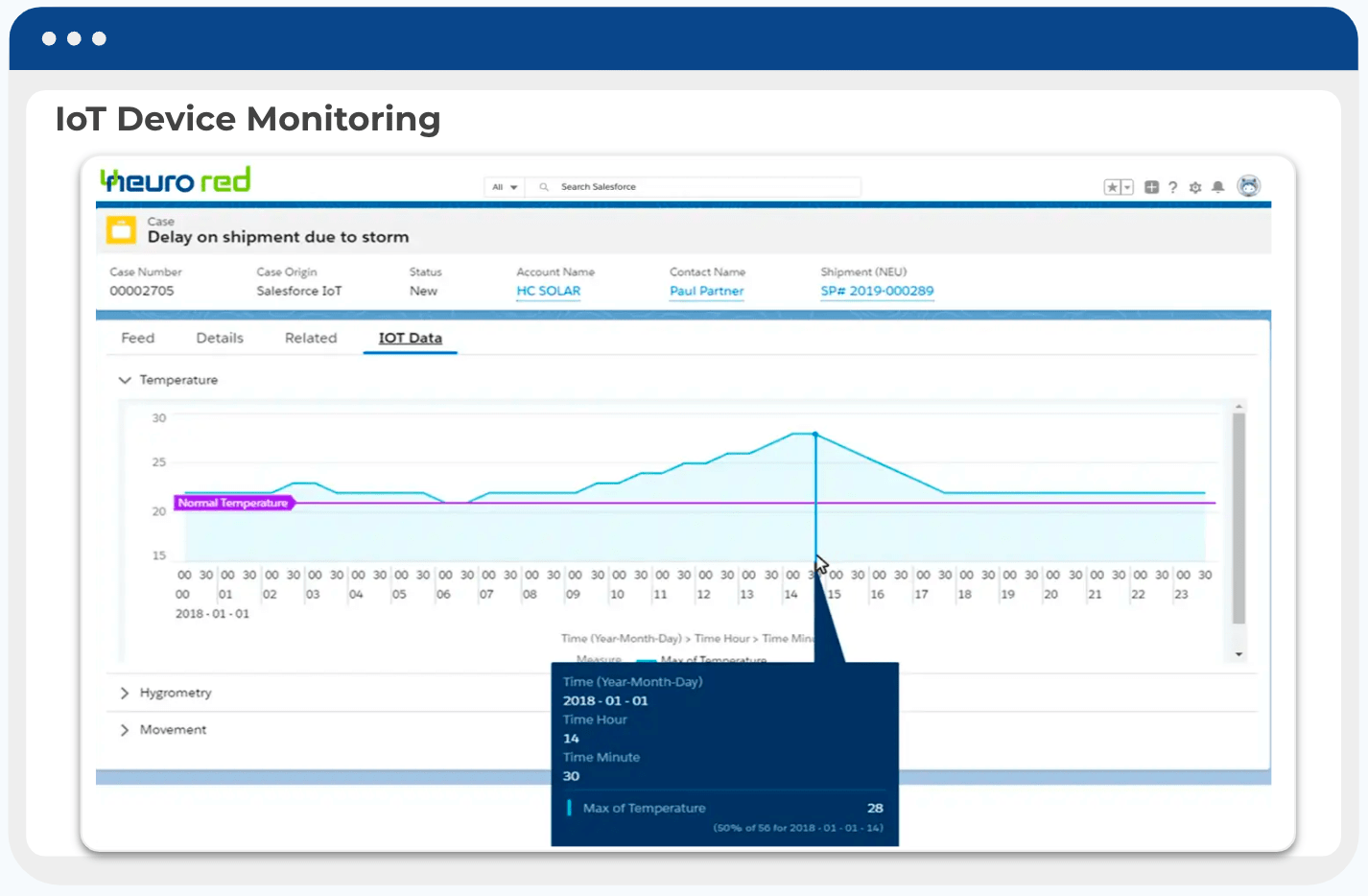 Neurored's software connects with IoT devices to continuously monitor the temperature, humidity, etc., of perishable and fragile goods. Businesses can use IoT monitoring features to:
Offer value-added services to customers (For example, humidity-controlled transportation)
Uncover problematic shipping conditions in the supply chain and take corrective action
Set up service-level agreements with suppliers based on monitored cargo conditions
Neurored's Supply Chain Visibility Software can integrate with any strategic IoT partners on-demand.
Neurored Visibility App On Salesforce AppExchange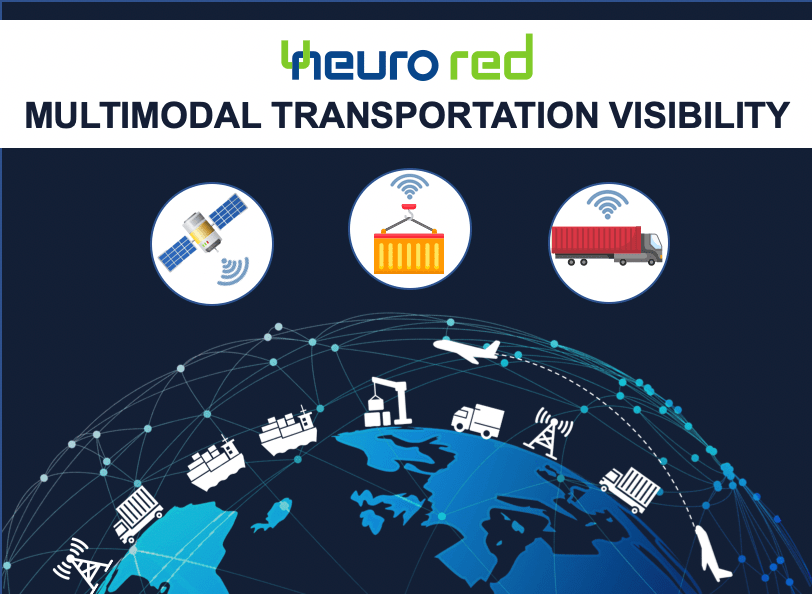 Neurored Track & Trace – Real-Time Multimodal Transportation Visibility
Our latest app allows users to track and trace vessels and containers, truckloads (FTL/LTL), air cargo, and parcels.
One Stop Solution for Transportation & Logistics
Neurored integrates with any and all of the leading systems in the world and helps you:
Manage relationships across multiple partners and stakeholders
Integrate and communicate with existing ERP, WMS, and CRM systems
Leverage pre-integrated, niche technologies from 30+ trusted players in the industry
Complement your systems using our diverse and adaptable software offerings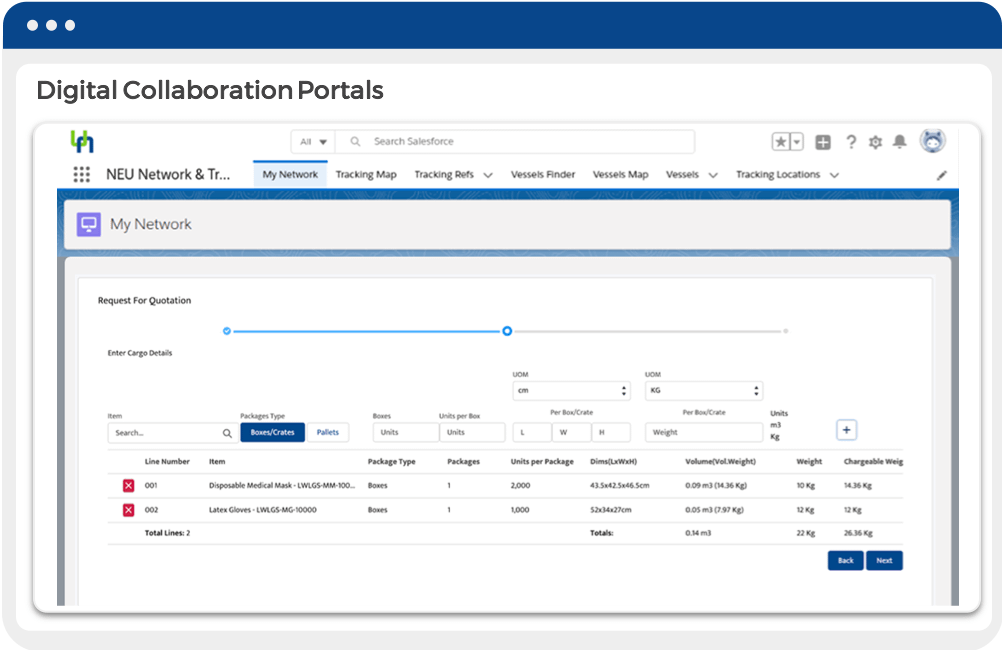 Supply Chain Collaboration
Bridge communication gaps, enhance customer brand loyalty and improve collaboration with vendors & partners through a trusted digital experience community portal.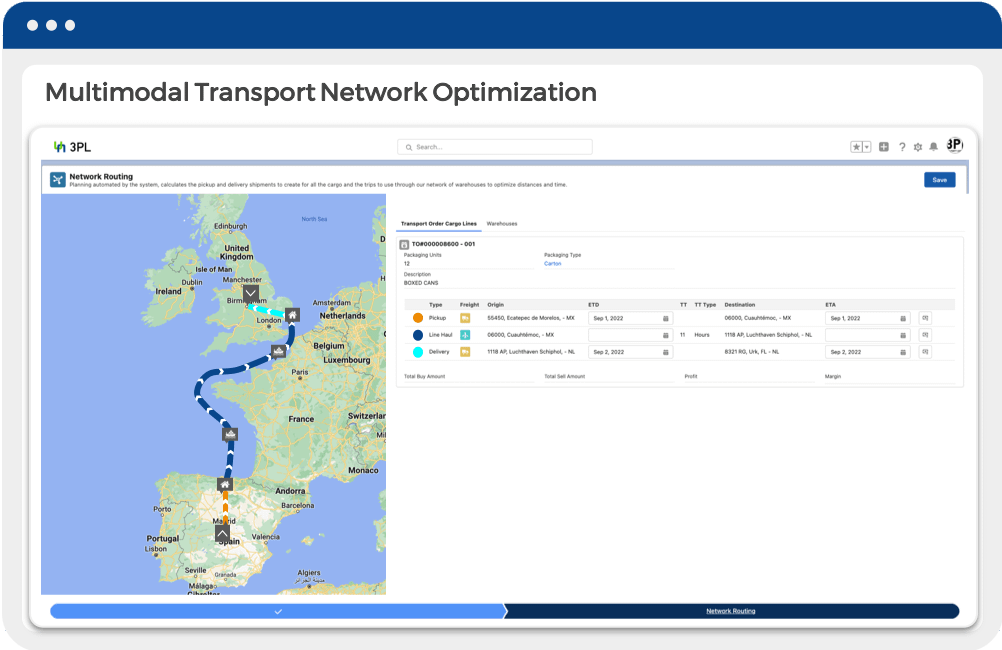 Transportation & Logistics Optimization
Achieve excellence by optimizing your pickup-to-delivery network across order consolidation, transport dispatch, cross-docking, warehousing, and last-mile delivery.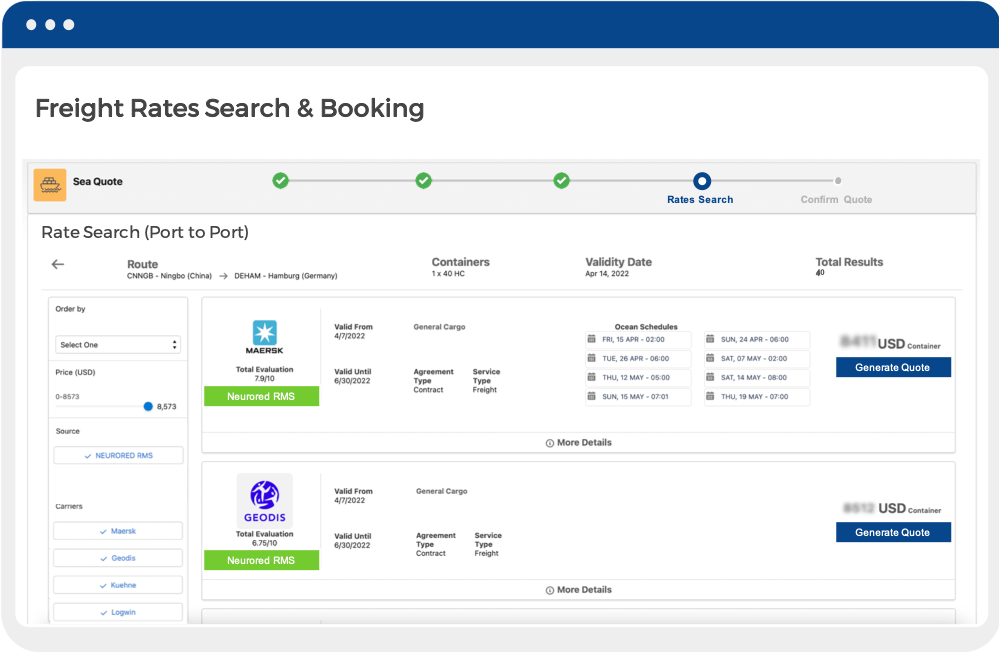 Freight Rates Management
Leverage the industry's leading Price Optimization and Management Software for enterprises managing Freight Rates, Tendering, Quotation, and Shipment Execution.
Supply Chain Visibility Software Benefits
Neurored pre-integrates with leading container carriers and logistics technology solutions
Neurored partners with 600+ leading ELD manufacturers to offer global tracking coverage
Neurored integrates with all leading railway carriers, and logistics tech solutions on-demand
Neurored pre-integrates with leading air cargo carriers, and logistics technology solutions
Neurored integrates with all leading parcel carriers and logistics tech solutions on-demand
We can integrate with any logistics carrier, and we do it free of charge for the leading carriers
Neurored pre-integrates with leading container carriers and logistics technology solutions
Neurored pre-integrates with leading air cargo carriers, and logistics technology solutions
Neurored partners with 600+ leading ELD manufacturers to offer global tracking coverage
Neurored integrates with all leading parcel carriers and logistics tech solutions on-demand
Neurored integrates with all leading railway carriers, and logistics tech solutions on-demand
We can integrate with any logistics carrier, and we do it free of charge for the leading carriers
Neurored pre-integrates with leading container carriers and logistics technology solutions
Neurored pre-integrates with leading air cargo carriers, and logistics technology solutions
Neurored partners with 600+ leading ELD manufacturers to offer global tracking coverage
Neurored integrates with all leading parcel carriers and logistics tech solutions on-demand
Neurored integrates with all leading railway carriers, and logistics tech solutions on-demand
We can integrate with any logistics carrier, and we do it free of charge for the leading carriers