Rates Management, Schedules and Bookings
Empower your customers with self-service quoting and booking and reduce your quoting and operations staff by 50%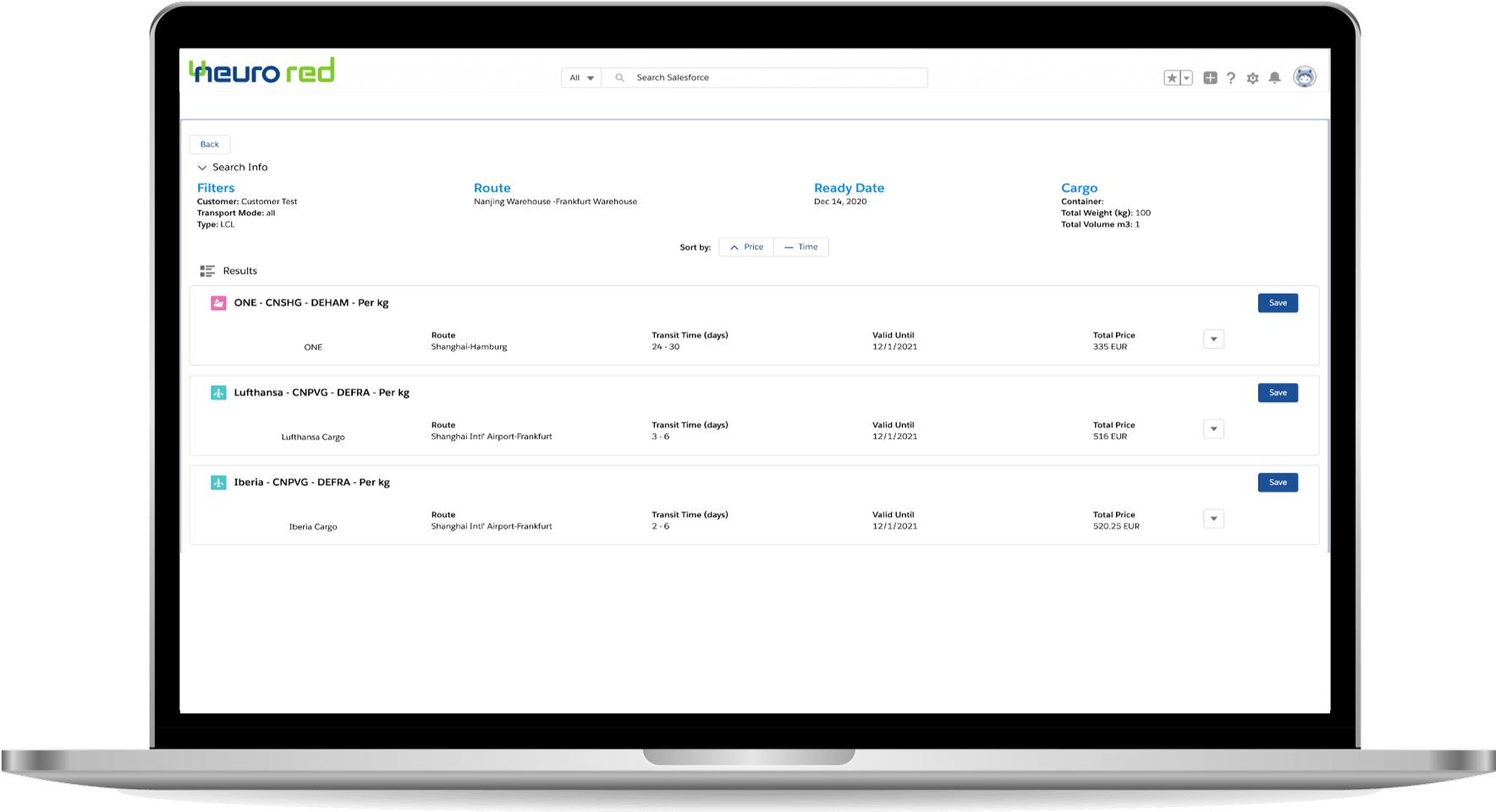 Rates Management, Bookings, & Scheduling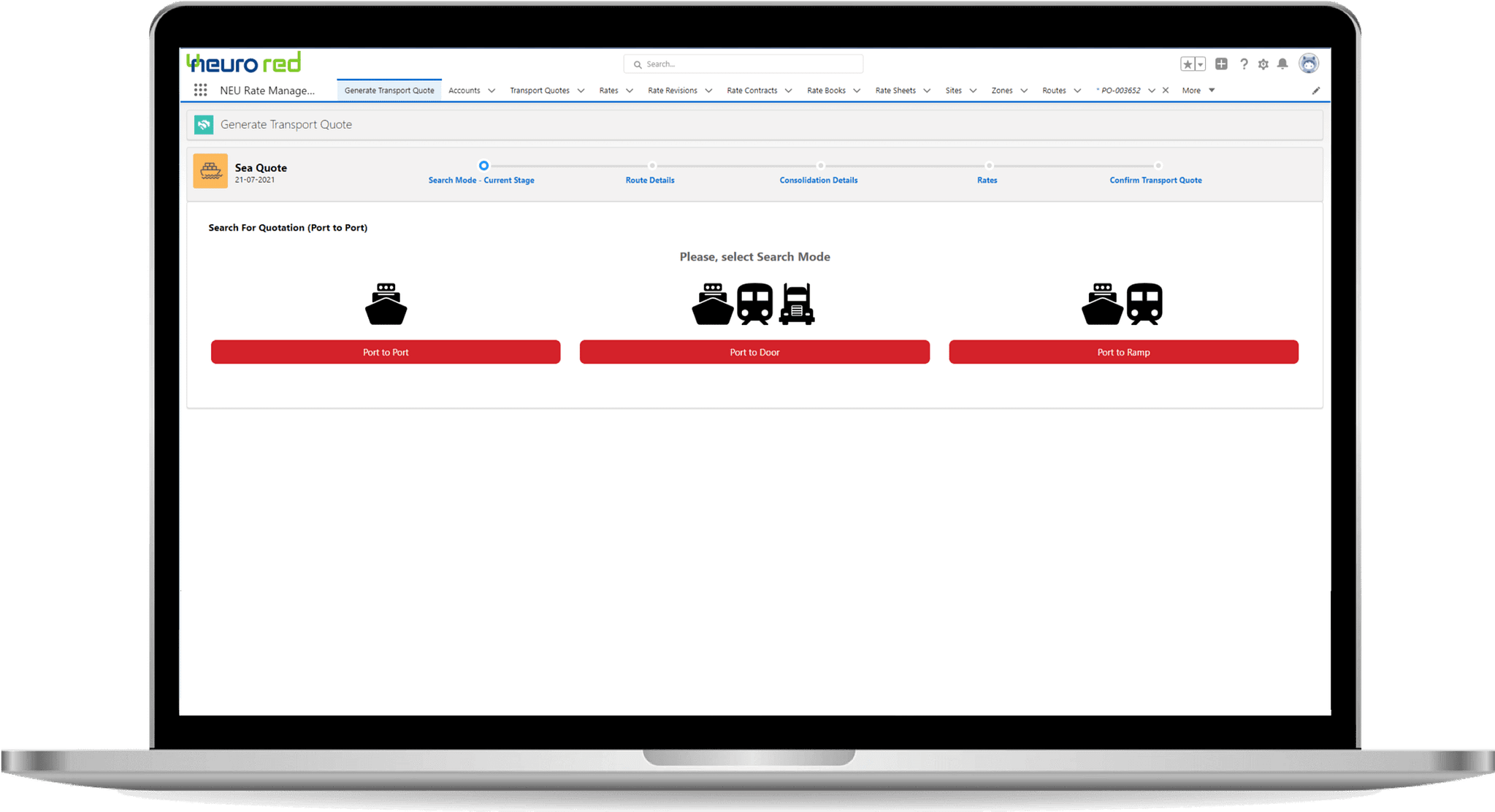 Multi-Leg Transport Rates
Freight Rates Search
Mass-Manage Freight Rates
Automatically Apply Customer Markups and Discounts
View Historical Rates and Revisions
Get Detailed Ocean Schedules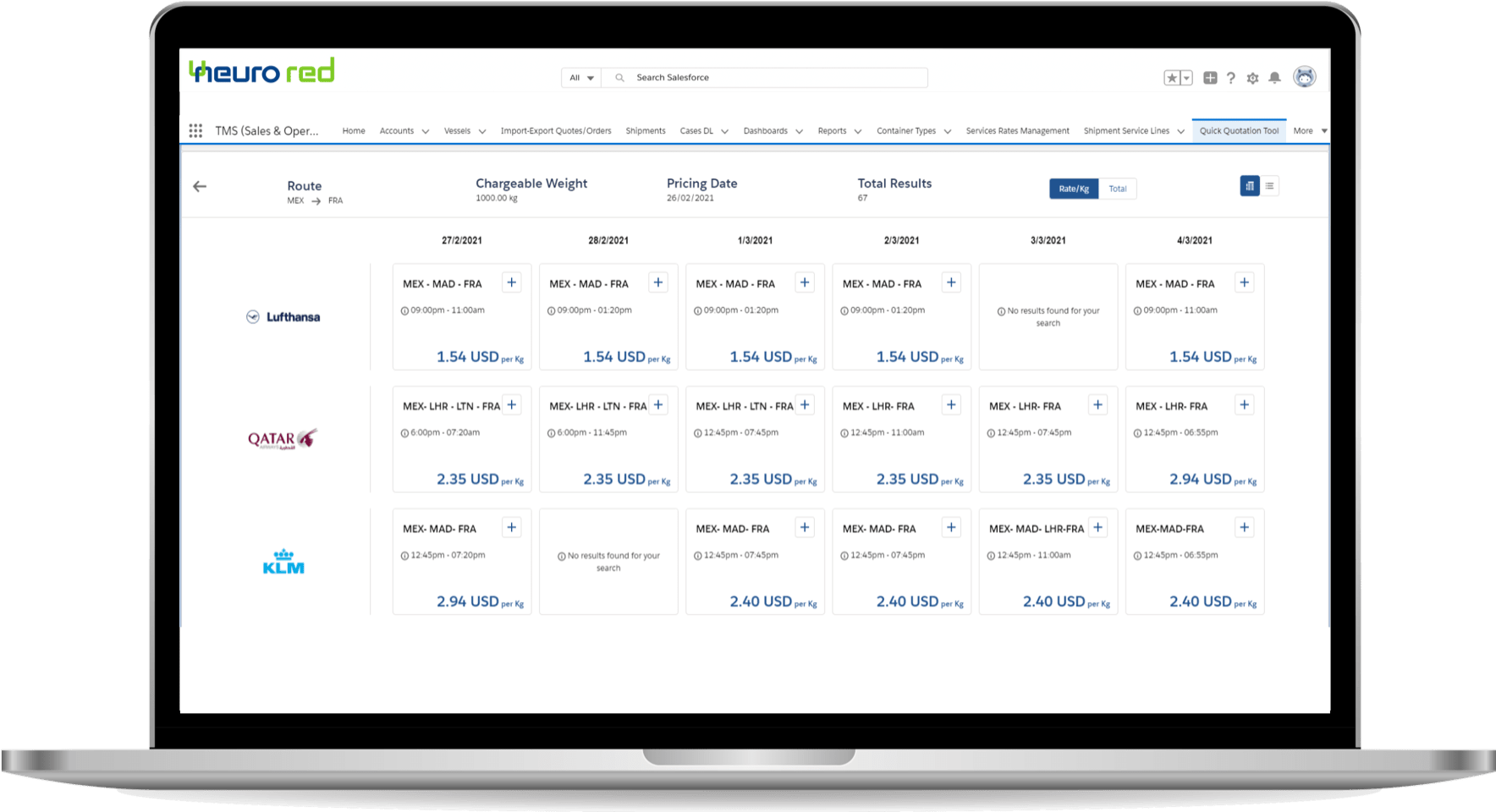 Air Cargo Rates Search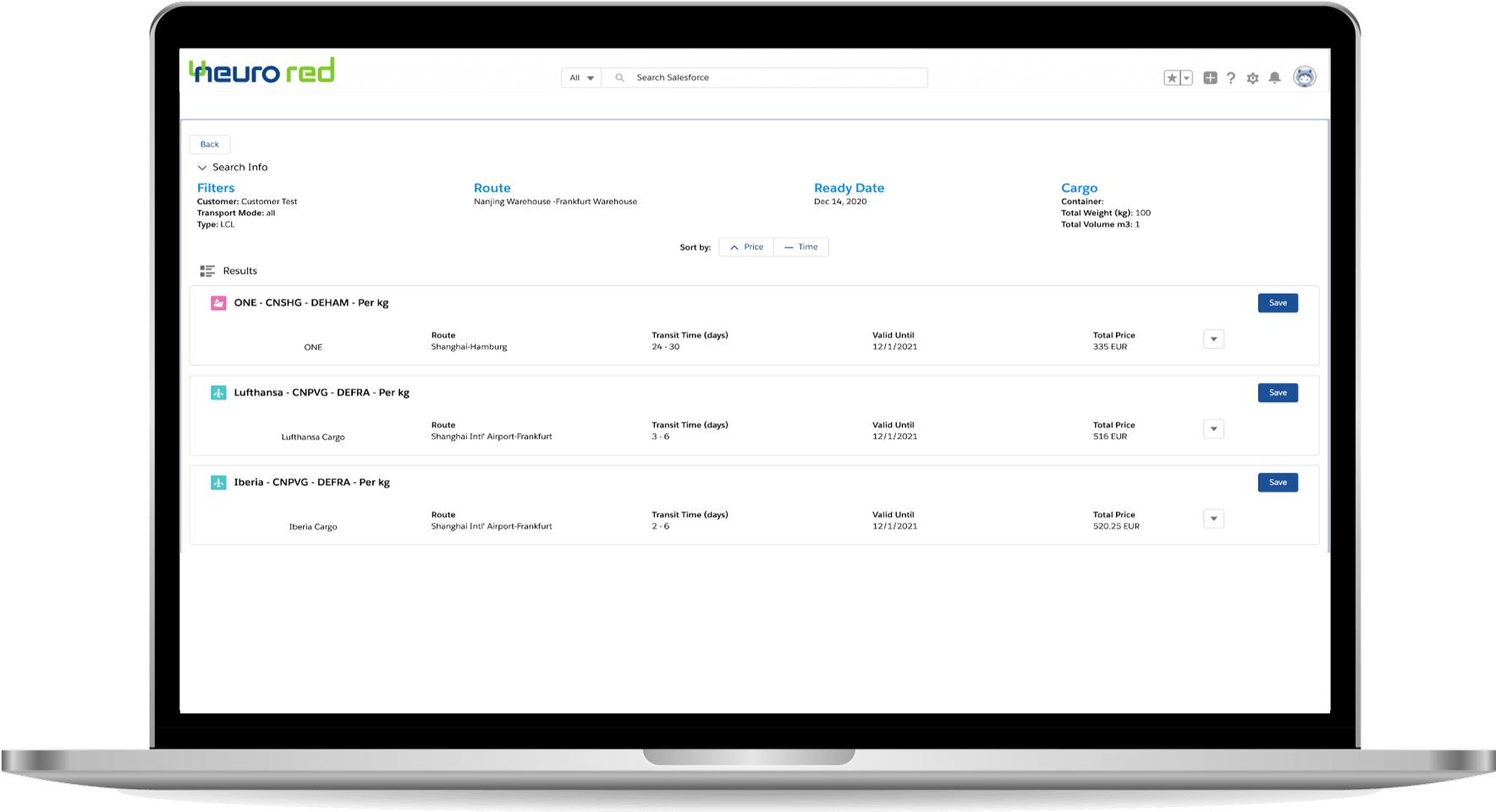 Multimodal Freight Rates Comparison
Automatic Custom-Quote Generation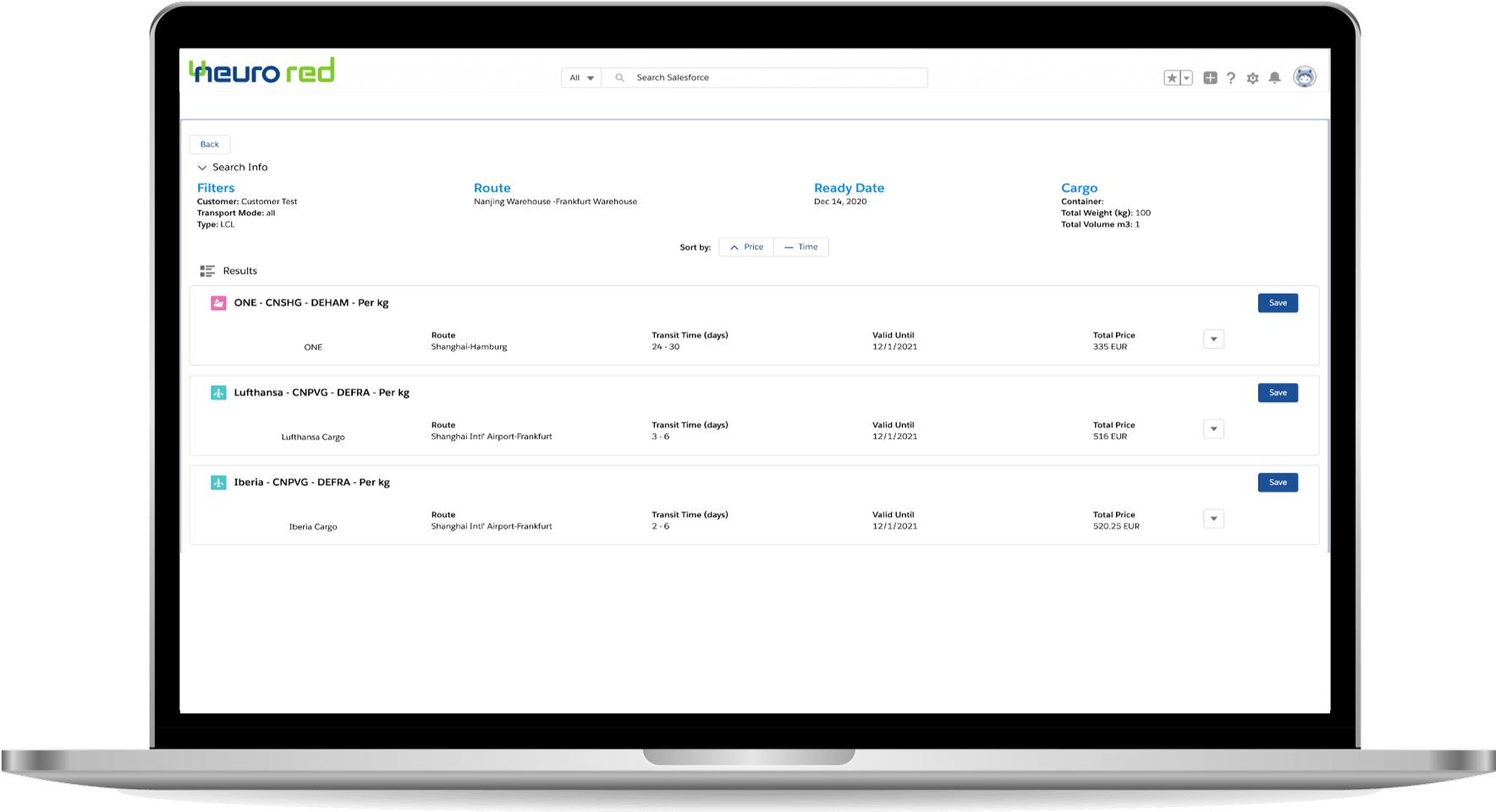 Rates Management, Bookings, & Scheduling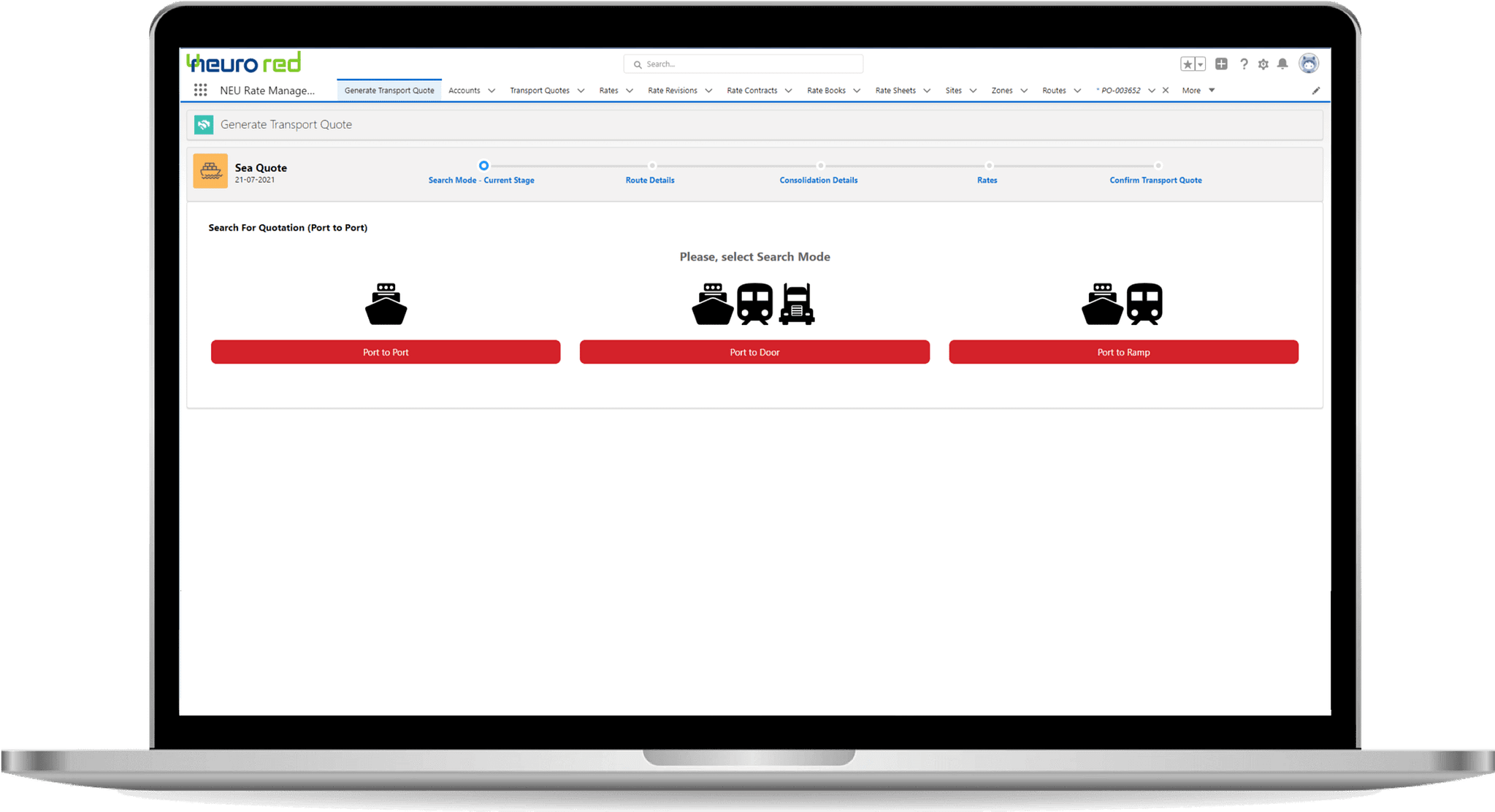 Multi-Leg Transport Rates
Freight Rates Search
Mass-Manage Freight Rates
Automatically Apply Customer Markups and Discounts
View Historical Rates and Revisions
Get Detailed Ocean Schedules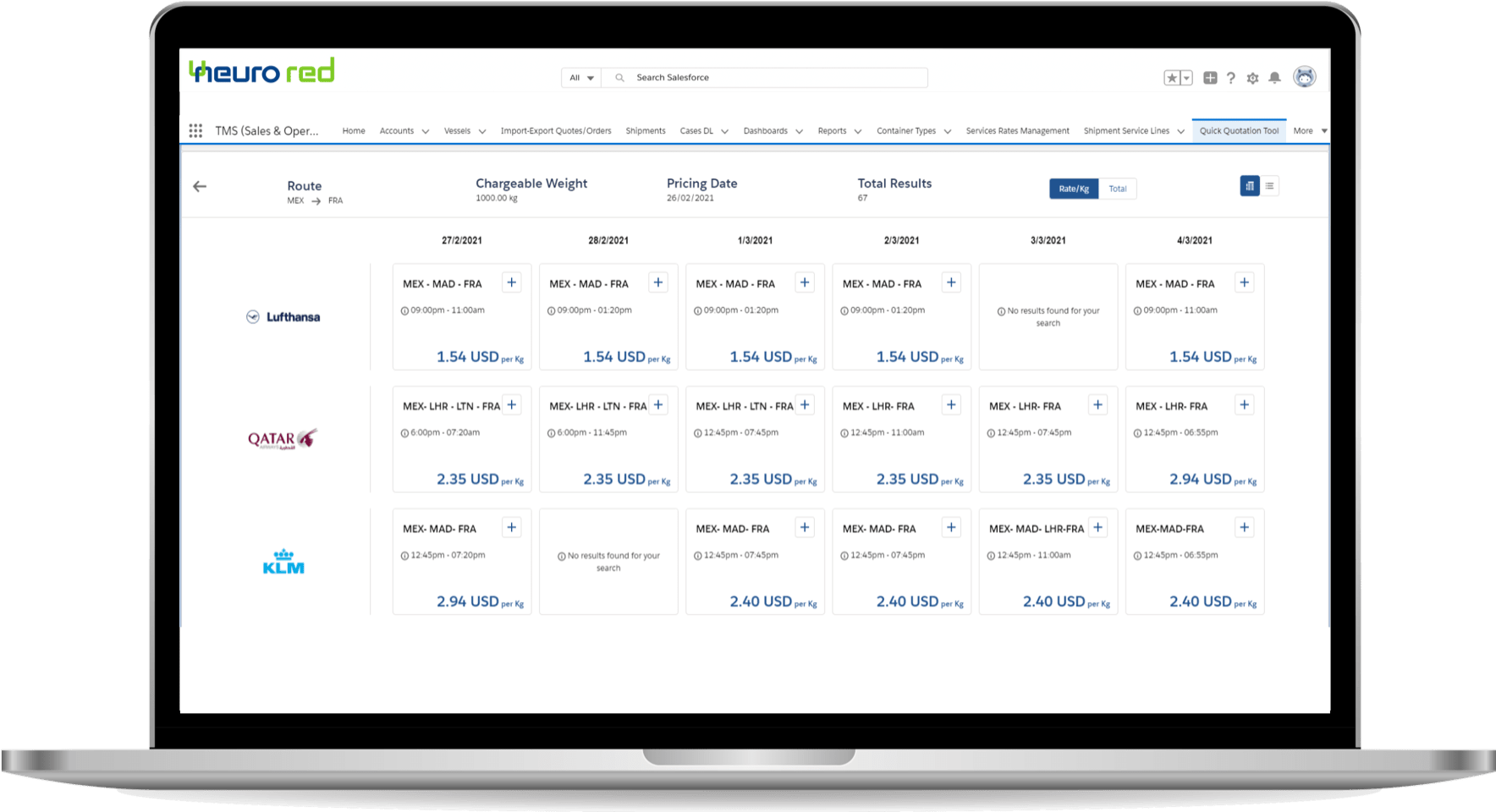 Air Cargo Rates Search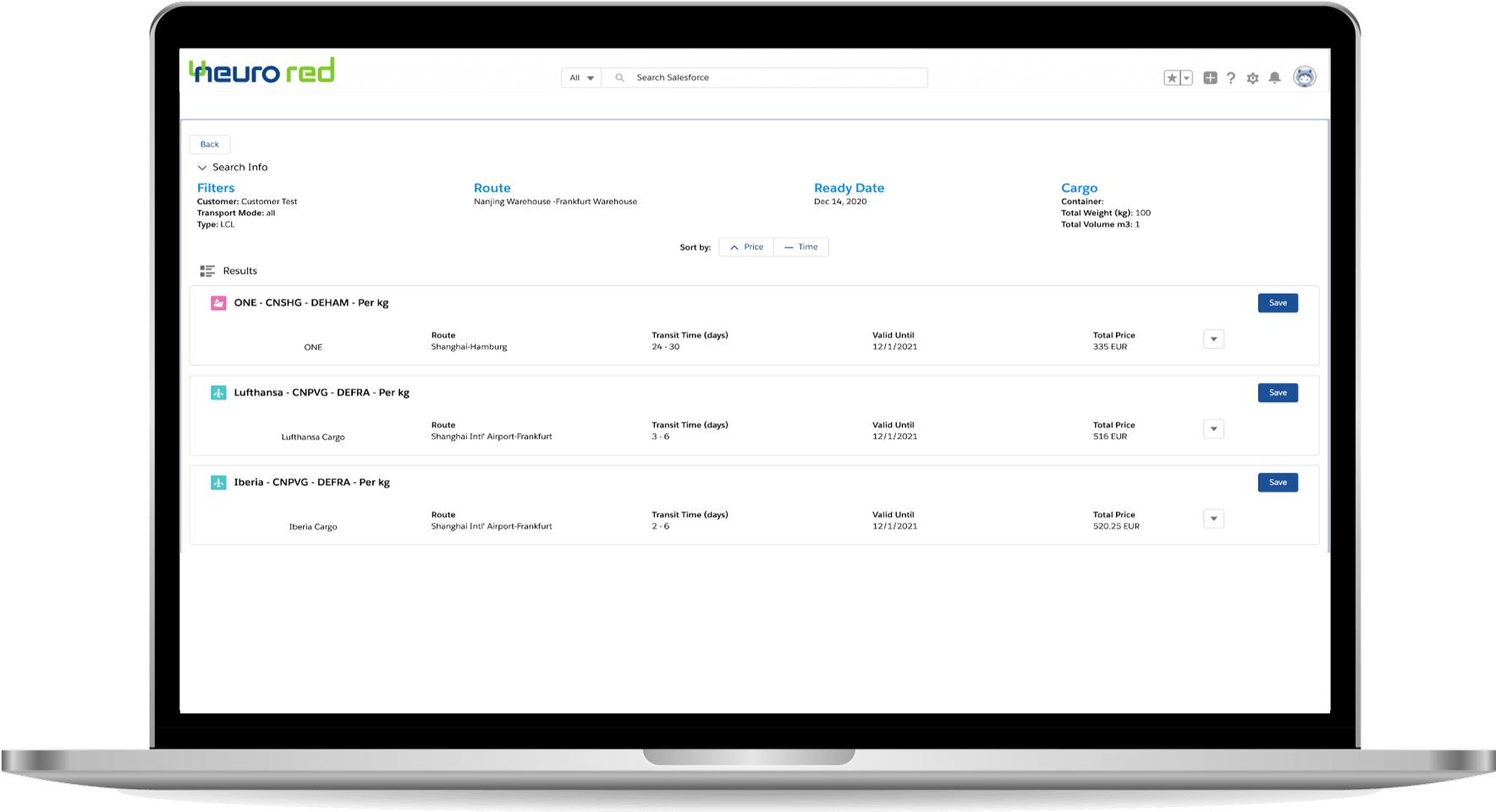 Multimodal Freight Rates Comparison
Automatic Custom-Quote Generation
Spreadsheet 3D – Rate Management System

For Collaborative Contract Rates/ Rate Card Management
Neurored Apps on Salesforce AppExchange
Choose from thousands of powerful and complementary business solutions on the AppExchange Marketplace

Neurored TMS & SCM – Transportation and Supply Chain Management
This is our comprehensive suite for Freight Forwarders, Traders, and Global Shippers that ties together sourcing, transportation, logistics, and sales operations.
Request for Quotations (RFQs) are great for getting the best prices with quick turnaround times, but as the complexity and volume of business increases, spreadsheets aren't enough to get the job done.
Neurored's Spreadsheet 3D helps you have a faster, smoother, more profitable process using capabilities like:
Massive Data Edit
Multi-user Workflows
AI-powered Insights and Analytics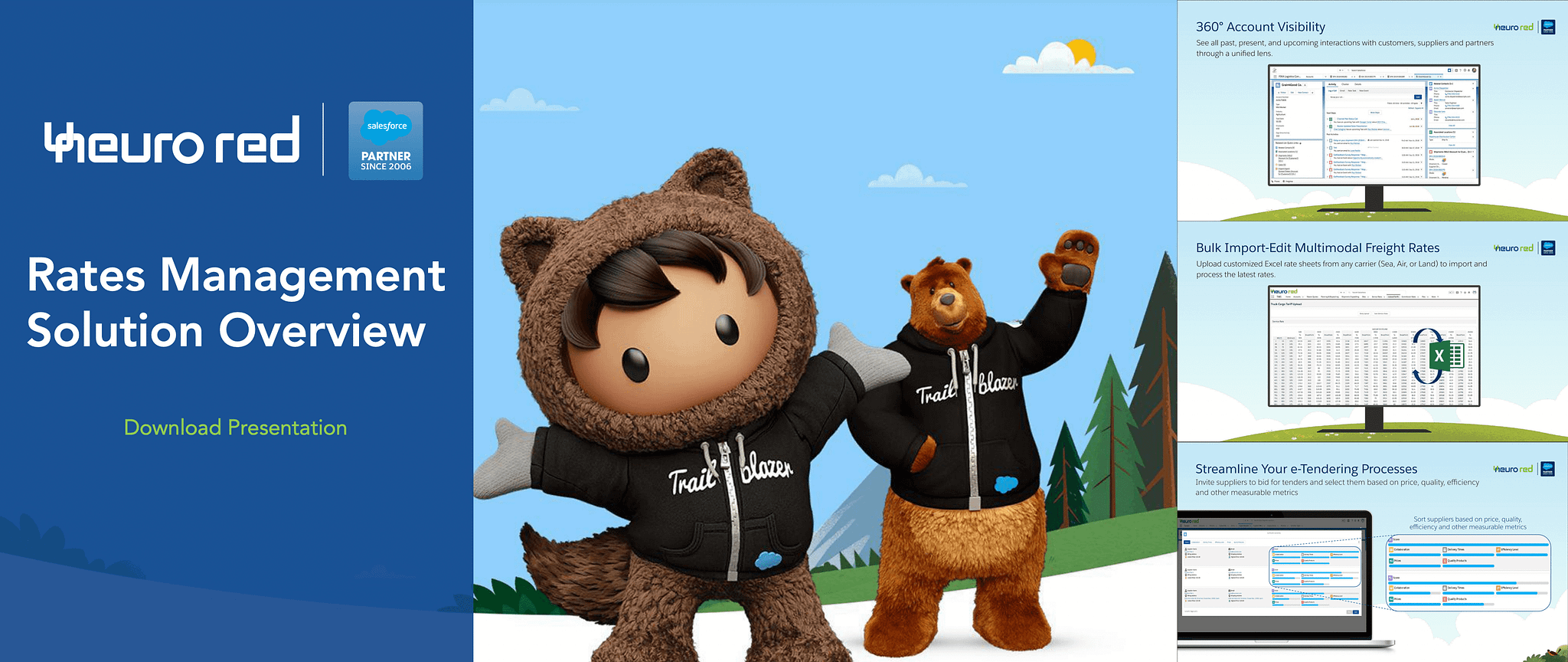 GET THE
LEADING RATES MANAGEMENT  FEATURES

ON THE MARKET
UPLOAD EXCEL RATE-SHEETS FROM CARRIERS 'AS-IS' TO AUTOMATICALLY CAPTURE LATEST RATES
Don't waste your time with complex Extract-Transform-Load (ETL) processes. Update your customized rates by simply uploading Excel files from carriers into the app and sit back as accurate information is automatically captured and processed in the system.
ACCESS YOUR OWN CONTRACTED RATES & SCHEDULES DIRECTLY FROM YOUR CARRIERS' SYSTEMS
Leverage Neurored's deep expertise in integrations to get your own contracted rates directly from your carriers. Use web-service APIs and Robotic Process Automation (RPA) technologies to save time, ensure data integrity, and keep your rates up-to-date.
COMBINE BEST-IN-CLASS FREIGHT RATES & SCHEDULES ENGINES ACROSS EACH TRANSPORT MODE
Access the world's leading freight rate engines across each mode of transport. Manage rates directly from your Customer Relationship Management (CRM) or Transportation Management System (TMS) system using a unique and intuitive interface.
BUILT ON THE MOST SCALABLE PLATFORM
As your business grows, your software needs will need to keep up. Since Neurored is 100% native to the leading business apps platform, it gives your business access to the following advanced capabilities:
Leverage Salesforce Development Platform
With Neurored you are able to combine out-of-the-box solutions (from Salesforce, Neurored and Appexchange) with bespoke developments within the Salesforce Platform, named by Gartner as one of the most innovative development platforms as of today.
Leverage Salesforce Integration & Automation Capabilities
Take advantage of Salesforce's unique integration capabilities with industry standards such as Mulesoft or AWS to bring all your data into the platform to be able to use it for data analytics & business process automation with tools like alerts, triggers, workflows, automated tasks & many more.
Leverage Salesforce CRM & Customers Communities
Take advantage of Salesforce's world-leading CRM and leverage Salesforce Communities with the Neurored solutions to increase your customer engagement with automated quotation systems and providing full tracking capabilities.
LATIN-AMERICAN FREIGHT-FORWARDER
ACHIEVES 4X QUOTING SPEED

WITH NEURORED
"With Neurored, our quotes get sent out at 4x the speed (from 20 mins to 5 mins per quote). Before this, we had to log into multiple web-apps for viewing itineraries and reservations, generate documents manually…"
GLOBAL SUPPLY CHAIN MANAGEMENT AND TRANSPORT PLATFORM
We aim to be your one-stop-shop to efficiently manage your global supply chain and multimodal transport requirements from the initial client request to the fulfillment and payment of the service delivering your customers a best-in-class experience.
Neurored TMS & SCM provides you with a user-friendly experience to capture your customer requirements, plan your sales, inventory, and operations, manage your warehouses, manage carriers and bookings, track & trace your shipments, reconcile your payments and integrate all required documents along the process.
We do this with our robust and flexible Neurored TMS & SCM, built on the Salesforce Platform, considered best-in-class by Gartner¹, and leveraging outstanding partner services.
Compatible With All Modes of Transport

Deliver lightning-fast services across all modes of transports to meet and beat customer expectations. Spreadsheet 3D lets users edit, sort, and filter the same thousands of rows of data to speed up the process and boost team productivity. With Neurored's Spreadsheet 3D your business can manage rates across:
FULL CONTAINER LOAD (FCL)
AIR CARGO

BULK/ BREAKBULK CARGO

RAIL CARGO

Divide and Conquer the Data
Simultaneously work on large volumes of data with your team to boost productivity
Keep Track of Changes by Users
Keep the data clean and team members accountable by tracking the edits to the data
Access Freight Rates Remotely
Want to access your spreadsheets on the go? Spreadsheets 3D has it all on the cloud!
Connect With Freight Marketplaces
Leverage marketplace rates to ensure that you're always optimizing for the best rates.
Spreadsheet 3D – Rate Management System Functionality

BOOKINGS AND SHIPPING INSTRUCTIONS FEATURES



Truckloads Bookings and eCMR
Neurored seamless integration with IRU-owned Transfollow will allow the customer and their customers to reach the highest level of transparency in Road shipments granting access to all parties involved in the Shipment to the eCMR and all its transactions.
Ocean Containers Booking and Schedules
Select the right vessel and generate & share ocean booking requests leveraging Neurored's EDI Partner's integrations.
Trusted By Industry Leaders
Why customers love Neurored
"Neurored has truly been a Partner for us who have supported us in our growth and development. They took the time to understand our vision before designing a digital transformation solution."
 "The best system for working and communicating with customers. Before we worked with a complicated ERP, but with Neurored everything is better and much easier. Everything is under control and our collaboration with customers is excellent, as we have a real-time overview of processes and operations. Undoubtedly, I can fully recommend their system."
"With Neurored our order process of more than 400 references with 30 different suppliers is reduced to only a couple of hours a week. No mistakes and no forgotten details. We have real-time margin management and automatic alarms when costs increase to keep our profits in line with forecasts."
Let's Get Started
Schedule a Demo Now
Europe- Spain:
Paseo Club Deportivo 2, Casa 29
La Finca, Pozuelo de Alarcón.
USA - New Jersey:
Neurored LLC
300 Carnegie Center, Suite 150
Princeton, NJ 08540