Global SCM & TMS Software Suite – Neurored Solutions – Salesforce
Accelerating Operations. Facilitating Transformations. Elevating Organizations.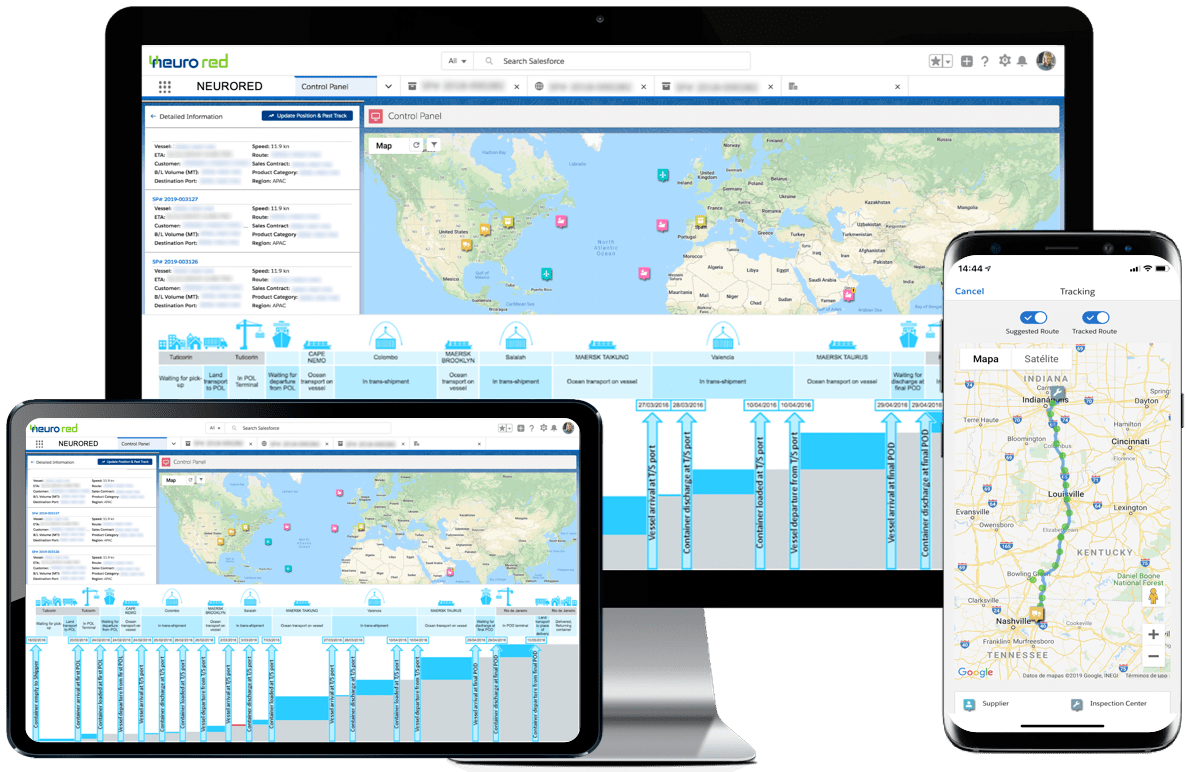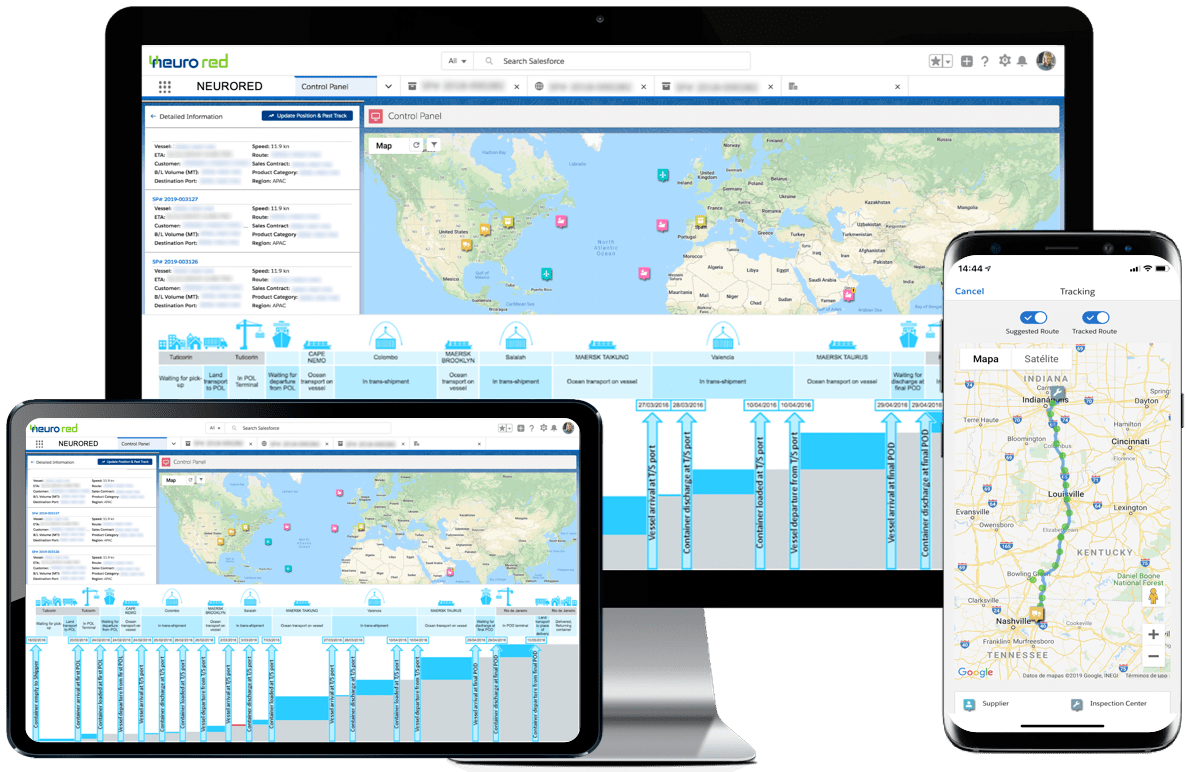 Robust SCM and TMS Solutions for your Business
SALESFORCE-NATIVE SCM AND TMS SUITE

Transform your business with our comprehensive supply chain, trade, and transport management suite. Neurored is a 100% Salesforce-native Supply Chain Management (SCM) and Transportation Management System (TMS) software that helps businesses match and exceed the expectations of today's global trade and logistics industry.
As a global provider of end-to-end supply chain software, Neurored is experienced in supporting clients across the globe through their digital transformation journey. Neurored boosts digital transformation by incorporating industry-leading technologies and interplaying with other leading solutions on the Salesforce AppExchange Marketplace.
READY FOR A SEAMLESS SHIPPER EXPERIENCE?
Our solution ties together Supplier Management, Customer Management, Logistics, and Invoicing & Payments with a robust Source-to-Pay Cycle and Sales-to-Execution Cycle, that helps businesses plan and execute operations end-to-end. Even better, Neurored's dedicated suite of business-ready objects is designed to be easily adaptable to your unique processes across different supply chain actors (1-4PL), custom configurations and all transport & logistics modes.
CORE APPLICATION
The Neurored CORE app answers the question that many customers had in mind, "Wouldn't it be great if we could leverage the power of the Salesforce Platform to roll our Sales, Sourcing, Execution, and Finance processes into one solution?"
SALES
Streamline your quoting process with a dedicated CRM and quote-to-order system for global trade and logistics.
EXECUTION
Plan, execute, and automatically track shipments of all sizes, levels, and across all modes of transport.
SOURCING
Optimize procurement by setting up online negotiations for products and services to reduce landed product costs.
Even though the robust functionality of our CORE application satisfies the needs of many businesses, it is just the foundation on which we've built our killer apps. To truly transform your business and take it to the next level, Neurored SCM and TMS Suite has the following functionalities: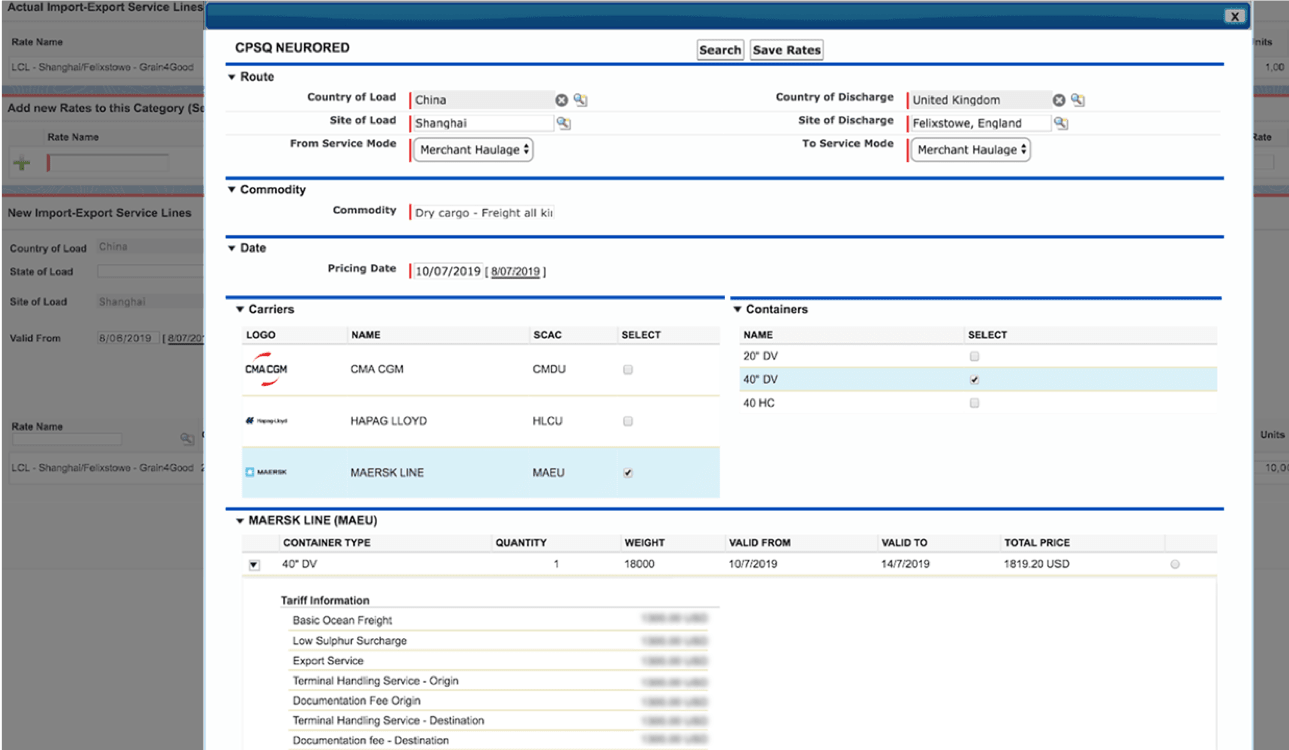 Offer your customers the right configuration of services with pricing based on the type of customer and pre-negotiated or marketplace rates. Send flawless quotes with automated discounts, approvals, and quote generation and execute your services with easy scheduling and booking.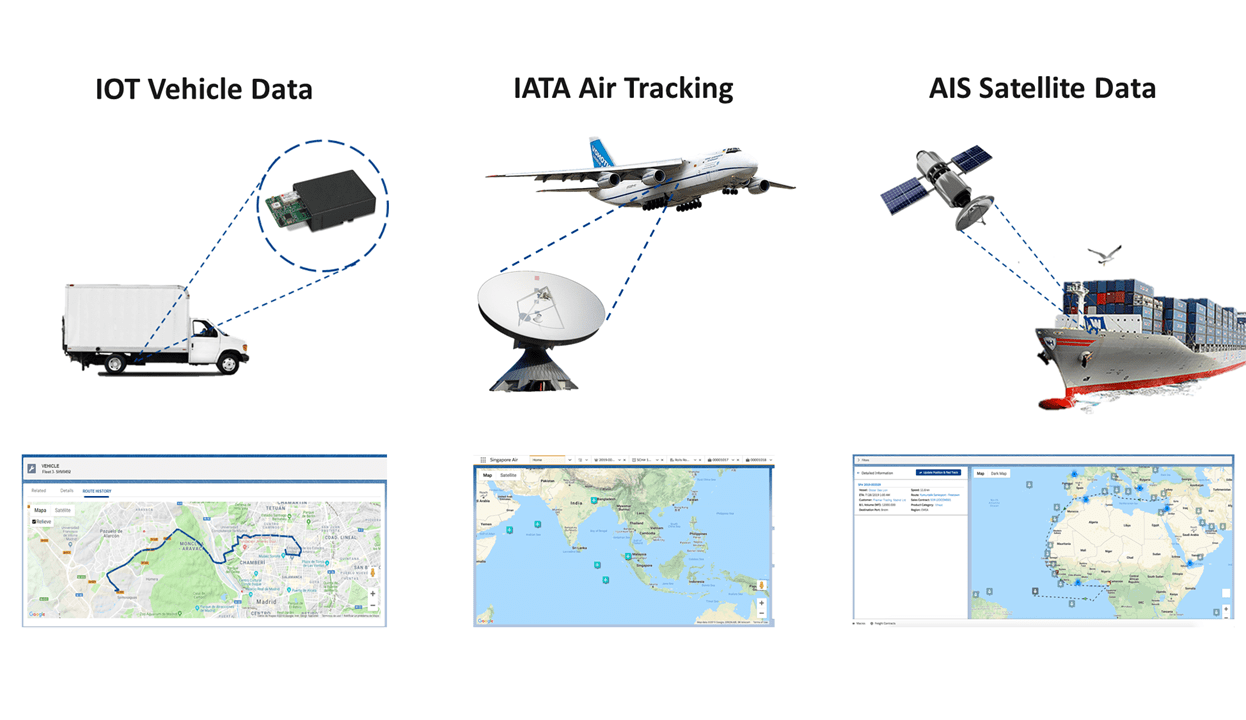 Track your shipment in real-time, around the globe, across all modes of transport (Air, Land, Rail, Sea), at multiple levels (Item, Parcel, Pallet, Container, Break-Bulk, Service Agent, etc.) using the technology that suits your business needs (Satellite, QR code, BLE Beacons, IoT, etc.)
Yard and Warehouse Management System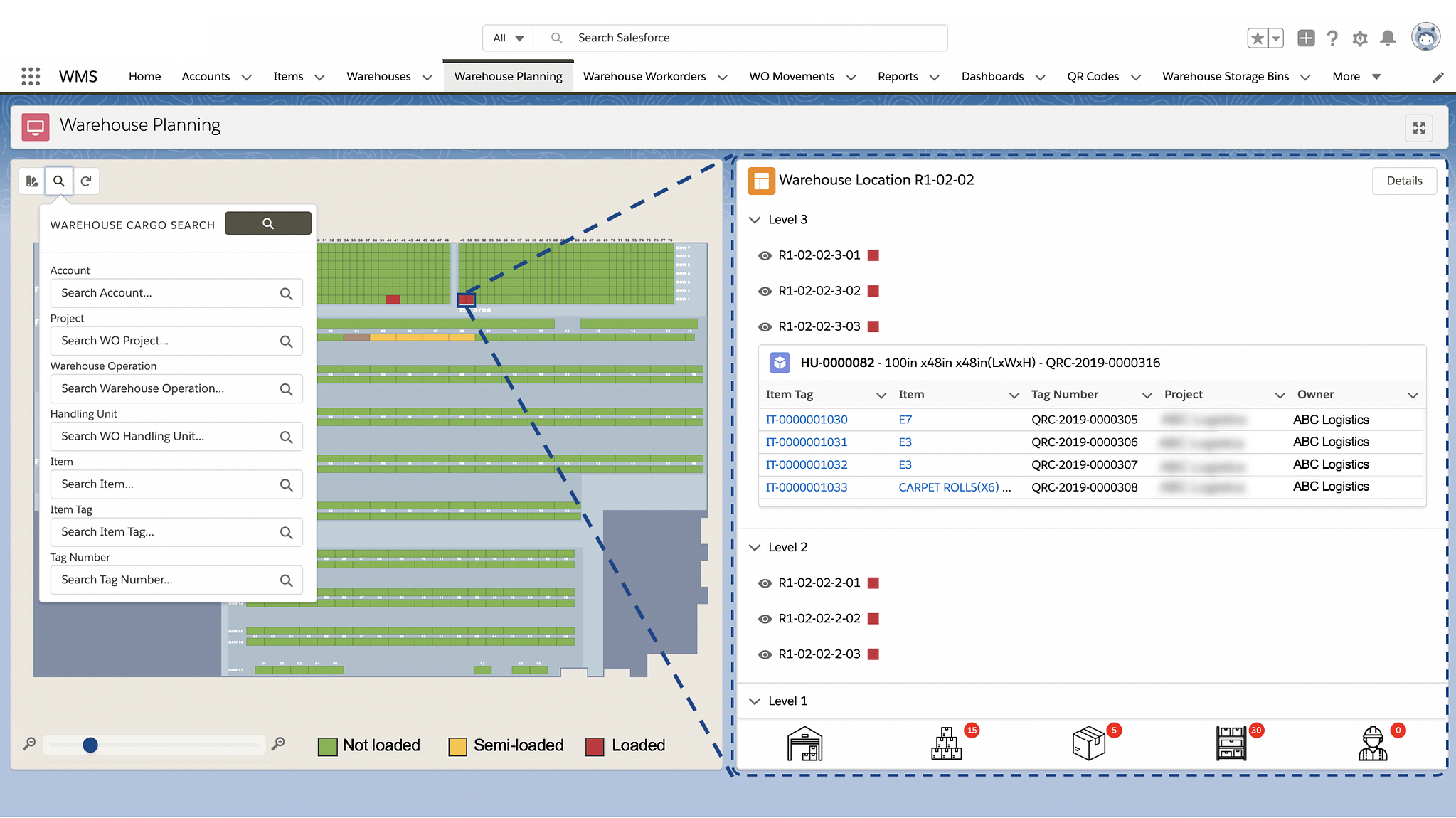 Use our visual WMS tool to take control of your warehouse. Configure custom warehouse layouts, manage task allocation, and get detailed visibility into operations and inventory. Improve labor productivity with mobile access and automated dispatch/ putaway processes.
Document Management, Accounting & Billing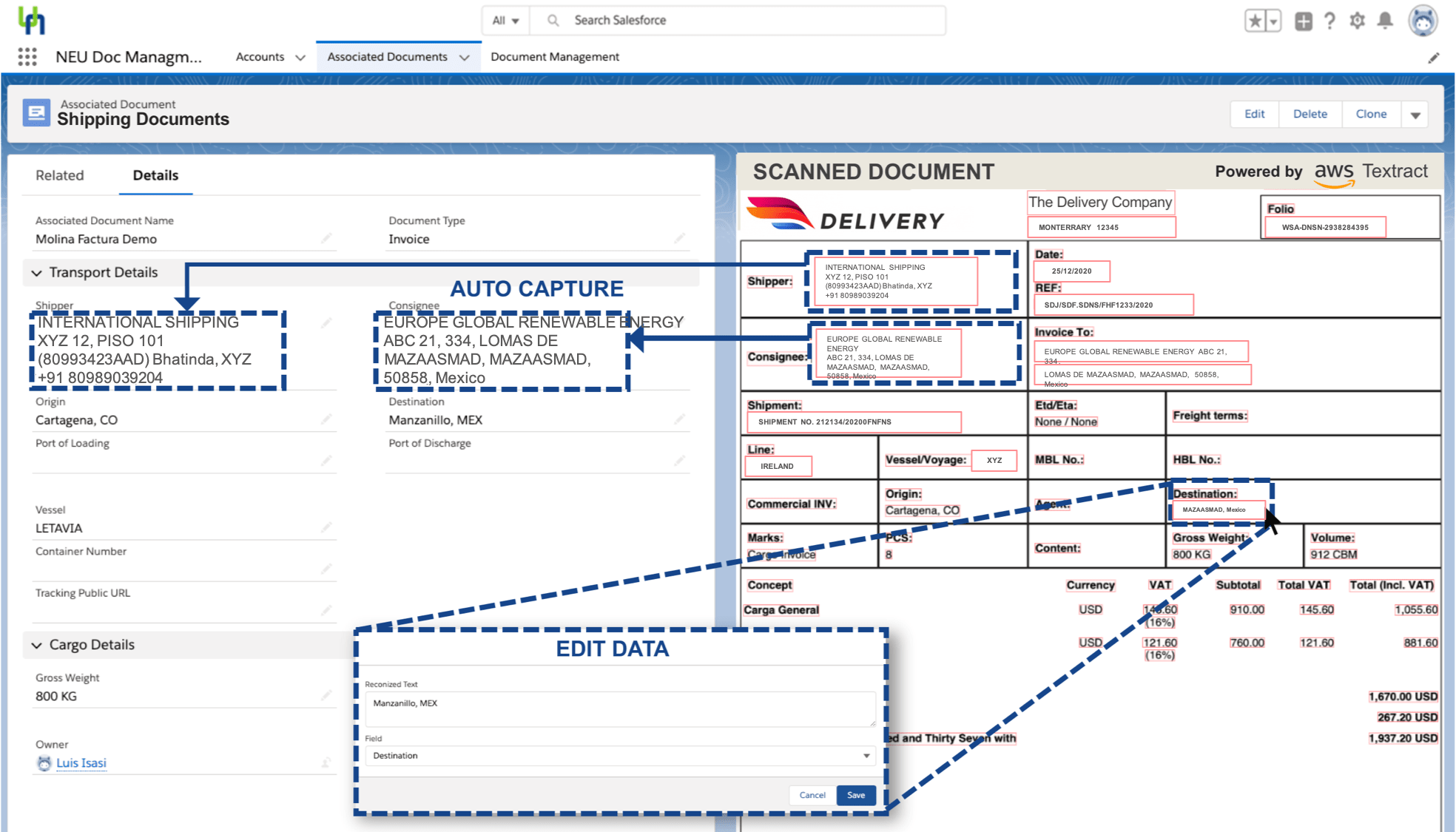 Leverage AI-enabled document recognition, automatic document generation, and customizable document flows to streamline your accounts payable and billing operations. Automatically relate bills and receipts to the relevant records and enjoy a robust integration with accounting.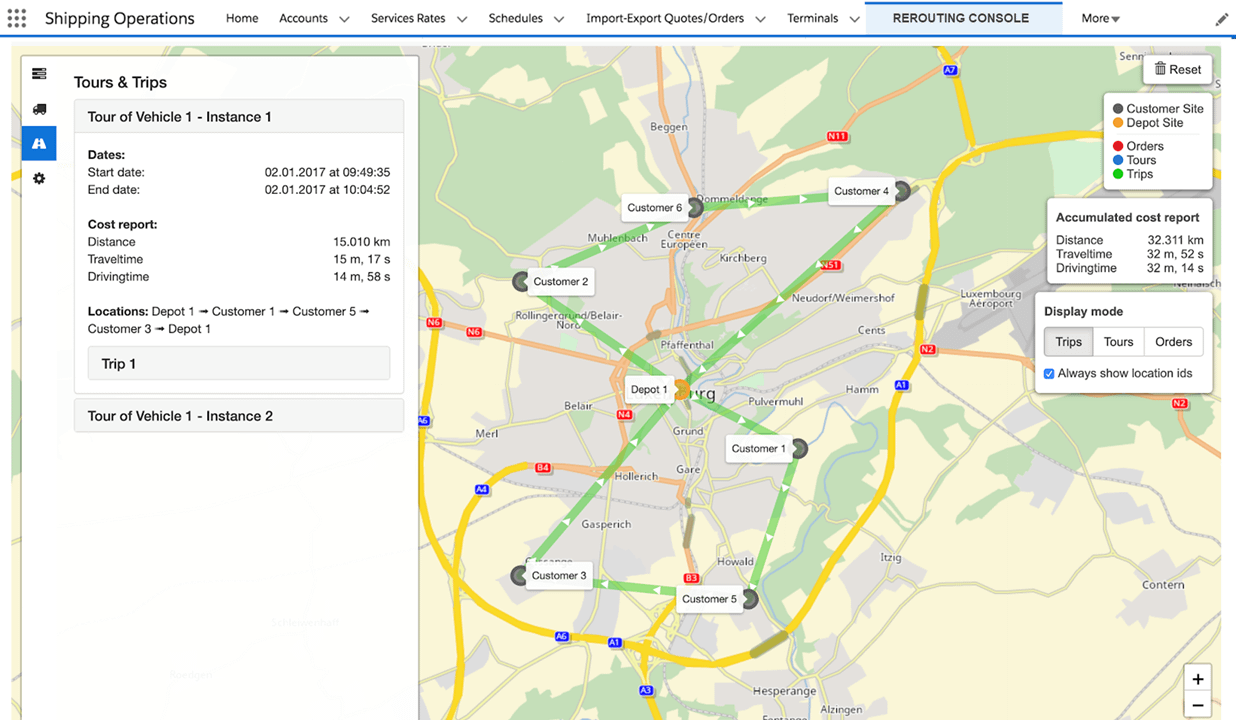 Get the most out of your supply chain with our planning and optimization tools. Optimize container & transport loading, reduce delivery times, cut fuel costs with advanced route optimizations, and give your booking agents real-time information about sold and unsold capacity.
Supply Chain Control Tower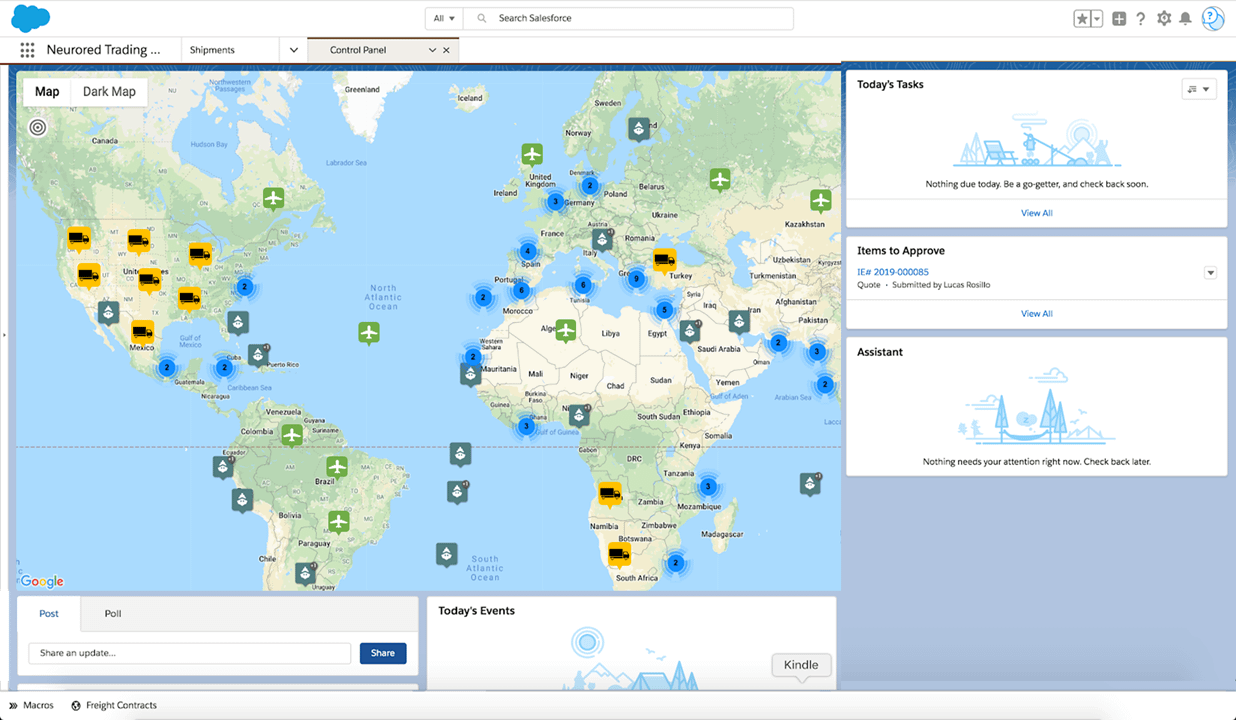 Get everyone on the same page, by getting everyone on the same page. Unify all your favorite internal systems, third-party systems, and leading marketplaces to create a primary strategic asset that boosts productivity, streamlines business processes, and promotes effortless collaboration.
Supplier Relationship Management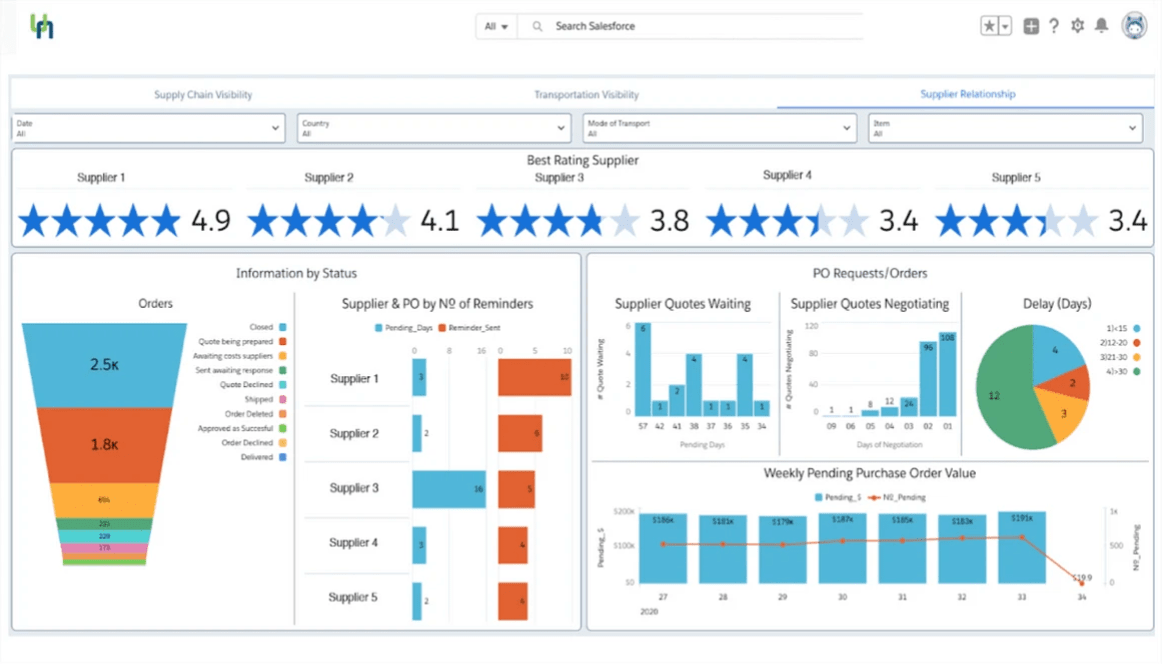 Set up controlled auctions by inviting suppliers based on custom performance metrics. Onboard suppliers with a standardized process and easily compare and analyze supplier bids based on pricing history and other measurable metrics. Choose the most beneficial deal for your business and let customer feedback drive your supplier management decisions.
Supply Chain Analytics & Planning
Don't just capture data, let it drive business growth and productivity using the power of the leading cloud-based Artificial Intelligence – Salesforce Einstein Analytics. Einstein® gives you descriptive and prescriptive insights with simple answers to challenging business questions.
Teleworking and Work Performance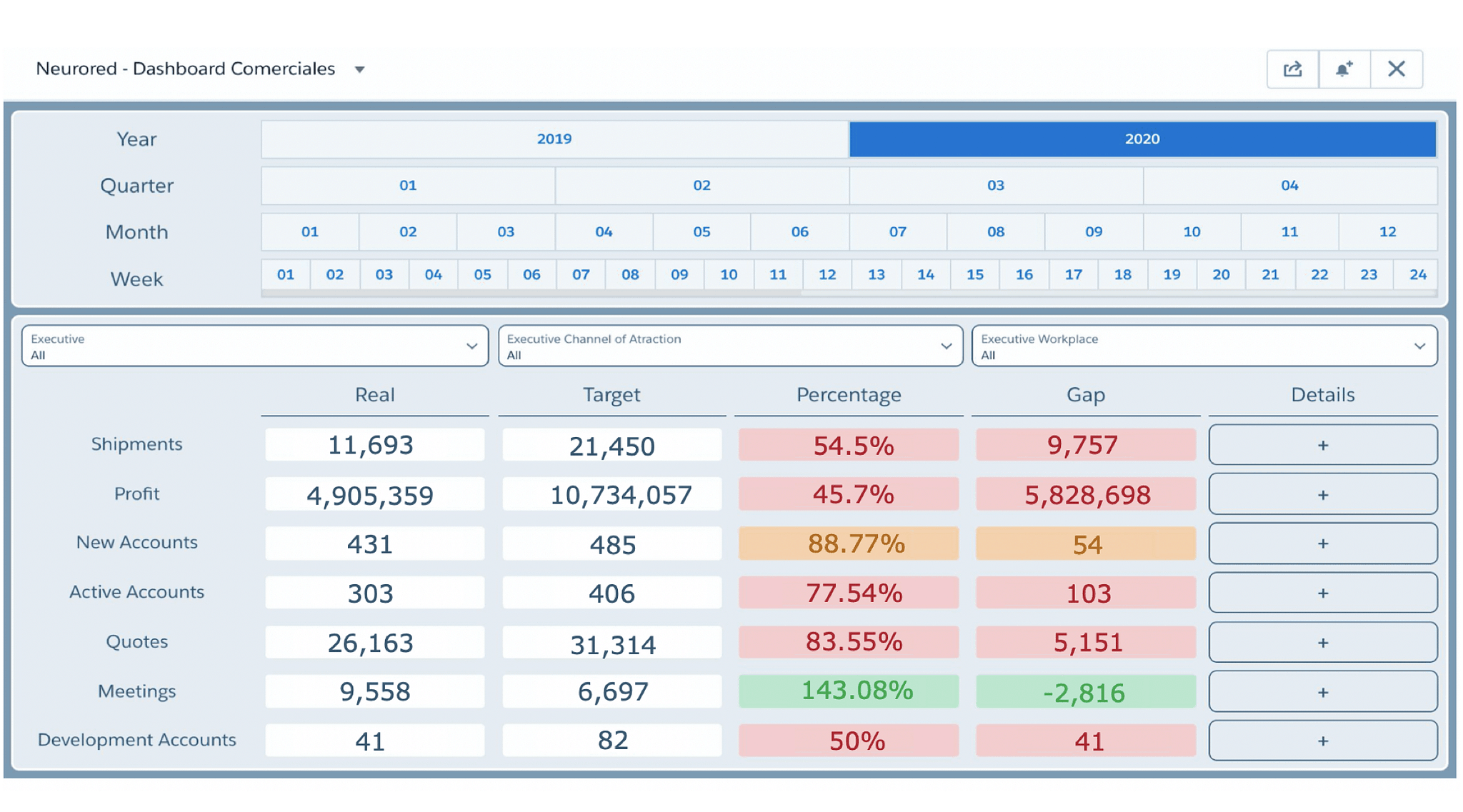 Set up custom goals and targets for your workforce, monitor real-time work performance, and take corrective action to increase productivity. Our solution not only helps you identify lower productivity, but you can adapt your processes to better align with your workforce incentives.
Branded Community Portals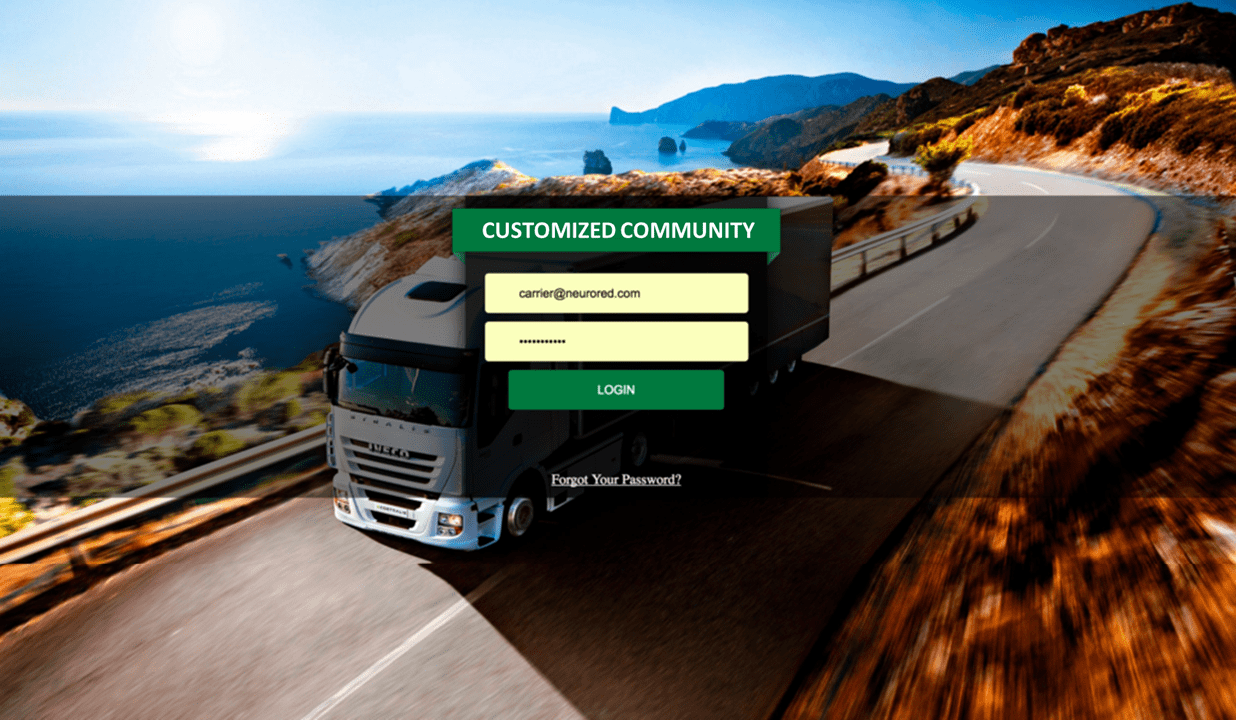 Don't just connect your suppliers, partners, and clients, get people to collaborate and coordinate through communities to deliver efficient and streamlined operations that save you time and money. Build brand loyalty by giving customers access to powerful features.
Digital Freight & Trade Network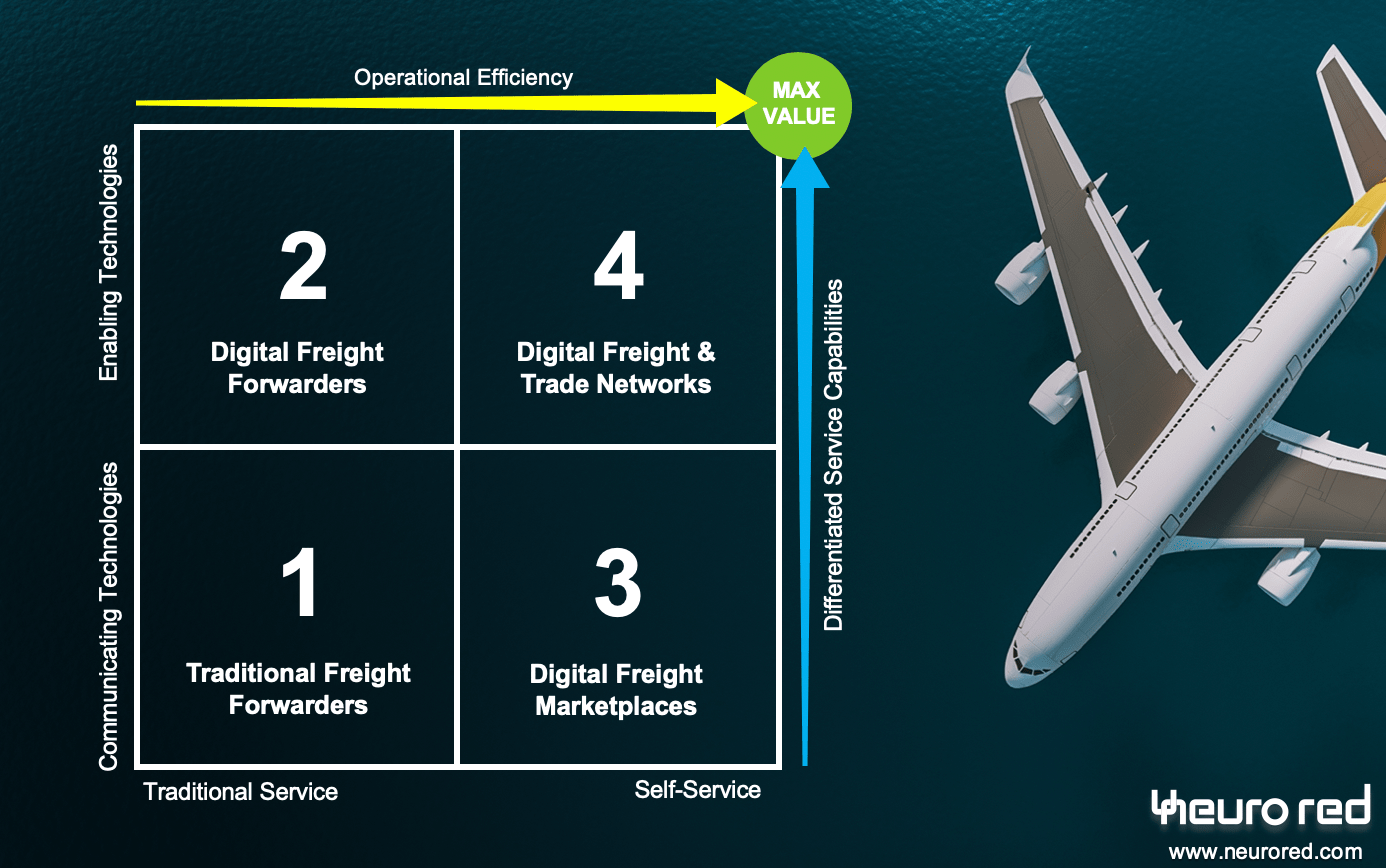 Drive maximum Trade and Transport efficiency by leveraging state-of-the-art technologies to collaborate efficiently across the Global Supply Chain. 3PLs and 4PLs can manage B2B e-commerce fulfillment for their customers, by enabling Digital Communities for customers.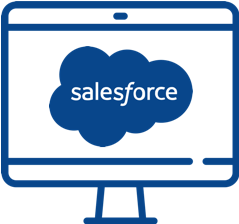 100% Salesforce Native
Brings you the world's leading security and scalability
Controlled Data Access
Get complete control of what company users can see and do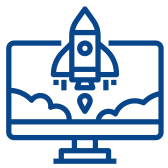 Quick Implementations
Achieved in months rather than quarters and years
Analytics & Reporting
Configure reports to get detailed and actionable insights
Global Control
Control operations across organizations, modes, and borders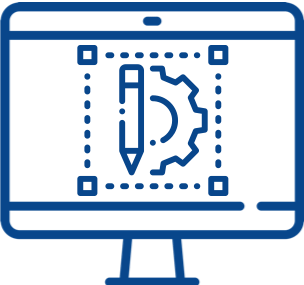 Fully Customizable
Configure user layouts and terminology to suit your needs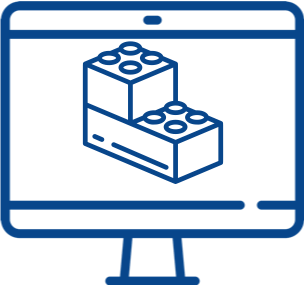 Modular Software
Get the option of assembling your favorite features à la carte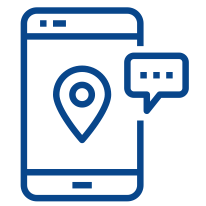 Mobile Ready
Run end-to-end operations without being constrained to your desk
Trusted By Industry Leaders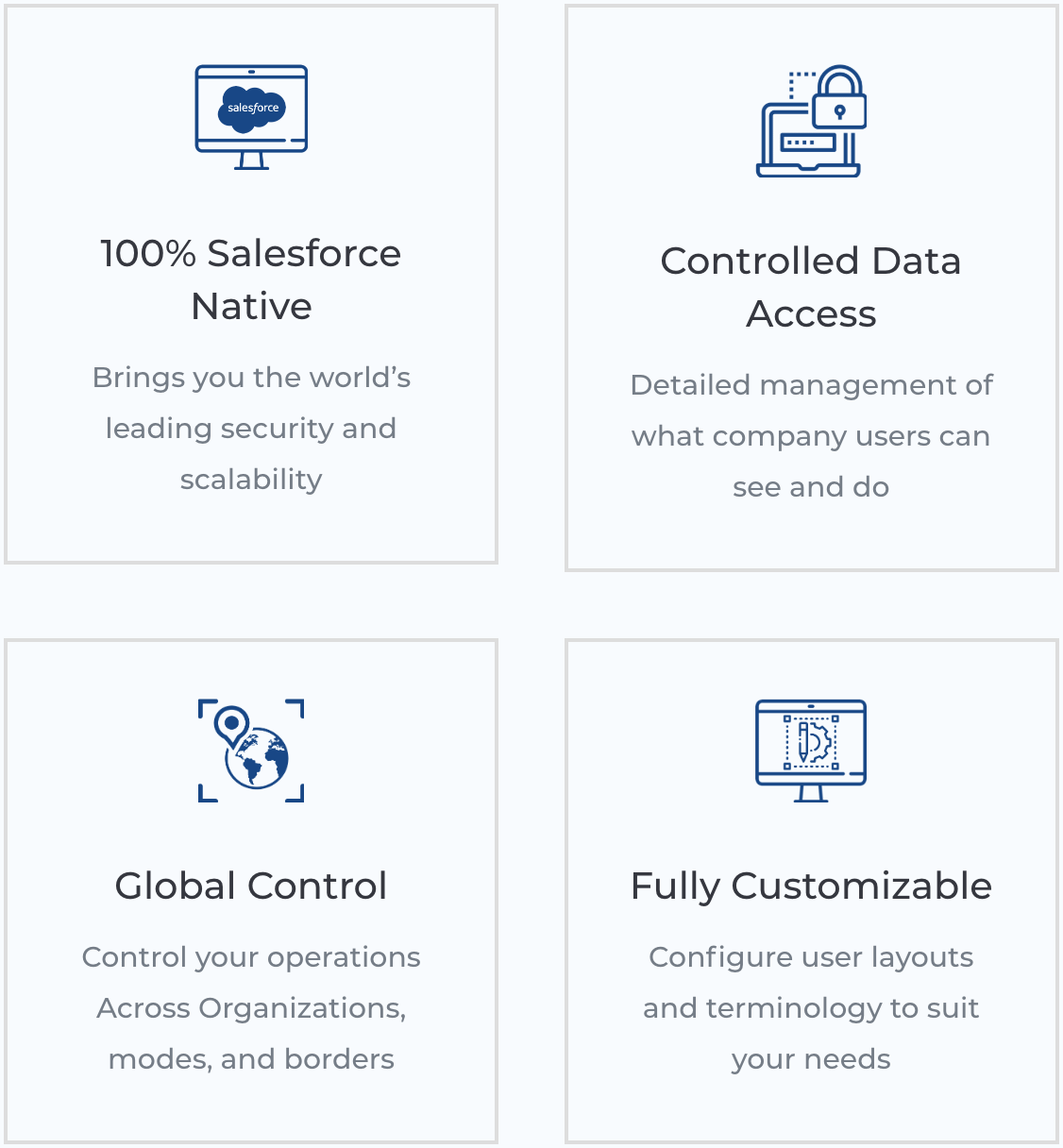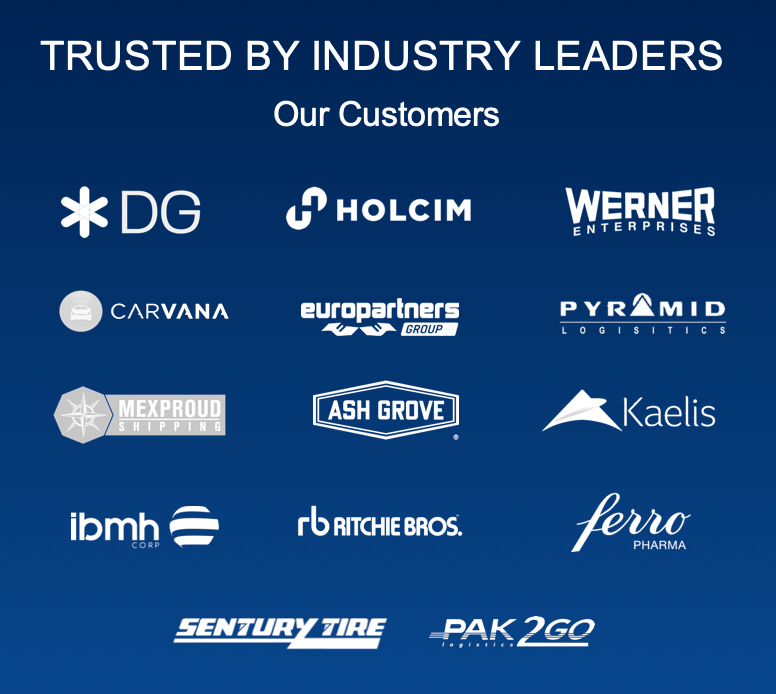 Why customers love Neurored
"Neurored is a complete and adaptable End-to-End Logistics Solution that helped us integrate our logistics and invoicing functions with CRM in order to simplify the IT architecture, streamline business processes, and increase efficiency. We've seen great improvement in functional baseline and in productivity with an incredible 95% user satisfaction!"
"Neurored provided DG with strategic visibility throughout the Covid-19 situation, enabling us to establish new customer relationships in need of Personal Protective Equipment (PPE). DG has delivered more than 30 million pieces of PPE for front line responders, thanks to the resilience Neurored helps us bring to the supply chains of our customers, and their customers."
"Neurored has truly been a Partner for us who have supported us in our growth and development. They took the time to understand our vision before designing a digital transformation solution."
Let's Get Started
Schedule a Demo Now
Europe- Spain:
Paseo Club Deportivo 2, Casa 29
La Finca, Pozuelo de Alarcón.
USA – New Jersey:
Neurored LLC
300 Carnegie Center, Suite 150
Princeton, NJ 08540