One-stop-shop to efficiently manage your global supply chain and multimodal transport requirements on the same leading cloud platform where you will find solutions for all your business systems.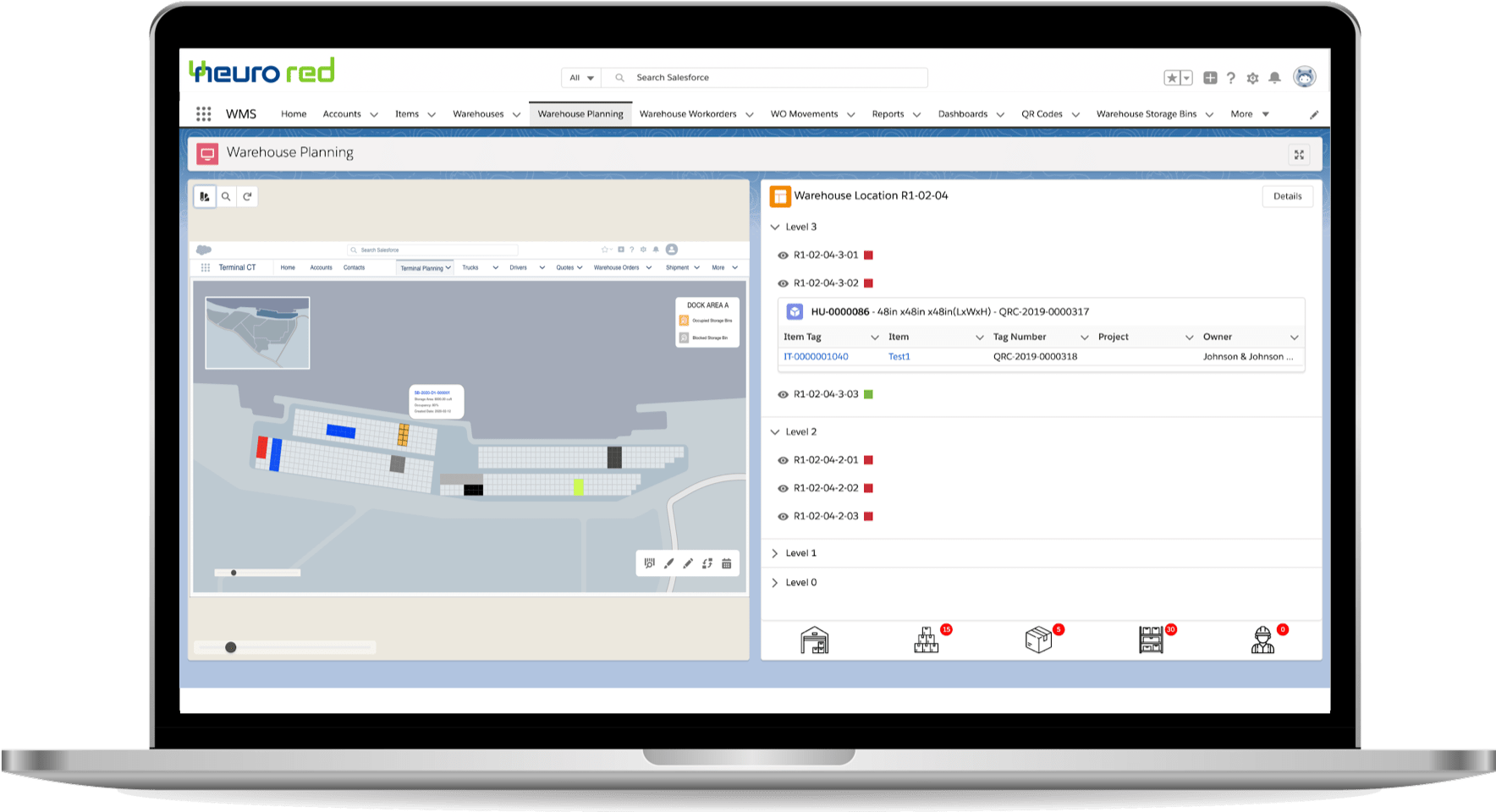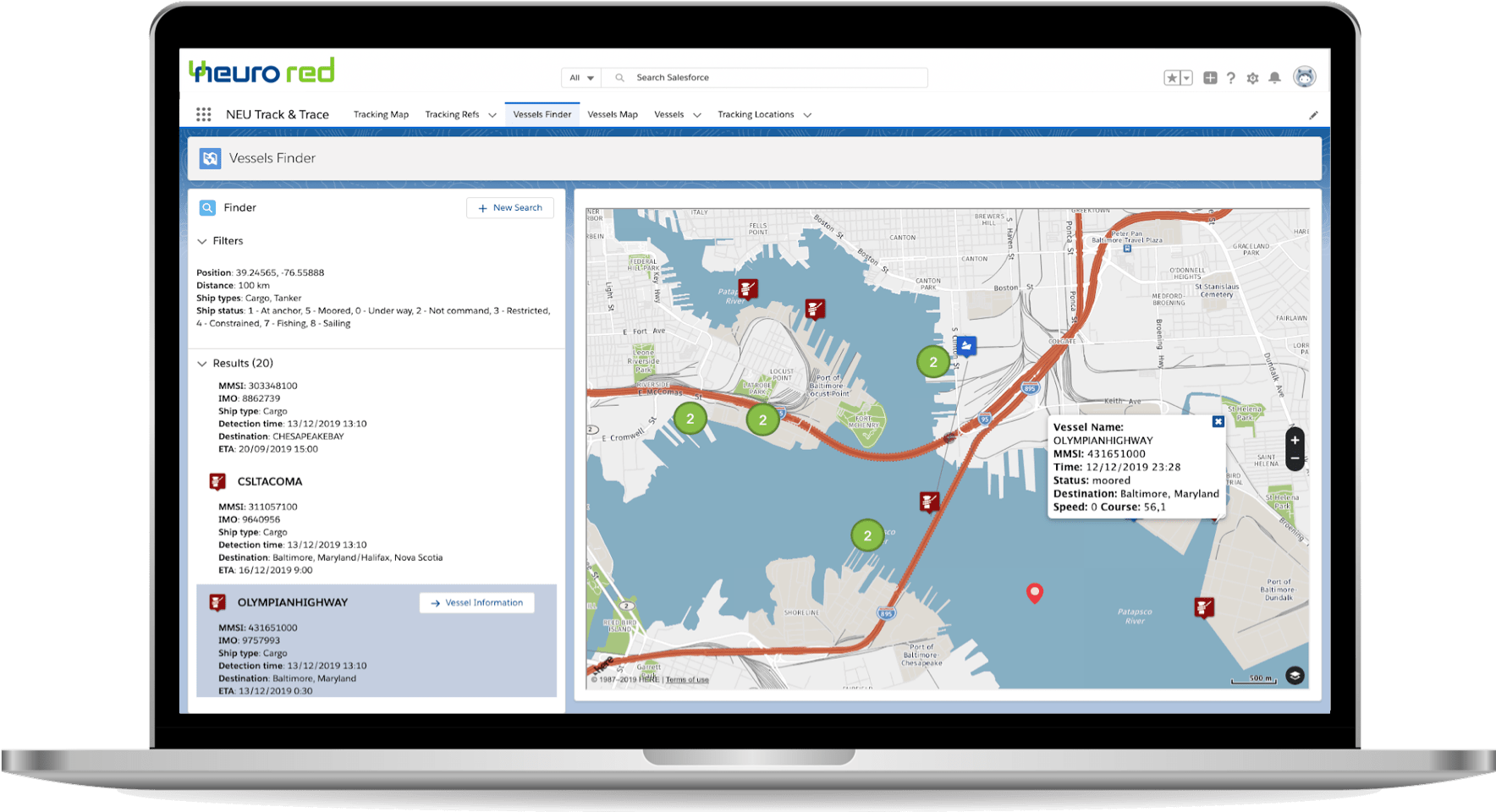 Vessel & Container Tracking
EDI Messaging
Gate In / Gate Out (Manage the gate appointments at the Terminal)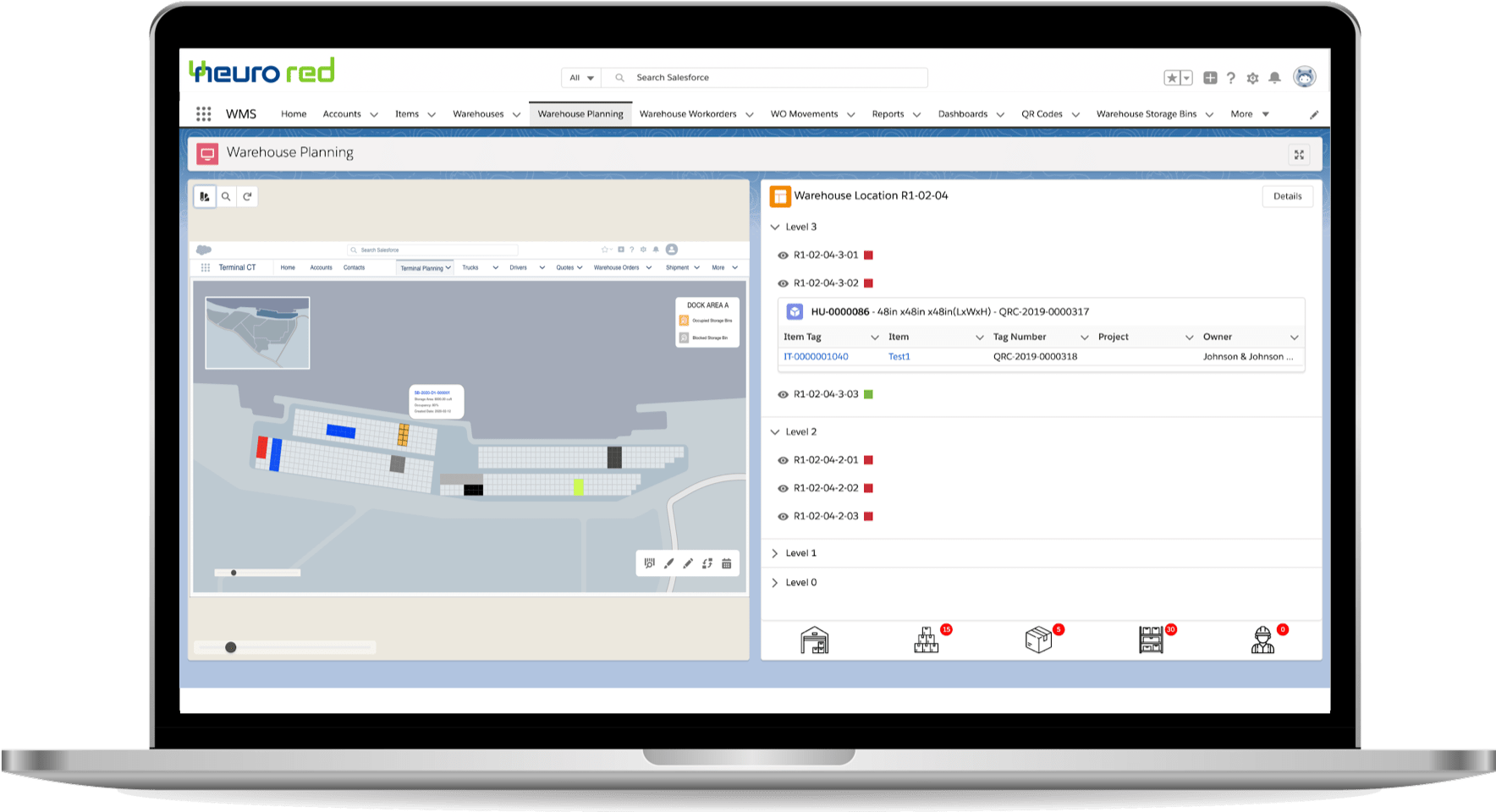 Yard & Warehouse Management (Yard Dynamic Layouts)
Resource & Assets Management and Planning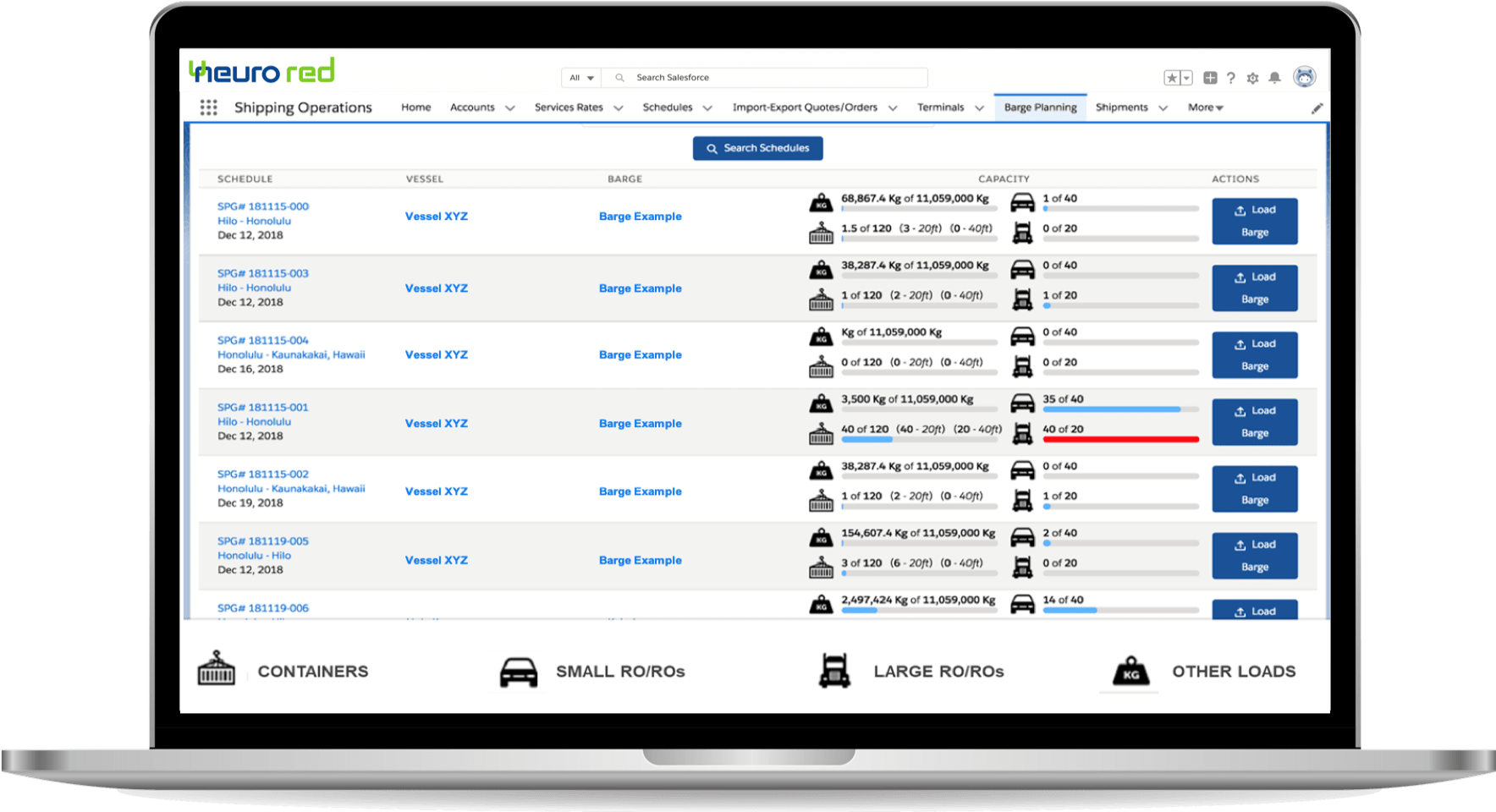 Capacity and Schedule Planning
We aim to be your one-stop shop to efficiently manage your global supply chain and multimodal transport requirements from the initial Client request to the fulfillment and payment of the service delivering your customers a best-in-class experience. We do this with our robust and flexible Neurored TMS & SCM, built on the Salesforce Platform, considered best-in-class by Gartner¹, and leveraging outstanding partner services.
Get End-to-End Cargo Visibility in Real-Time
Track cargo in real-time across multiple modes of transport (Sea, Air, Road, and Rail) using the technology that best suits your service requirements. 
Neurored Terminal Control Tower helps you get a unified, single-window view of your Ports and Terminals operations. You can manage Multimodal Tracking, Cargo Freight Rating, Warehousing, Commodity Trading, Terminal Gating, and Community Collaboration – all through a fully customizable interface!
Watch Our Digital Freight & Trade Network Demo for Sea Freight
The Digital Freight Network is perfect for seamless collaboration between all participants in the global supply chain. This seven-minute demo video is an example of how the network can be used for Freight Rate Contracting, Spot Quotations, Shipment Tracking, and Effortless Invoicing.
GET THE
LEADING FEATURES ON THE MARKET

for ports and terminals
End-to-End Operational Visibility
Terminal Control Tower improves efficiency across all areas of Port and Terminal operations by unifying all existing systems through a single, integrated platform.
Digitize Your Terminal Operations
Take advantage of graphical terminal layouts and get real-time visibility of all your inventory using industrial handheld devices to manage operations.
Facilitate Trade and Collaboration
Create your own Community Portals to improve community collaboration and set up Trade Marketplaces to sell commodities stored at your warehouse.
NEURORED TMS & SCM
SALESFORCE PLATFORM VALUES
Leverage Salesforce Development Platform
With Neurored you are able to combine out-of-the-box solutions (from Salesforce, Neurored and Appexchange) with bespoke developments within the Salesforce Platform, named by Gartner as one of the most innovative development platforms as of today.
Leverage Salesforce Integration & Automation Capabilities
Take advantage of Salesforce's unique integration capabilities with industry standards such as Mulesoft or AWS to bring all your data into the platform to be able to use it for data analytics & business process automation with tools like alerts, triggers, workflows, automated tasks & many more.
Leverage Salesforce CRM & Customers Communities
Take advantage of Salesforce's world-leading CRM and leverage Salesforce Communities with the Neurored solutions to increase your customer engagement with automated quotation systems and providing full tracking capabilities.
Leading Cloud Solution
Enjoy the security of the world's largest cloud platform (AWS) and the innovation of the world's leading business app platform (Salesforce)
Multi-Device Access
Enable on-site users to easily manage operations by accessing specific features of your app from Mobile, or Industrial Portable Device
Quick Implementation
Neurored Terminal Control Tower can be set up and fully configured to your business needs in a matter of months rather than years
Real-Time Data & Insights
Get a birds-eye view of the entire transportation network and make data-driven decisions using real-time metrics, reports, and insights
END-TO-END SYSTEMS INTEGRATION
Managing the operations of large-scale Ports and Terminals almost always requires a combination of different systems that are perfectly suited to your business needs. Neurored seamlessly brings these systems together to improve visibility, break down silos, and deliver a meaningful digital transformation. Our clients have seen fantastic results by integrating systems including:
TRANSPORT MANAGEMENT SYSTEM (TMS)
WAREHOUSE MANAGEMENT SYSTEM (WMS)
CUSTOMER RELATIONSHIP MGMT. (CRM)
ENTERPRISE RESOURCE PLANNING (ERP)
TERMINAL OPERATING SYSTEM (TOS)
TRADE AND FREIGHT RATES MARKETPLACES
PORT COMMUNITY EDI INTEGRATIONS
OUR SOLUTIONS
Use our modular solutions to get an edge over the competition and customize it to fit your unique needs perfectly.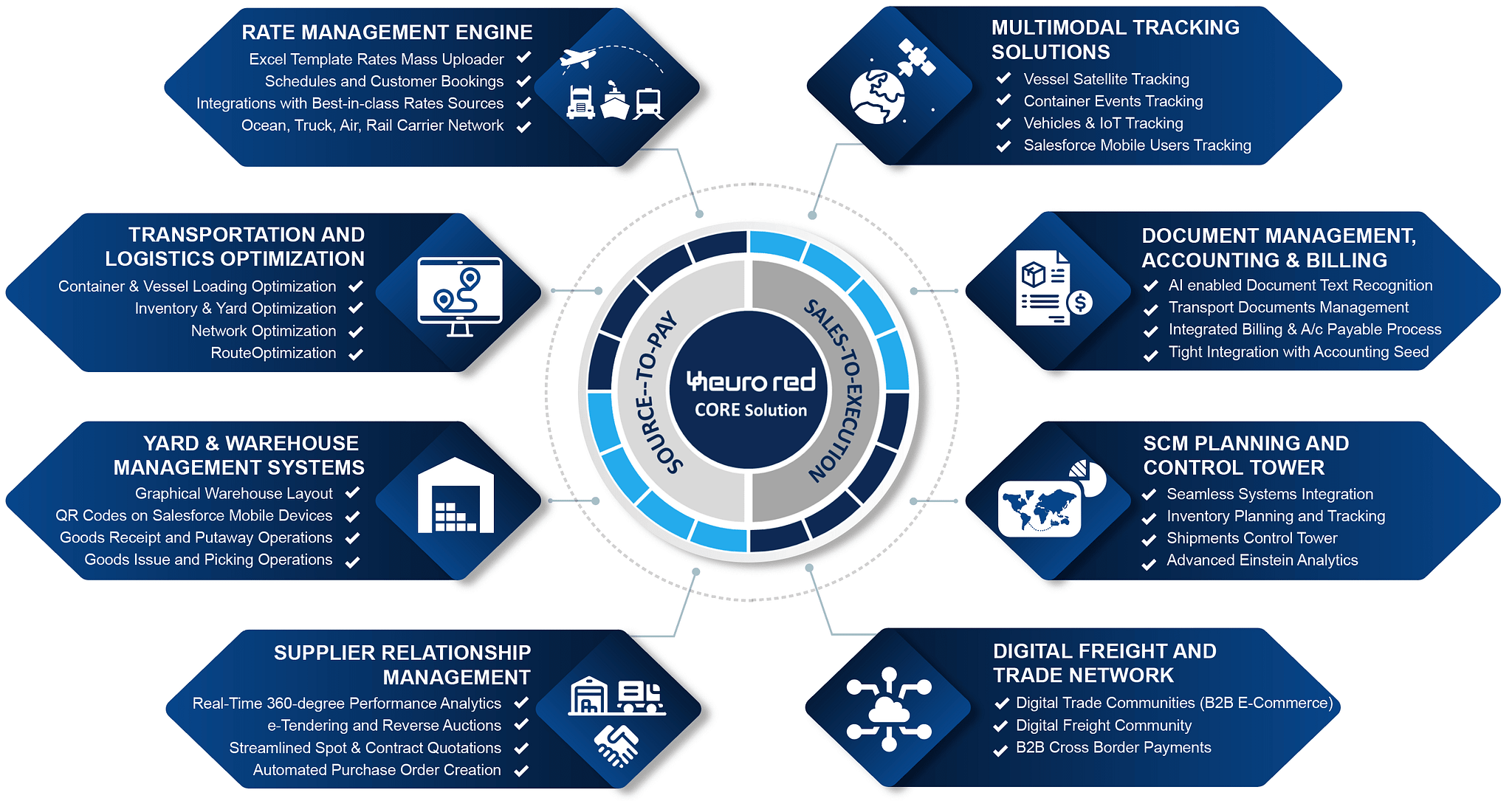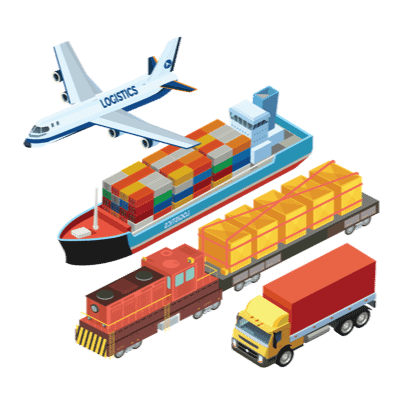 Rate Management Engine
Empower your customers with self-service quoting and reduce your quoting staff by 50%
Real-time Multimodal Transportation Visibility
Empower customers with self-service track and trace and reduce customer service staff by 50%
Yard and Warehouse Management System
Empower inventory visibility & transparency & boost productivity in warehouse operations
Document Management, Accounting & Billing
Streamline documentation, billing & accounts payable processes and get robust accounting integrations
Transport & Logistics Optimization
Improve efficiency by 15% using Advanced Routing, 3D cargo-loading, and Resource & Capacity Optimization tools.
SCM Planning and Execution Control Tower
Integrate all your business systems and third-party tools to unify operations and jumpstart productivity.
Supplier Relationship Management
Manage suppliers relationships, hold reverse auctions, and tie in the supplier metrics with customer satisfaction!
Digital Freight & Trade Network
Enable Global Trade by connecting all the stakeholders through a trusted member network digitally at your finger tips
Teleworking and Work Performance
Set up custom targets for your workforce, monitor real-time work performance, and take corrective action to increase productivity.
Trusted By Industry Leaders
Why customers love Neurored
"Neurored has truly been a Partner for us who have supported us in our growth and development. They took the time to understand our vision before designing a digital transformation solution."
"Neurored provided DG with strategic visibility throughout the Covid-19 situation, enabling us to establish new customer relationships in need of Personal Protective Equipment (PPE). DG has delivered more than 30 million pieces of PPE for front line responders, thanks to the resilience Neurored helps us bring to the supply chains of our customers, and their customers."
"I would say that Neurored is the best team to have by side when you want to move to modern era. Their knowledge of Salesforce Platform is very deep and their approach towards customers and execution of tasks is at the highest level. You always feel that Neurored team is nearby ready to help when you need it."
Let's Get Started
Schedule a Demo Now
Europe- Spain:
Paseo Club Deportivo 2, Casa 29
La Finca, Pozuelo de Alarcón.