Unified CRM + SRM Platform
Integrate your existing data to the cloud with the Salesforce Platform and manage all your customer relationships, supplier relationships, and orders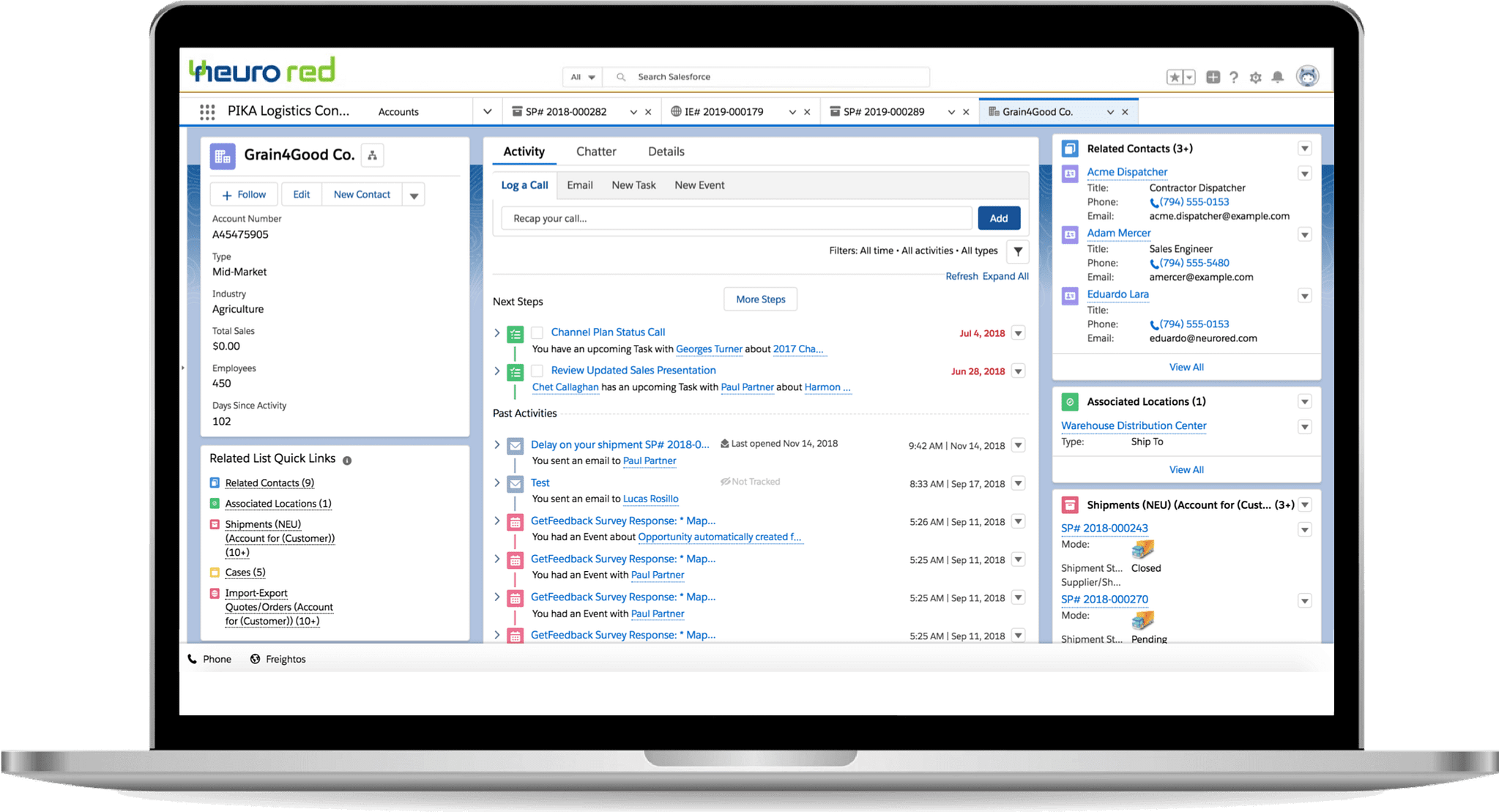 Accounts Management
Contact Management
Reports & Dashboards
Sales Collaboration
Monitor Supplier Performance
Ensure Transparency in the Tendering Process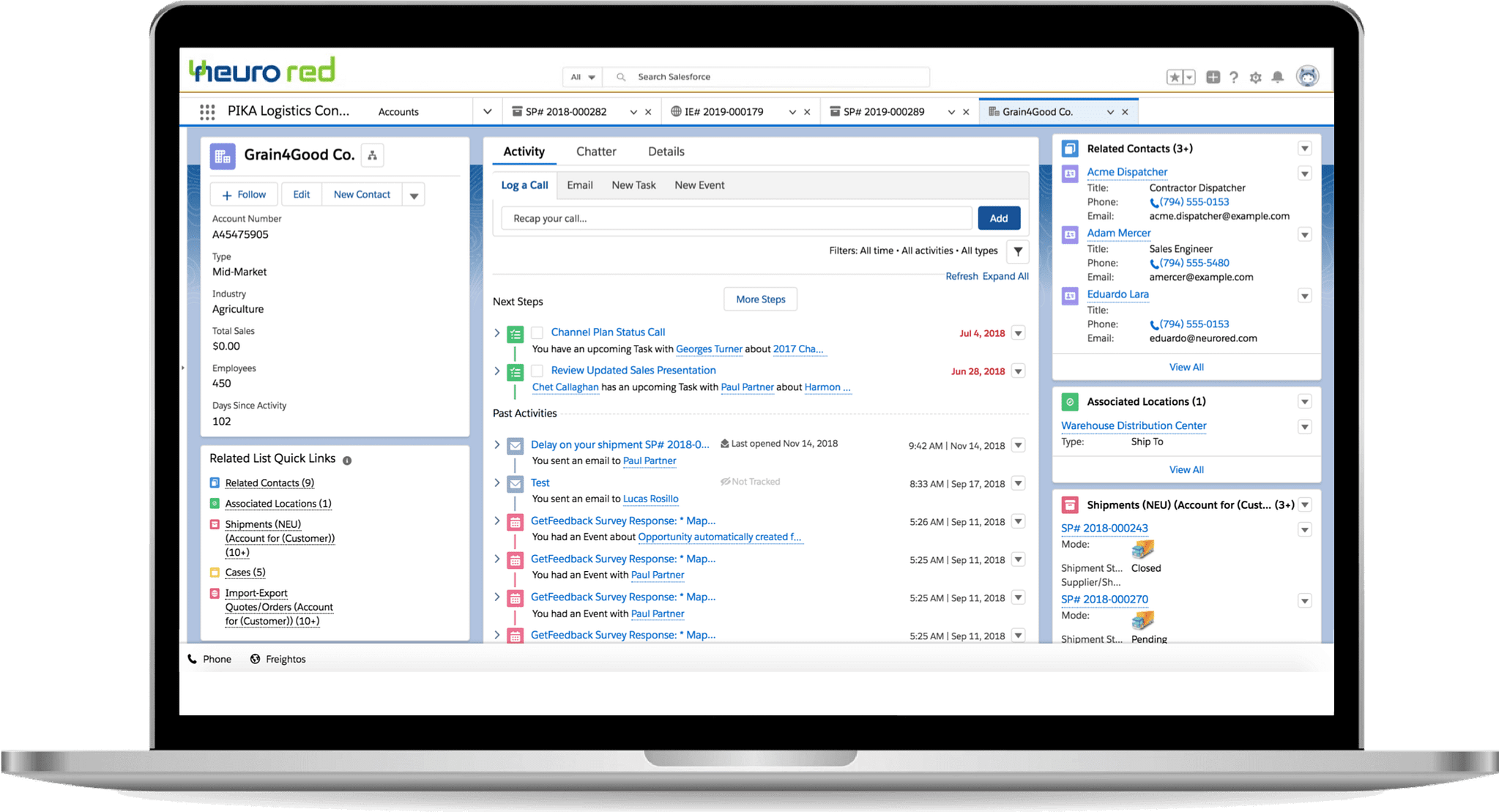 Accounts Management
Contact Management
Reports & Dashboards
Sales Collaboration
Monitor Supplier Performance
Track Customer Satisfaction
Ensure Transparency in the Tendering Process
Take advantage of the cloud with the Salesforce Platform
Neurored's unique technology and methodology enable you to integrate your company's in-house systems securely to the Salesforce Cloud Platform. Take advantage of all the technology of the Salesforce Platform to manage your customer relationships, supplier relationships, and ordering process.
Note** No matter what your current systems are, Neurored licenses already embed the Salesforce Platform and the integration middleware required.
BUILT ON THE MOST SCALABLE PLATFORM

As your business grows, your software needs will need to keep up. Since Neurored is 100% native to the leading business apps platform, it gives your business access to the following advanced capabilities:
Leverage Salesforce Development Platform
With Neurored you are able to combine out-of-the-box solutions (from Salesforce, Neurored, and Appexchange) with bespoke developments within the Salesforce Platform that is named by Gartner as one of the most innovative development platforms as of today.
Leverage Salesforce Integration & Automation Capabilities
Take advantage of Salesforce's unique integration capabilities with industry standards such as Mulesoft or AWS to bring all your data into the platform to be able to use it for data analytics & business process automation with tools like alerts, triggers, workflows, automated tasks & many more.
Leverage Salesforce CRM & Customers Communities
Take advantage of Salesforce's world-leading CRM and leverage Salesforce Communities with the Neurored solutions to increase your customer engagement with automated quotation systems and providing full tracking capabilities.
DOWNLOAD THE LATEST SOLUTION INFORMATION FOR SUPPLIER RELATIONSHIP MANAGEMENT
Power up your CRM/SRM System with Cloud-Native TMS

We aim to be your one-stop shop to efficiently manage your global supply chain and multimodal transport requirements from the initial client request to the fulfillment and payment of the service delivering your customers a best-in-class experience.
Neurored TMS & SCM provides you with a user-friendly experience to capture your customer requirements, plan your sales, inventory, and operations, manage your warehouses, manage carriers and bookings, track & trace your shipments, reconcile your payments and integrate all required documents along the process.
We do this with our robust and flexible Neurored TMS & SCM, built on the Salesforce Platform, considered best-in-class by Gartner¹, and leveraging outstanding partner services.
Customizable for all Industries
Every global supply chain has its unique requirements and processes, and Neurored can be fully configured to bolster all of them. Customize our software to match the terms and the layouts that your team is familiar with, and enjoy our industry-leading features, support, and solutions. Our global team of supply chain specialists has robust knowledge and experience encompassing the following key sectors:
Automated Purchase Order Request Creation
Purchase orders are created automatically by parsing the information that the customer sends via email. This information is automatically captured, stored, and related to the relevant records on the system. The information can also be used to trigger tasks automatically.
Ensure Transparency in the Tendering Process
Get the best deals for your business by inviting multiple suppliers to bid for tenders. Select the best offers based on price, quality, efficiency and other measurable metrics to keep the process fair, transparent, and competitive.
Manage Supplier Relationships
Set up controlled tenders for sensitive auctions by requesting quotes for critical items only from relevant suppliers. Create, onboard, and remove suppliers as necessary.
Login-free Supplier Quoting
Suppliers will only need to have internet access to make an offer. The information filled by the suppliers will be automatically updated and related to the relevant records in the application.
Reverse Auctioning And Pricing Fit
Encourage competitive offers by letting suppliers know the ranking and deadline of their bid. Communicate expected prices and avoid unusual markups by sharing the target bid price with suppliers.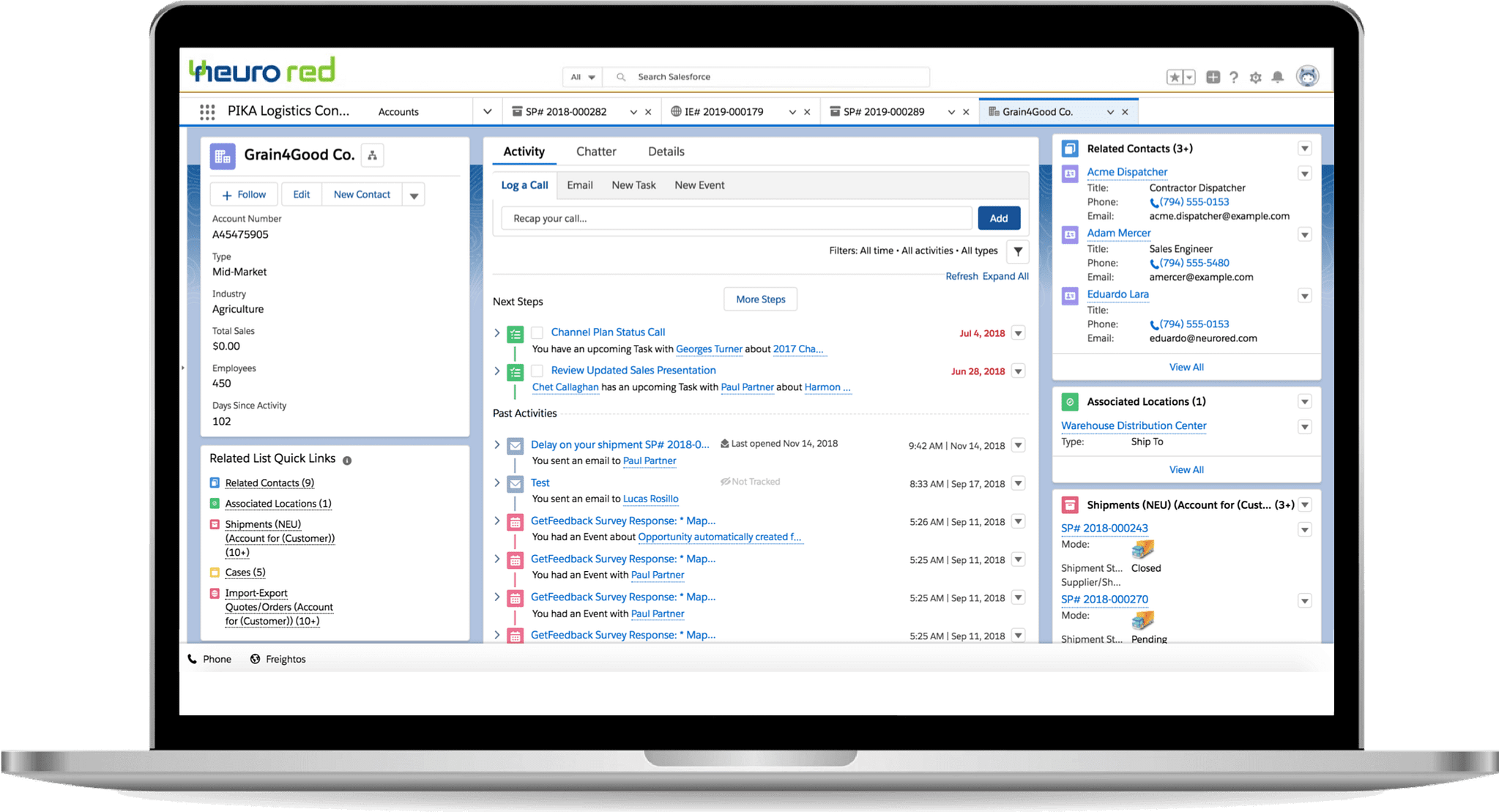 Get a complete picture of all your customers, from insights about how to engage with them to deals they're involved in. Quickly and easily Access critical customer data including key contacts, communication history, and more.
Store detailed contact information and collaborate with them by sharing insights, relevant documents, and more. Avoid overloading your devices with contact data by easily accessing this information from mobile devices on the go.
Keep up with critical projects, topics, and teams in a social feed that's easy to access. Find the right people, files, and information for you to follow based on your activity and interests. You can also collaborate from anywhere by posting to a group, viewing files, and updating records using your mobile device.
Integrate your Sales Orders and/or Purchase Orders from your current systems in order to link them to all your transportation and logistics operations.
Build reports without help from IT. Just drag and drop the fields, filters, groupings, and charts that you want, and get an immediate real-time view. Track team performance with dashboards and other sales reporting tools, and quickly make changes to components to get the most important information front and center.
Trusted By Industry Leaders
Why customers love Neurored
"Neurored is a complete and adaptable End-to-End Logistics Solution that helped us integrate our logistics and invoicing functions with CRM in order to simplify the IT architecture, streamline business processes, and increase efficiency. We've seen great improvement in functional baseline and in productivity with an incredible 95% user satisfaction!"
"Neurored provided DG with strategic visibility throughout the Covid-19 situation, enabling us to establish new customer relationships in need of Personal Protective Equipment (PPE). DG has delivered more than 30 million pieces of PPE for front line responders, thanks to the resilience Neurored helps us bring to the supply chains of our customers, and their customers."
"Neurored has truly been a Partner for us who have supported us in our growth and development. They took the time to understand our vision before designing a digital transformation solution."
Let's Get Started
Schedule a Demo Now
Europe- Spain:
Paseo Club Deportivo 2, Casa 29
La Finca, Pozuelo de Alarcón.
USA - New Jersey:
Neurored LLC
300 Carnegie Center, Suite 150
Princeton, NJ 08540