Real-time Multimodal Transportation Visibility
Empower customers with self-service track and trace and reduce customer service staff by 50%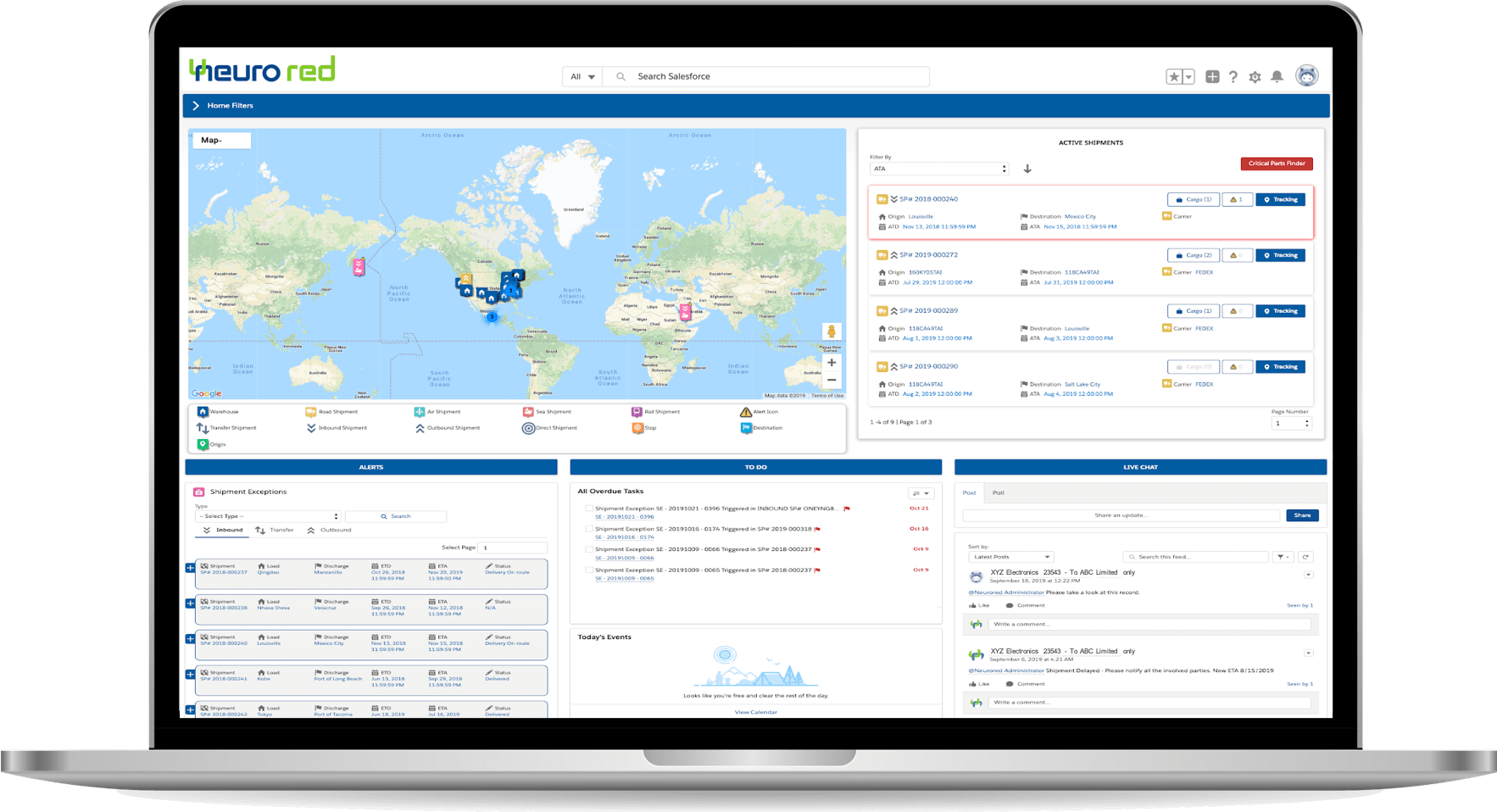 Multimodal Transport Tracking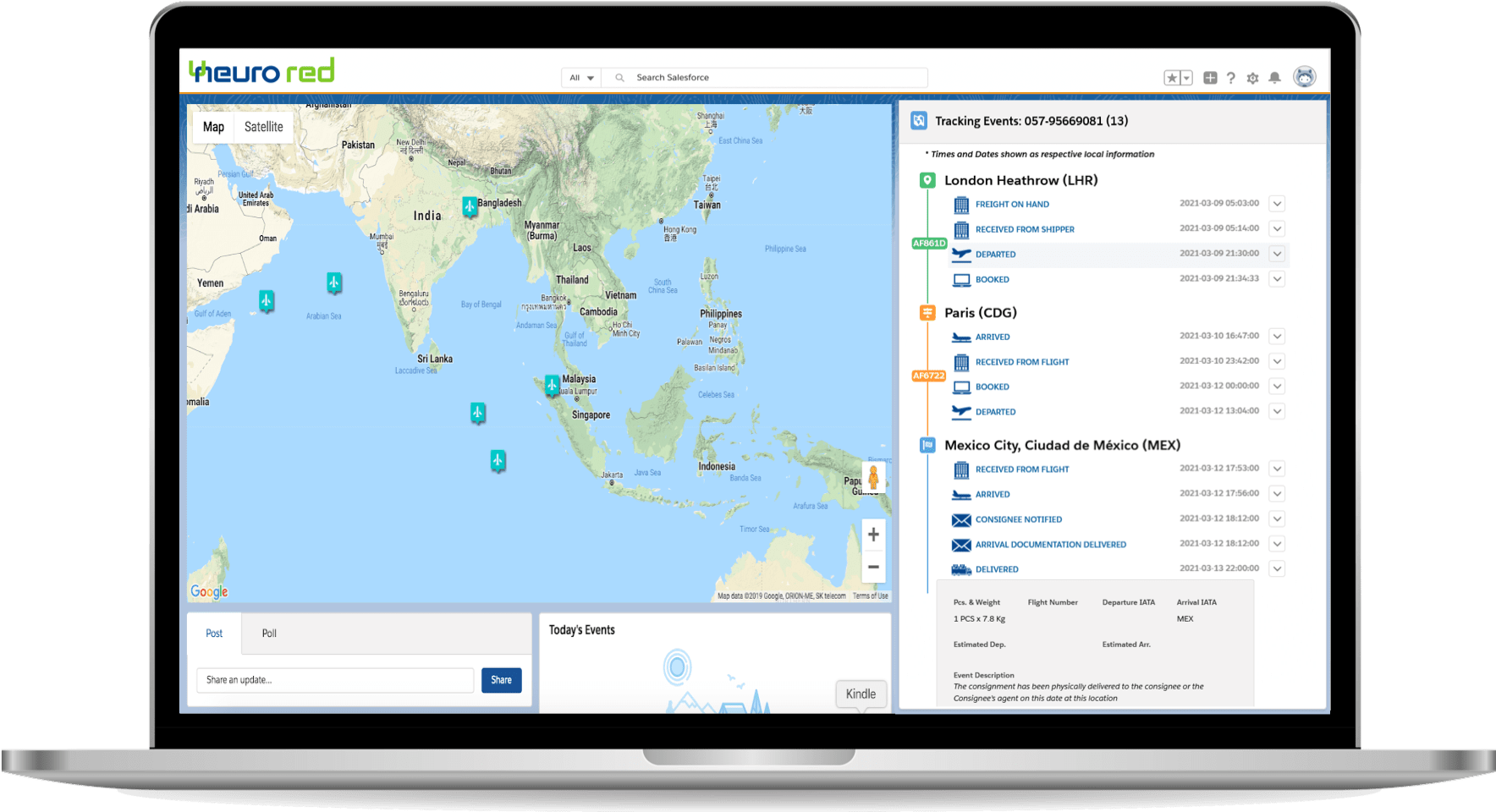 Air Cargo Tracking
Bulk Vessel Tracking
Road Transport Tracking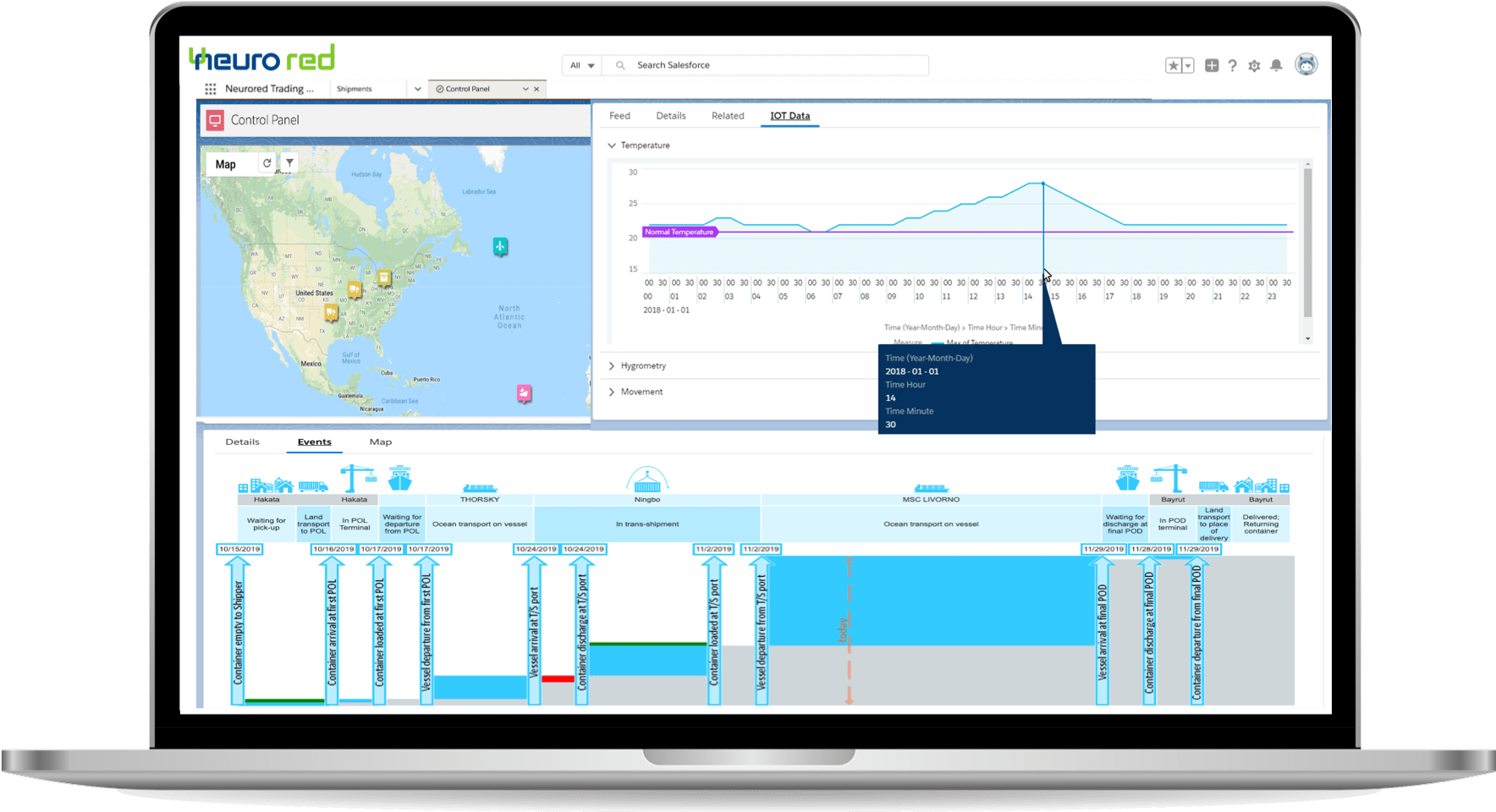 Container Tracking and IoT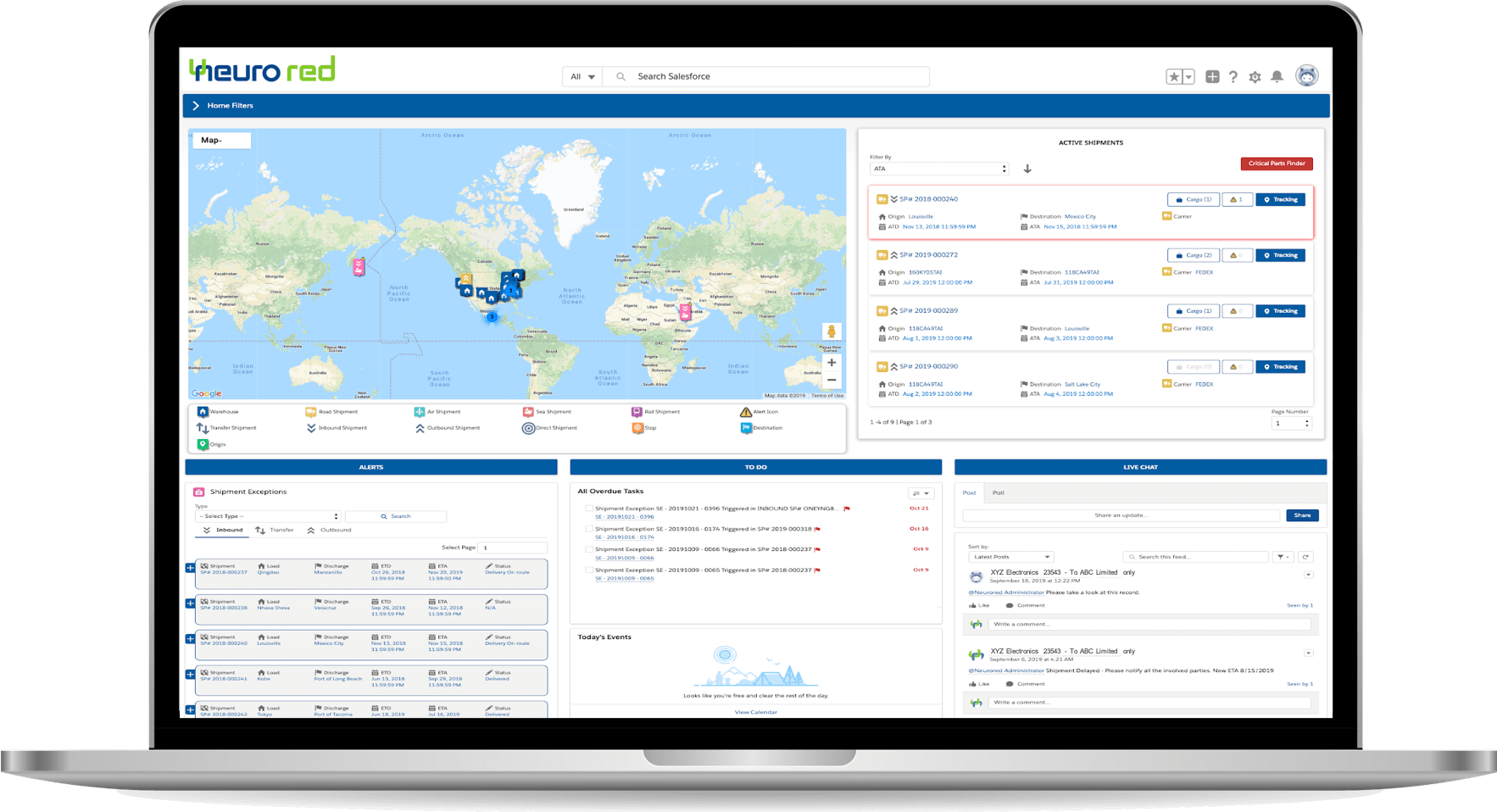 Multimodal Transport Tracking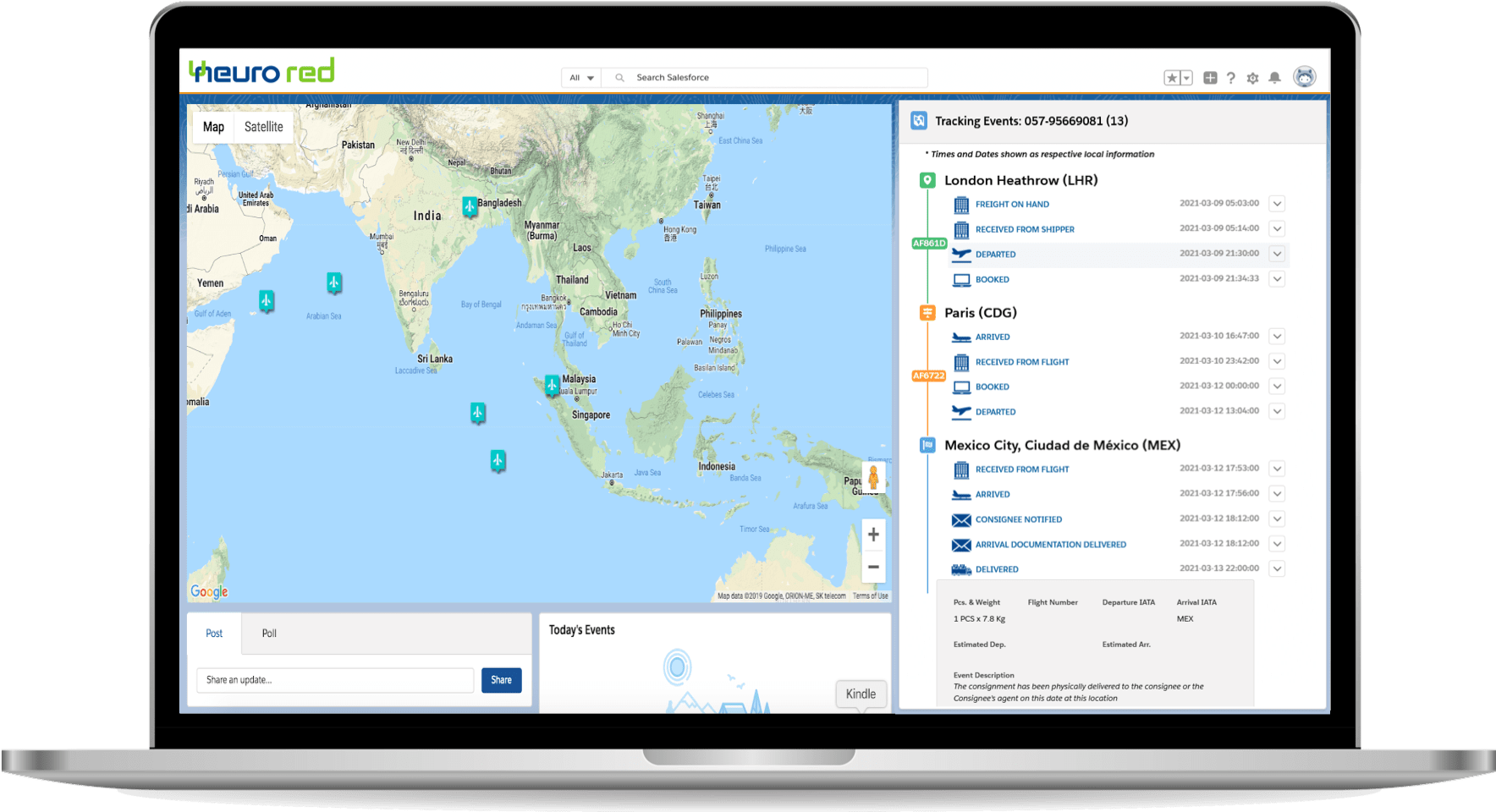 Air Cargo Tracking
Bulk Vessel Tracking
Road Transport Tracking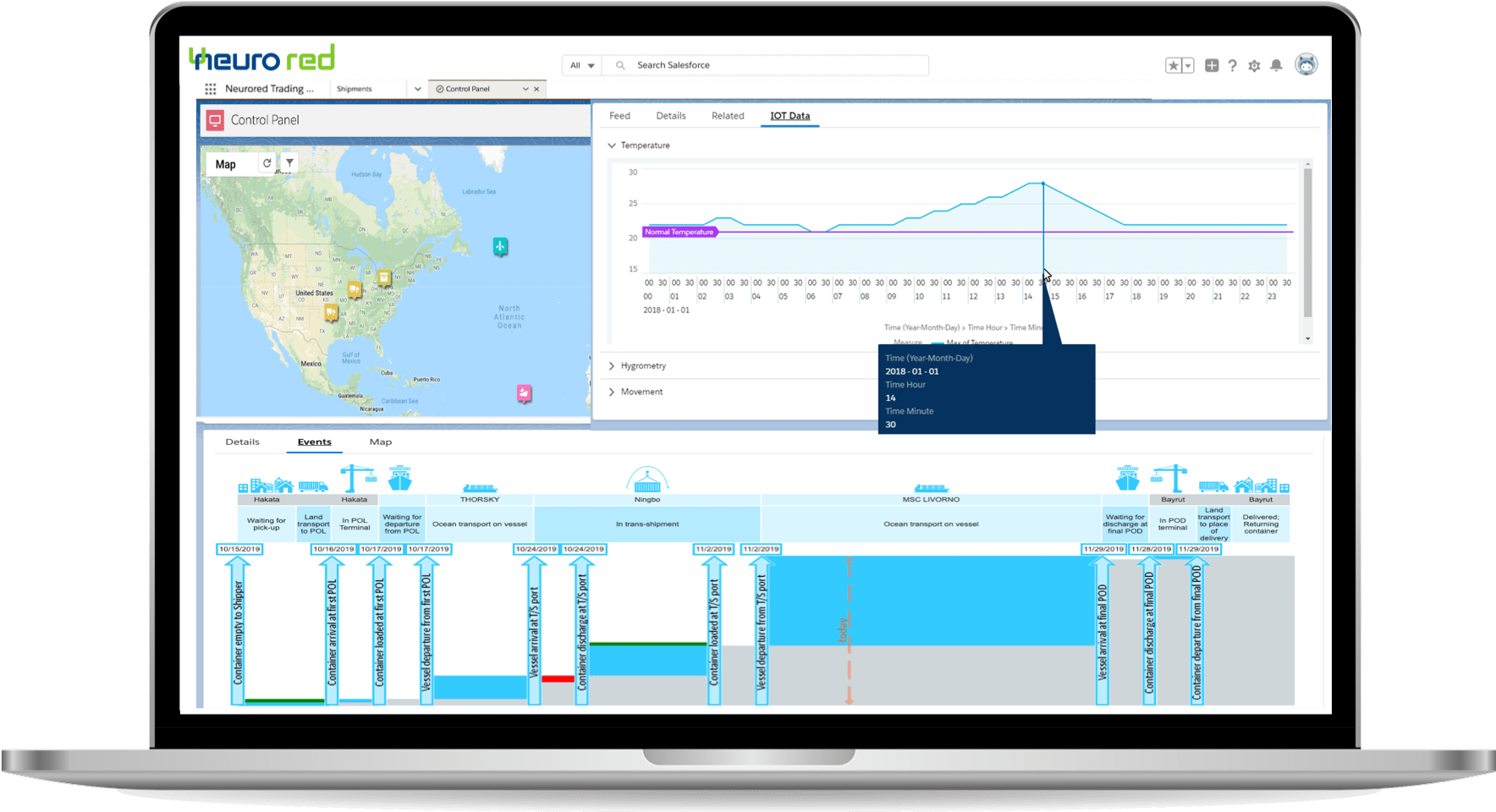 Container Tracking and IoT
Neurored's advanced tracking solutions helps you get real-time tracking round the clock, across the globe, covering all modes of transport (Sea, Air, Land, Rail), at multiple levels (Item, Parcel, Pallet, Container, Break-Bulk, Vehicle/Vessel, Service Agent, etc.) and using the technology that suits your operational requirements (Satellite, Mobile, QR code, BLE Beacons, IoT, etc.). Our industry-leading technology gets you both a birds-eye-view of your operations, and a detailed breakdown of tracking information like Tracking Number, Geo-position, Carrier Name, Origin, Destination ETA, Reference numbers, and much more.
COMPLETE OVERVIEW OF OPERATIONS
Custom Tracking Filters

Set up custom filters to filter your shipments by tracking number, transport mode, Origin, Destination, SKU number, or any other filter that can help you visualize and analyze your operations.
Configurable Interface

Our app is fully configurable, which means you can set up pages in familiar layouts to improve productivity and employ vocabulary that your team uses and understands.
Extend Tracking To Your Community

Choose what your stakeholders see and give them access to order information, delivery schedules, cargo condition, and coordinates while providing them with customized alerts right at their fingertips.
Deviations Management

Keep customers happy even when there's an incident in the supply chain. Neurored helps you be proactive and take remedial measures by sending you instant alerts and notifications.
Ensure End-to-End Visibility Using Digital Freight & Trade Network
The Digital Freight Network is perfect for seamless collaboration and execution across all modes of transport. This demo video highlights how our solution associates Freight Rate Contracting and Spot Quotations with Shipment Tracking and Invoicing.
GET THE
LEADING TRACKING FEATURES

ON THE MARKET
REAL-TIME GPS TRACKING
Get end-to-end visibility with AIS Satellite Tracking for vessels, Vehicle Telematics (ELD) for trucks, and IoT-enabled cargo tracking for everything-in-between. Enjoy advanced location-based features like geofencing, driver performance monitoring, and custom deviations-management alerts.
CARGO EVENTS TRACKING
Get a real-time overview of events across the world from 80+ leading container lines, thousands of global LTL carriers, and even integrate with any of your favorite cargo lines on demand. Ensure on-time delivery and monitor cargo conditions by using cargo-monitoring services and IoT devices.
SCANLESS INVENTORY TRACKING
Locate cargo on premises that see a high throughput, like warehouses, yards, and terminals, without the need for manual scanning. Use a combination of cost-efficient Bluetooth Low Energy (BLE) Beacons and Wi-Fi/BLE access points to get insights on inventory dwell times, traffic flow, and zone analytics.
NEURORED TMS & SCM
SALESFORCE PLATFORM VALUES
Leverage Salesforce Development Platform
With Neurored you are able to combine out-of-the-box solutions (from Salesforce, Neurored and Appexchange) with bespoke developments within the Salesforce Platform, named by Gartner as one of the most innovative development platforms as of today.
Leverage Salesforce Integration & Automation Capabilities
Take advantage of Salesforce's unique integration capabilities with industry standards such as Mulesoft or AWS to bring all your data into the platform to be able to use it for data analytics & business process automation with tools like alerts, triggers, workflows, automated tasks & many more.
Leverage Salesforce CRM & Customers Communities
Take advantage of Salesforce's world-leading CRM and leverage Salesforce Communities with the Neurored solutions to increase your customer engagement with automated quotation systems and providing full tracking capabilities.
Real-Time Vessels and Ships Tracked
Container Lines Integrated
Trucks Tracked Through ELDs
Track and monitor movement, history, and condition across operations by using our robust and accurate features. Our features are modular, which means that we can disable them if you please, but they're fully integrated into the app when you need them.
Enhance communication in your transport operations and get accurate tracking information from the GPS of the driver's smartphones. Giving contracted drivers easy access to a customized mobile application can also help your drivers get pickup and delivery details, upload necessary documents, and use the chat functionality whenever they need help.
Track all packages through internal stakeholders or empower customers and partners in your supply chain to have complete real-time visibility of their shipments through Neurored communities. Stakeholders can collaborate using your branded portal to view and manage their freight, saving time, and providing for an improved stakeholder experience.
Use satellites, GPS or IoT devices to get accurate location information of your fleet across land, air, and the open seas. Monitor driver behavior through vehicle telematics information, set up geofencing to stay informed of unusual route deviations, and take corrective action to prevent unauthorized movement.
Get a detailed history of cargo events across all transport modes with accurate location and time history. Receive alerts when there are critical deviations in your supply chain and initiate corrective actions to save time and money by protecting your assets against unnecessary fines and surcharges.
Document Verification & Tracking
Track your shipment cost-effectively by printing unique QR codes to the documents, like BOLs, shipping instructions, etc. that accompany your shipment. Scan QR codes with a smartphone to get timestamp and location details every time a shipment changes hands which can serve as proof of pickup or delivery.
Package Condition Tracking
Offer customers value-added-services by using IoT devices to continuously monitor temperature, humidity, etc. of perishable and fragile goods. Discover the probable cause of the problem and take corrective action yourself or set up service level agreements with your suppliers based on cargo health.
Select Tracking Tech

Choose from among leading technologies in the industry that suit your operational needs
Track Across Modes

Whether your package is on Road, Rail, Air, Ocean, or all of the above, we've got you covered
Track Across Levels

From item & pallet level to container & transport level, Neurored offers you multi-level visibility 
Unlimited Global Tracking

Track your package across borders and continents without any global coverage or usage limits
Benefits of tracking solution
End-to-end Supply Chain Visibility

Cargo Condition Monitoring

Get Alerted of Potential Delays

Manage Drivers With Mobile App

Improved Tracking For Customers

Insights On Cost & Service Quality
Proactively Rectify Complications
Leverage Historic Tracking Data
Avoid Unnecessary Charges

Avoid Theft And Misplacement
Benefits of Tracking Solution
Trusted By Industry Leaders
Why customers love Neurored
"Neurored is a complete and adaptable End-to-End Logistics Solution that helped us integrate our logistics and invoicing functions with CRM in order to simplify the IT architecture, streamline business processes, and increase efficiency. We've seen great improvement in functional baseline and in productivity with an incredible 95% user satisfaction!"
"Neurored provided DG with strategic visibility throughout the Covid-19 situation, enabling us to establish new customer relationships in need of Personal Protective Equipment (PPE). DG has delivered more than 30 million pieces of PPE for front line responders, thanks to the resilience Neurored helps us bring to the supply chains of our customers, and their customers."
"Neurored has truly been a Partner for us who have supported us in our growth and development. They took the time to understand our vision before designing a digital transformation solution."
Let's Get Started
Schedule a Demo Now
Europe- Spain:
Paseo Club Deportivo 2, Casa 29
La Finca, Pozuelo de Alarcón.