Interra Global Save Hundreds Of Hours Every Week With Neurored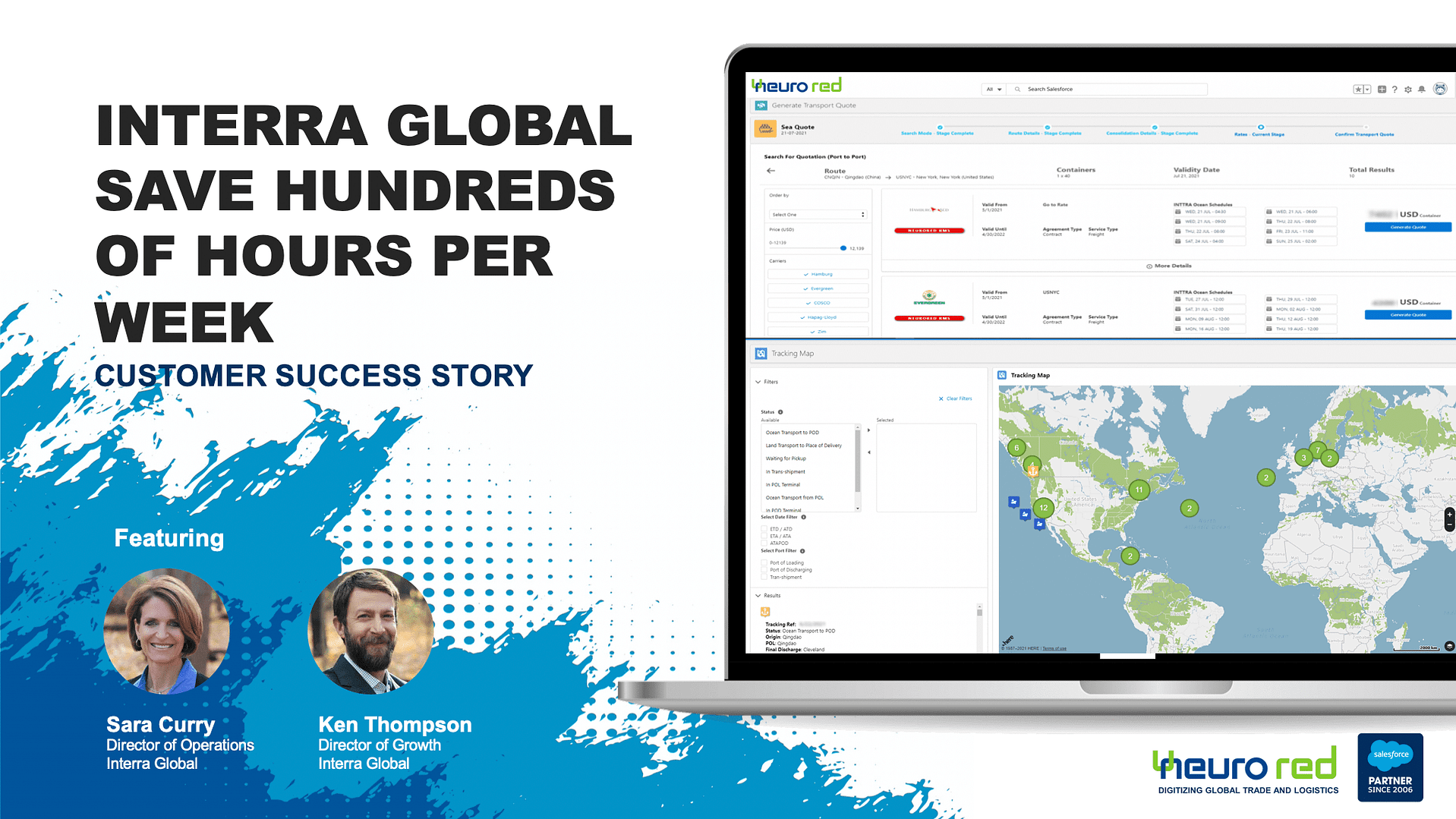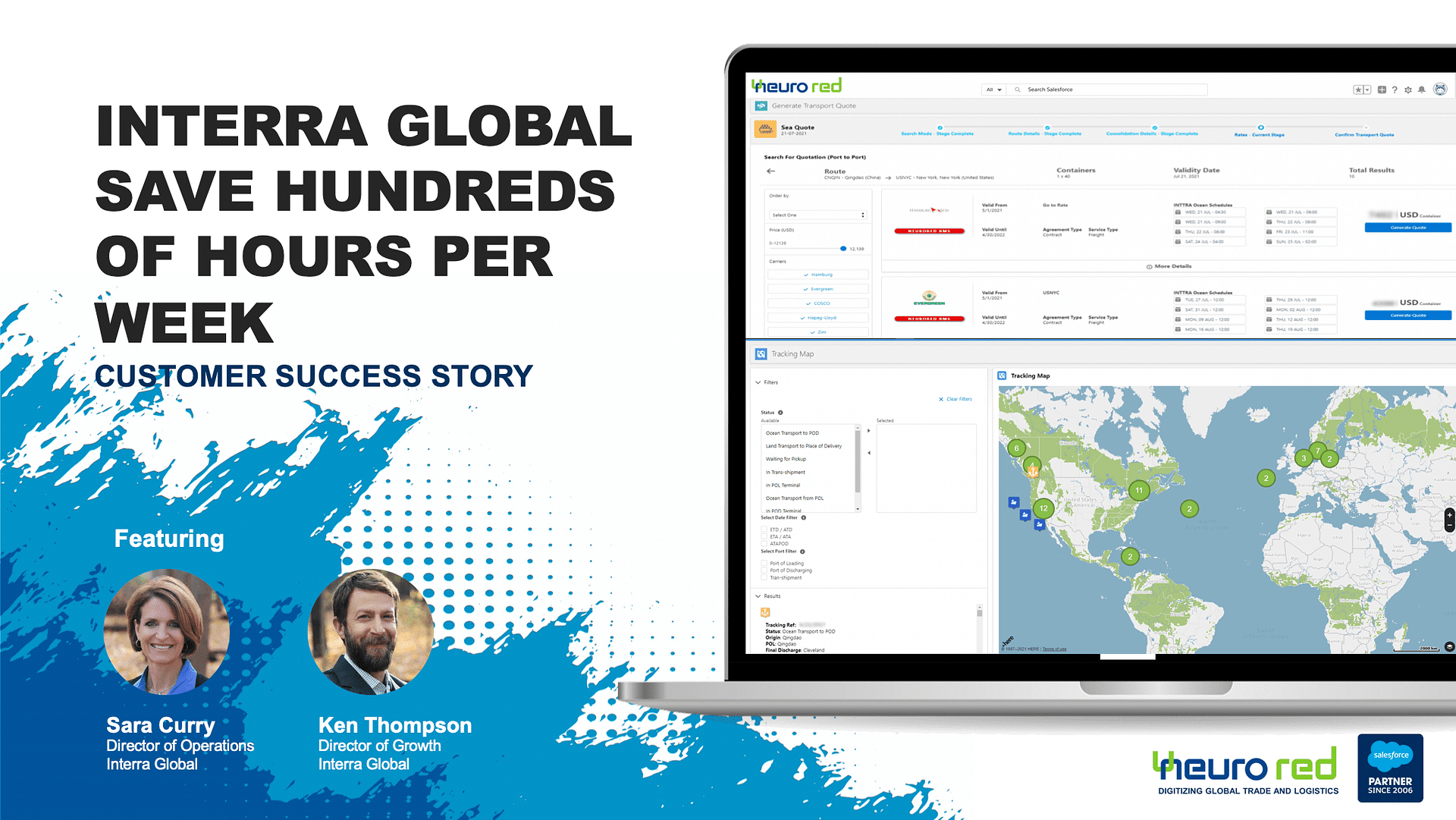 In this month's edition of Neurored's Customer Success Stories, we spoke with Interra Global's Sara Curry and Ken Thompson – Director of Operations and Director of Growth, respectively.
Interra Global Corporation is a company that specializes in global material sourcing solutions for renewable fuels, industrial adsorbents, and pet litter industries. 
THE SITUATION
Interra Global has been enjoying consistent growth over the last few years. Inc magazine listed the company among America's Fastest-Growing Private Companies with an impressive revenue growth rate of almost 200% in three years! 
But with great growth comes great complexity!
As Interra Global grew to serve more customers, the complexity of freight rates management and shipment tracking grew exponentially. The team was forced to use multiple disconnected tools to collaborate with carriers, work on freight rates, and find tracking information on carrier websites. This made it difficult for the company to focus on its growth as routine tasks kept adding up!
THE TASK
The challenge was to get a tool to help Interra Global:
Get the best spot rates & schedules for global freight

Track the shipment across all modes of transportation

Save time spent in manual processes
Additionally, the system needed to: 
Enable complete customization – because the operational requirements of every industry niche are unique, 

Be native to the world's leading business apps marketplace (Salesforce) – so that the solution was up to the high standards maintained on the ecosystem
THE RESULTS
Thanks to the clear vision and enthusiastic collaboration of the Interra Global team, they have completely streamlined the company's rates management and tracking processes in little more than a financial quarter.
Interra Global now has Real-Time Transportation Visibility embedded into its ordering process thanks to Neurored's tight integration with FinancialForce – a Salesforce-native ERP. Their sales team can view the shipment details, map location, delivery estimates, and deviation/ exceptions without having to navigate to a different object on their Salesforce org!
Real-Time Shipment Details at Purchase Order Level
Shipment Summary
Tracking map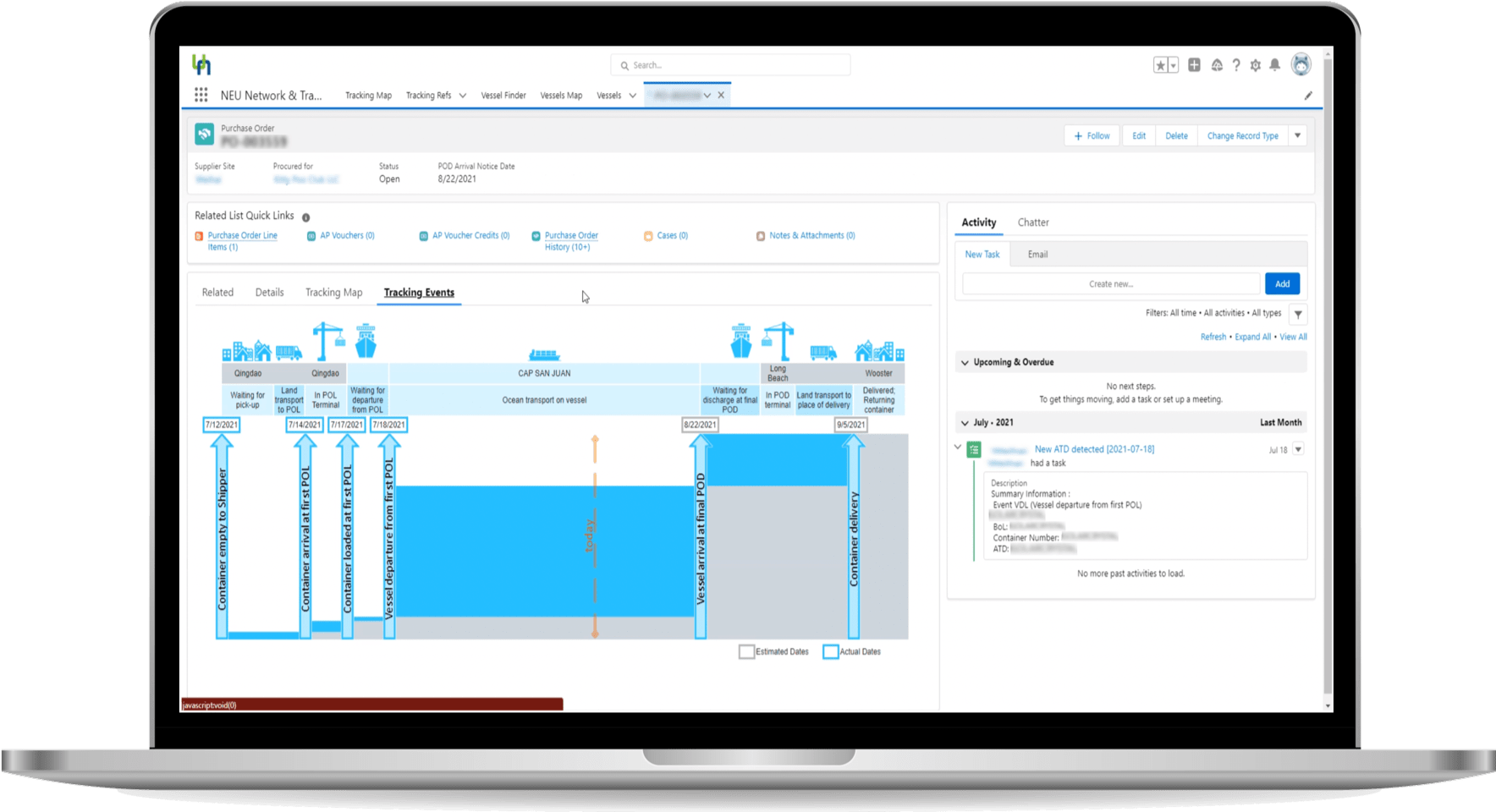 Tracking events
The solution also helps Interra Global get all their rates automatically Extracted, Transformed, and Loaded (ETL) into the system by uploading excel spreadsheets as-is. The system is also integrated with select carriers for spot rates and schedules information. This guarantees them error-free rates management, best rates, and detailed schedule information to take appropriate booking decisions.
Rates Management Details at Purchase Order Level
Automated ETL of Freight Rates into the System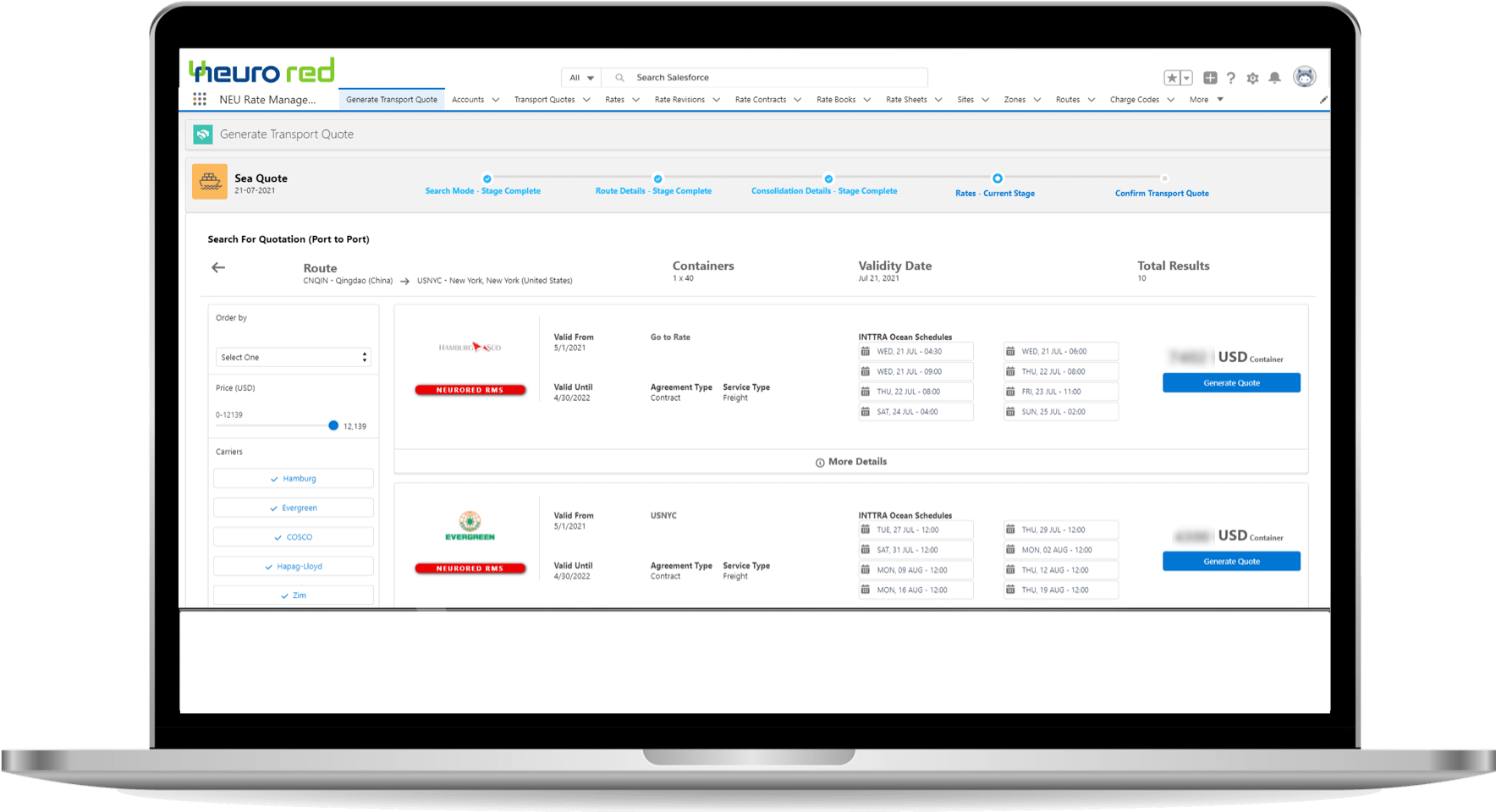 Updated Spot Rates and Schedules Comparison Engine
Detailed Ocean Schedules Information Integration from INTTRA
Here's How Team Interra Feels About the Solution in their Own Words:
"The sophistication of the tool such as real-time events tracking interface really showcases our technological maturity and helps us position ourselves as a strategic partner for our customers." 
"The Neurored team's professionalism in meeting deadlines, managing expectations, and communicating with us has been just what we were hoping for from a Salesforce Partner, and collaborating with Neurored has been an absolute pleasure!"
EUROPARTNERS SET TO DOUBLE GLOBAL FOOTPRINT WITH NEURORED
Success Story
Neurored's CPQ Solutions helped Europartners speed up their quotation process by 4 times…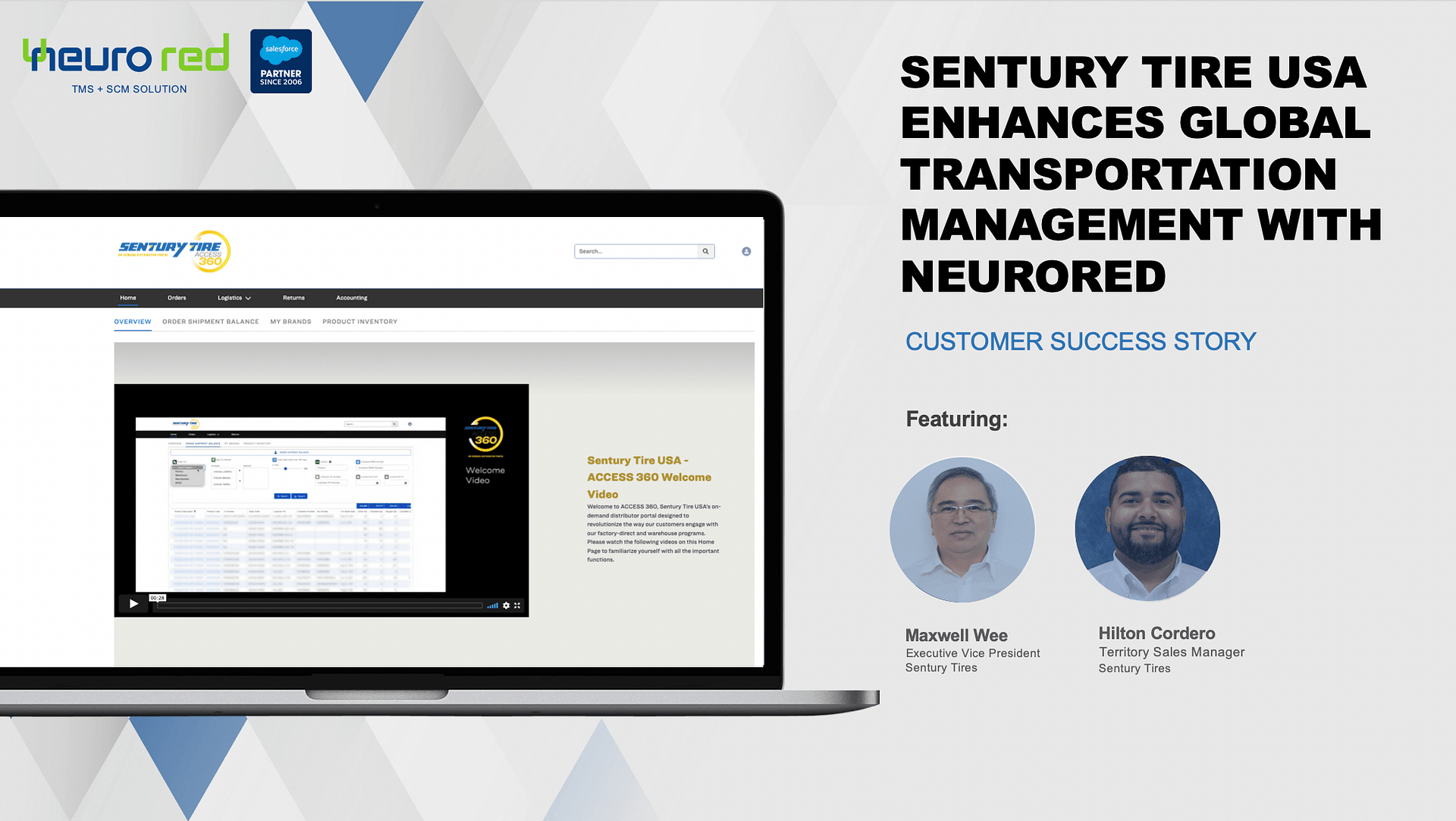 SENTURY TIRE USA ENHANCES GLOBAL TRANSPORTATION MANAGEMENT WITH NEURORED
Success Story
This week, we spoke with Maxwell Wee and Hilton Cordero of Sentury Tire USA (the Executive Vice President…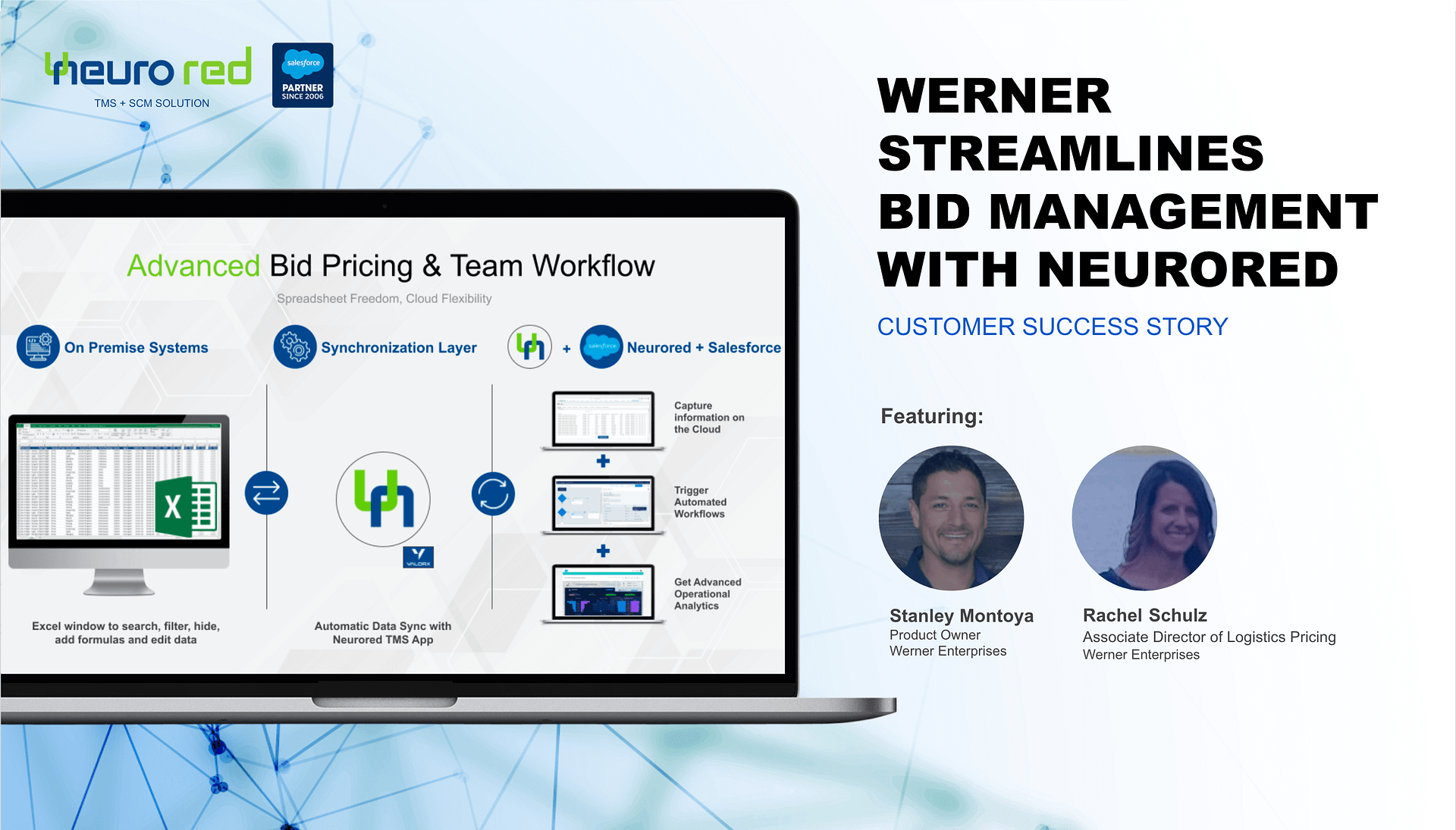 WERNER STREAMLINES BID MANAGEMENT WITH NEURORED
Success Story
Werner Streamlines Bid Management with NeuroredThis week, we spoke with Rachel Schulz and Stanley Montoya of Werner Enterprises (the Associate Director of Logistics…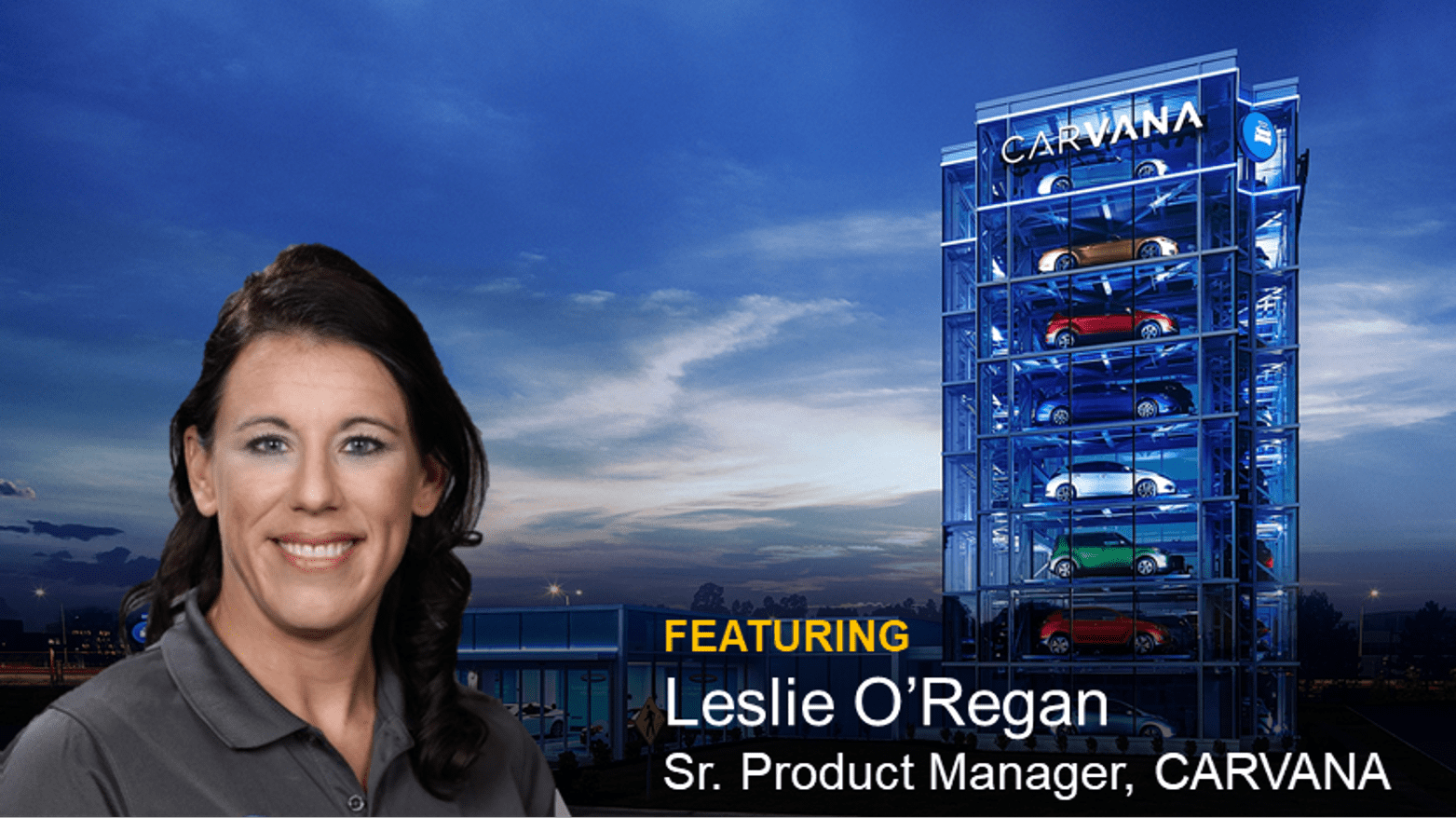 WHY CARVANA CHOSE A SUPPLY CHAIN CONTROL TOWER OVER DASHBOARDS TO ENHANCE OPERATIONS?
Success Story
We invited the Sr. Product Manager of Supply Chain at Carvana, to discuss how Neurored Control Tower helped…
Let's Get Started
Schedule a Demo Now