HOW BUNKER PROCUREMENT OPTIMISATION TOOL CAN HELP SAVE ON FUEL COSTS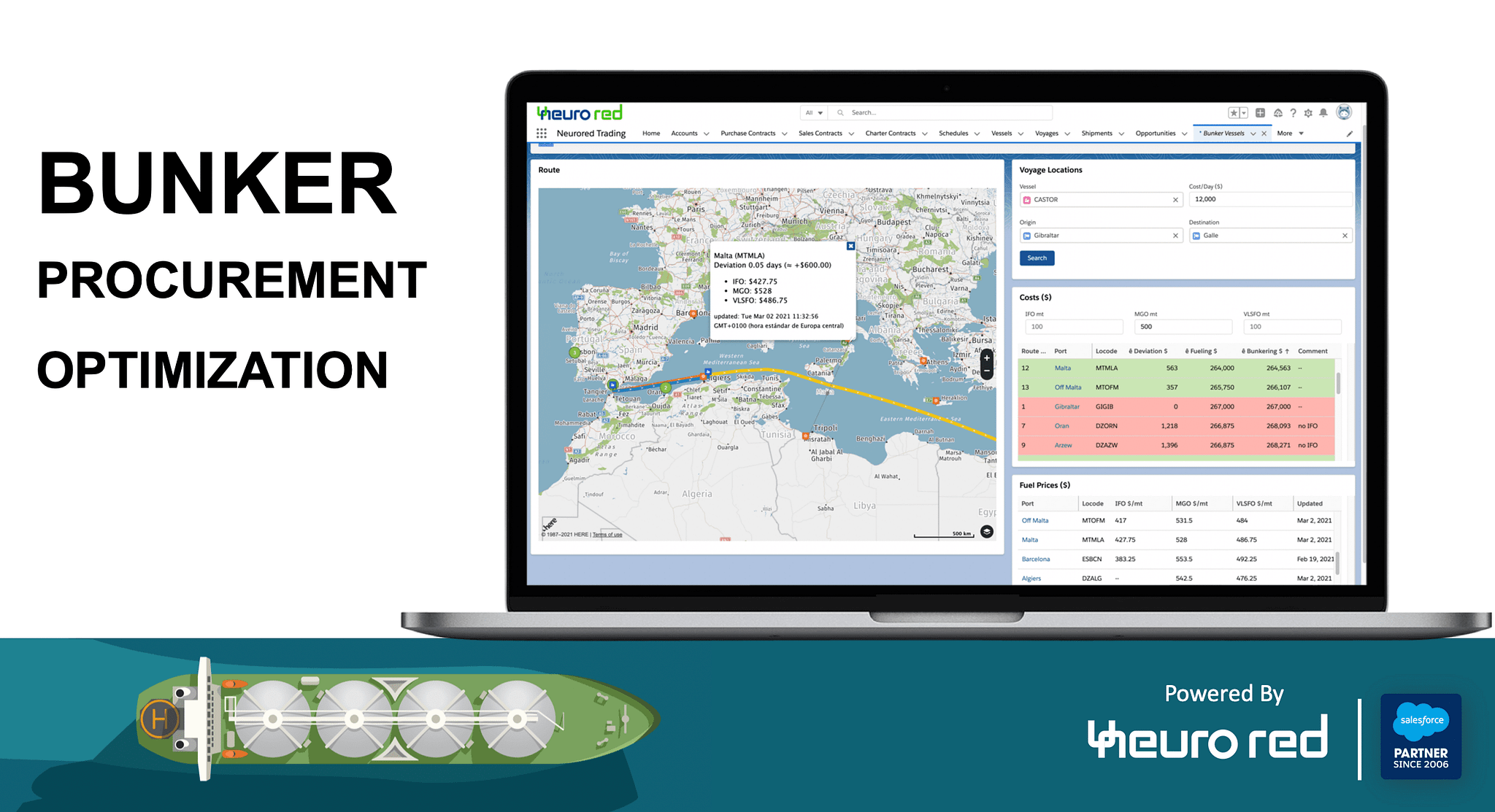 Of all the headaches in the time charter & bulk transport industry, bunker optimization is undoubtedly one of the biggest concerns. Bunkering typically represents one of the largest costs for shipowners and time-chartered vessels. Making optimal bunkering decisions requires the consideration of different sources of data such as port information, vessel consumption, fuel costs, and many more. Even though most of this information can be initially accessible, current systems do not provide this data in an integrated and easy-to-digest format. This makes decision-making around optimizing bunkering difficult and time-consuming. To alleviate this, many shipowners and charterers have dedicated teams for bunkering planning. However, not all companies can afford such teams, and in many cases, the solution becomes costly and inefficient.
For example, when the initial voyage planning is done, chartering managers often know vessel parameters accurately, such as speed curves, fuel consumption, cargo capacity, tank capacity, remaining stock, draft limitations, etc. With this information, an initial bunkering plan can be made accurately. The issue these managers face is that most of this information is not integrated in an easy-to-access decision-making model. 
Additionally, many relevant parameters will change during the voyage. For example, weather conditions and vessel speeds may change, or bunker prices may fluctuate. The information related to these changes is available through different sources but, once again, is mostly poorly or not integrated into the bunkering optimization model. The fact is that these changes are most likely relevant in making an optimal decision, and the lack of integration could take planning teams several hours to recalculate the new optimal, requiring significant manual effort.
Today new integrated models can help chartering managers deal with these issues. While no solution provides full integration of all desired information, solutions like the one proposed by Neurored significantly facilitate this task.
Neurored's Bunkering Solution provides easy access to updated information such as planned route, relevant ports through the route, deviations from this route to access each of these ports, and live fuelling prices in each of the ports. The system allows as well to register an estimated cost to value route deviations. The solution also considers the vessel's position and thus which ports are relevant in the remaining route. This alone makes bunkering decisions easier than most commonly used processes.
In Figure 1 below, you can see how the Neurored Bunkering Solution represents all the available bunkering options , for example, route Gibraltar (UK) – Galle (Sri Lanka). In many cases, planners would have only considered the largest ports for bunkering. In this case, this would have been Gibraltar. This decision would have resulted in an extra 2,500$ in fuel costs alone. For this particular route, Gibraltar would have been only the third-cheapest option to refuel. Factoring in deviation costs to nearby ports illustrates how stopping at Malta would have been a better choice. 
Making poor decisions such as refueling at the route destination could be significant to the voyage margins resulting in over 50,000$ extra fuel costs if one were to lift fuel at Galle. The information in the table is live, providing the most updated bunker prices and route deviation times in an integrated way to support the bunkering decision.
The Neurored Bunkering Solution will automatically search for bunker prices and fuel availability on all nearby bunkering ports in a matter of seconds as well as an estimated route deviation time to reach each port. The solution has access to data from over 280 bunkering ports.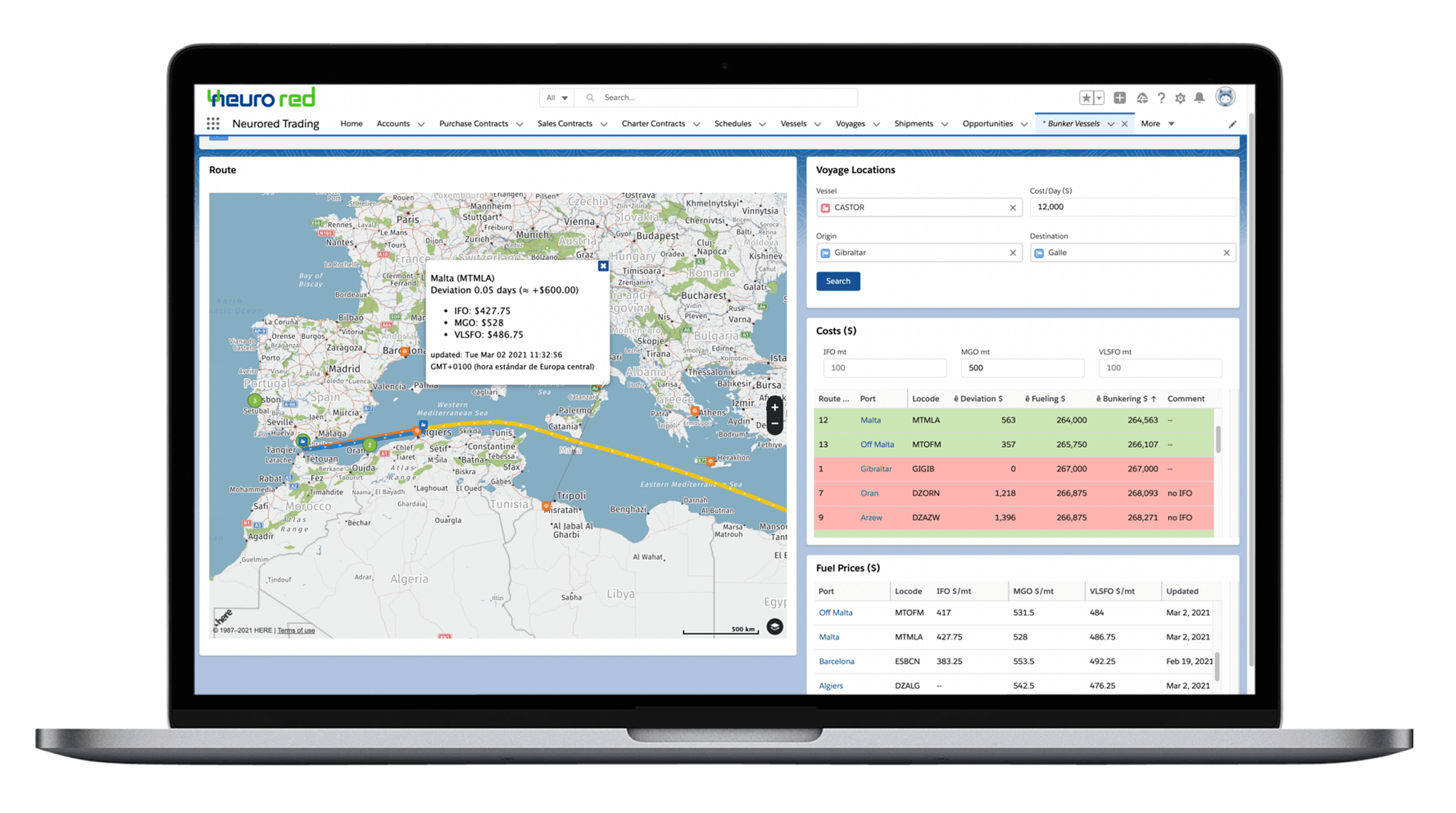 Figure 1: Screenshot from Neurored's Bunker Optimisation tool. Route Gibraltar-Galle. Assumes lifting 500mt MGO, 12,000$ vessel charter cost per day & speed of 11 knots. As of 2nd March 2021.
Of course, this information is not considering other vessel-specific data such as the current fuel stock, vessel speed, consumption rates & others. As we shared above, this information is available to planners but not integrated in the decision models. This can be solved with the Neurored Bunkering Solution. The fact that Neurored's solution is built on top of the powerful Salesforce Platform© allows to easily develop more sophisticated models integrating companies' available custom information such as the data mentioned above. 
The tool is completely integrated with other Neurored modules, thus providing an end-to-end solution for efficient bulk transportation management.
In short, using Neurored's Bunkering Solution and leveraging the potential of the Salesforce Platform©, shipowners and charterers can significantly benefit from flexible and automated decision-making models to support their vessel bunkering.
Looking for a Solution With All These Features?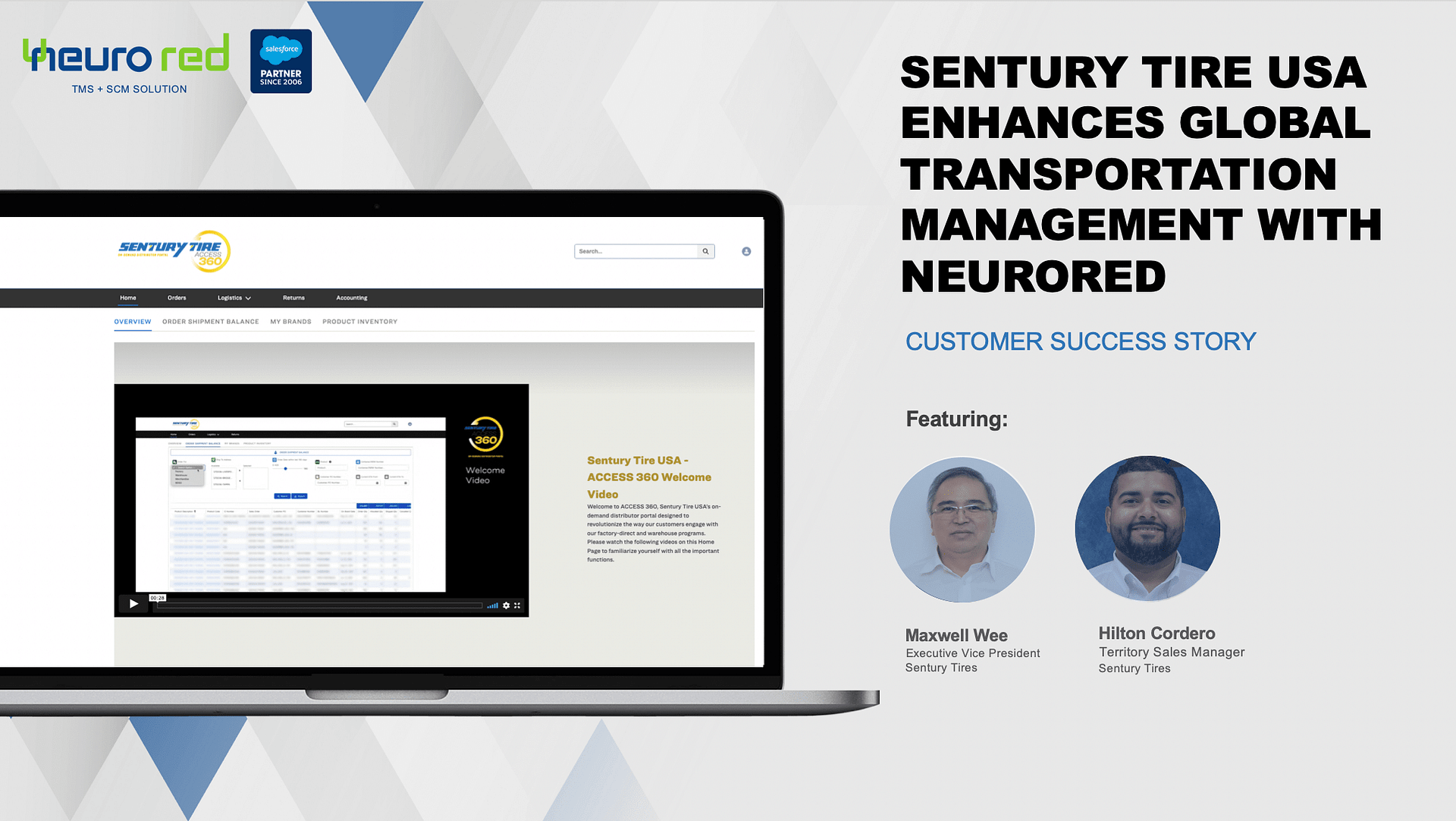 SENTURY TIRE USA ENHANCES GLOBAL TRANSPORTATION MANAGEMENT WITH NEURORED
Success Story
This week, we spoke with Maxwell Wee and Hilton Cordero of Sentury Tire USA (the Executive Vice President…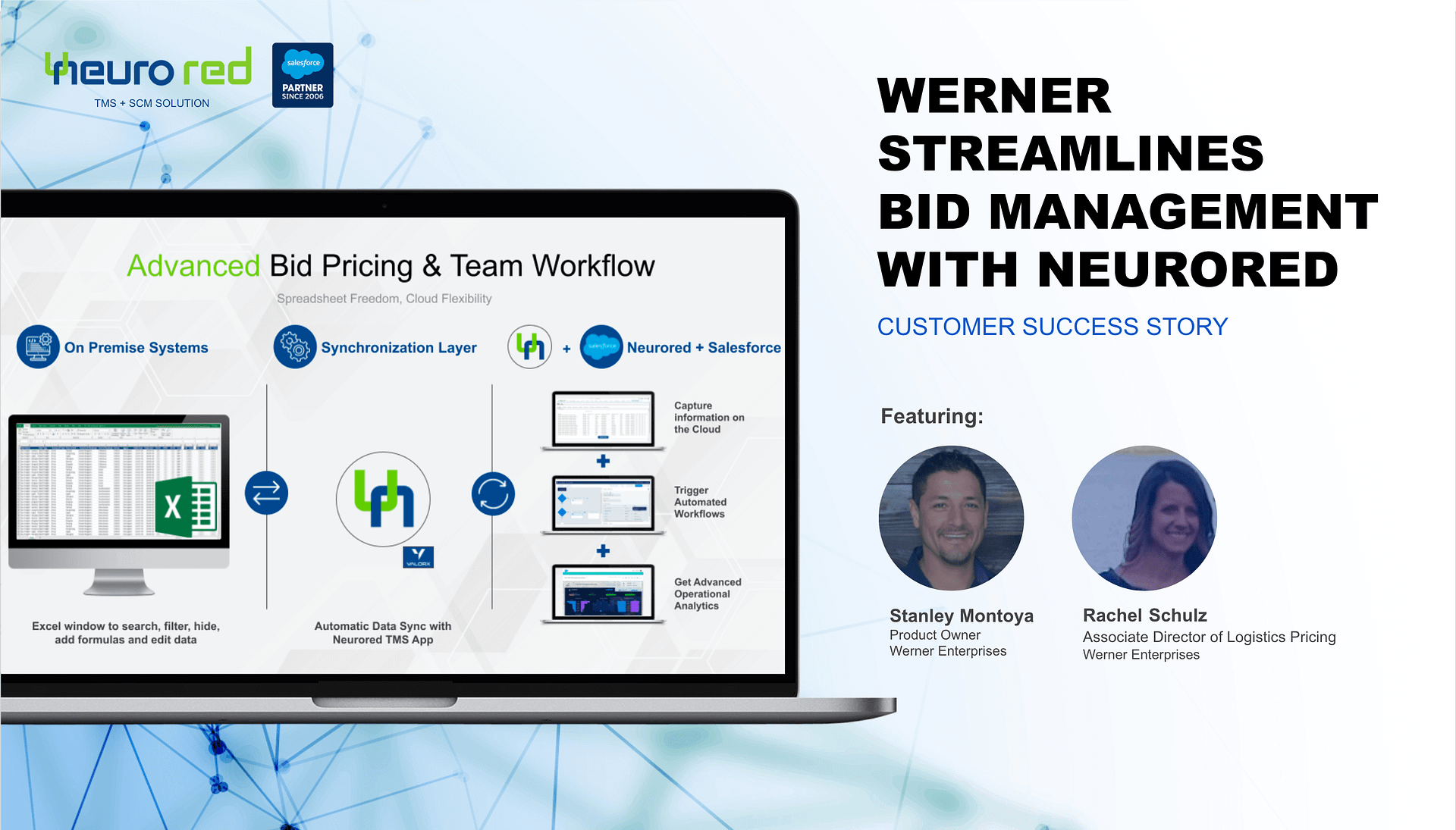 WERNER STREAMLINES BID MANAGEMENT WITH NEURORED
Success Story
Werner Streamlines Bid Management with NeuroredThis week, we spoke with Rachel Schulz and Stanley Montoya of Werner Enterprises (the Associate Director of Logistics…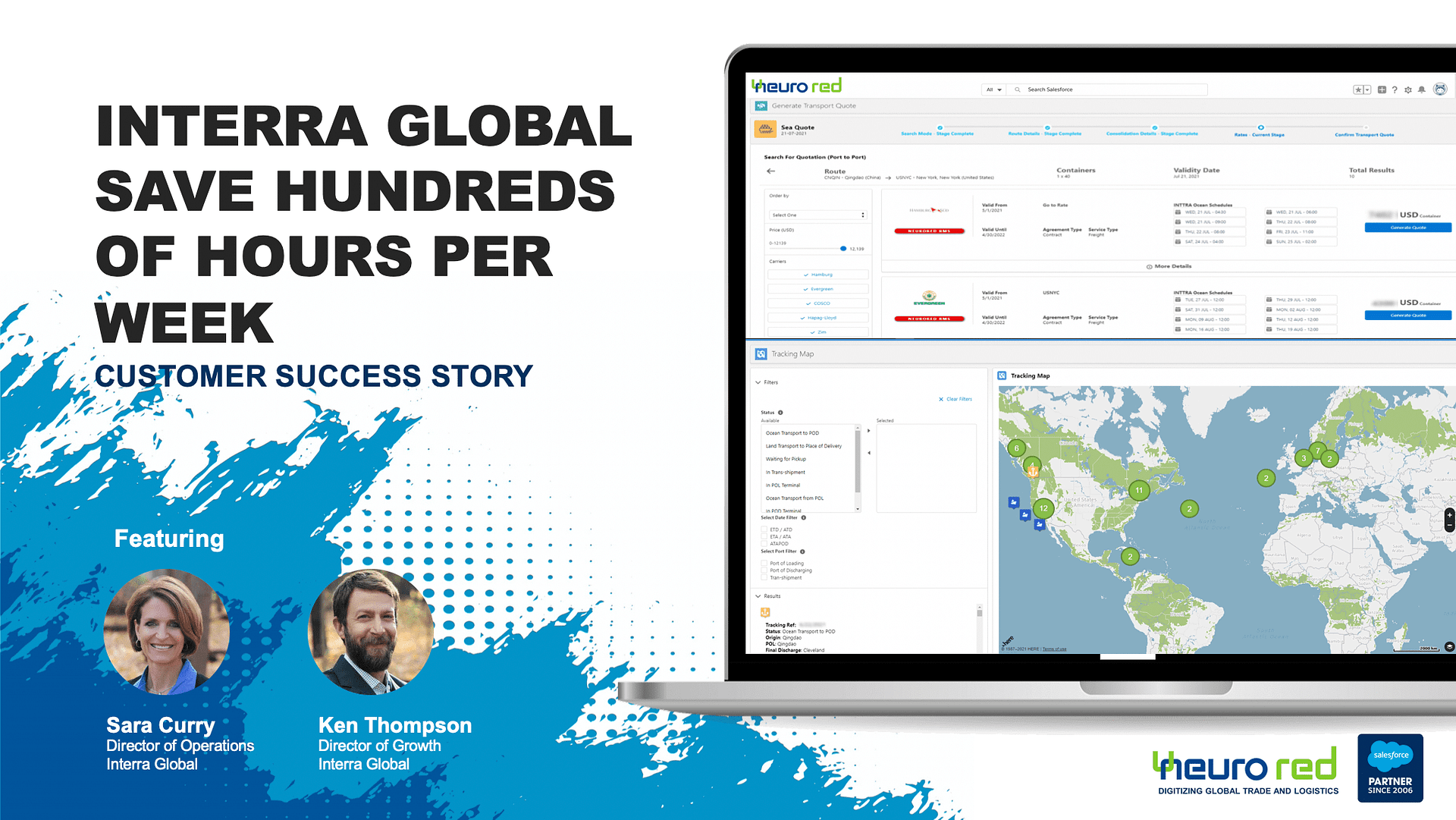 INTERRA GLOBAL SAVE HUNDREDS OF HOURS EVERY WEEK WITH NEURORED
Success Story
In this month's edition of Neurored's Customer Success Stories, we spoke with Interra Global's Sara Curry and Ken Thompson to find out how Neurored is working for them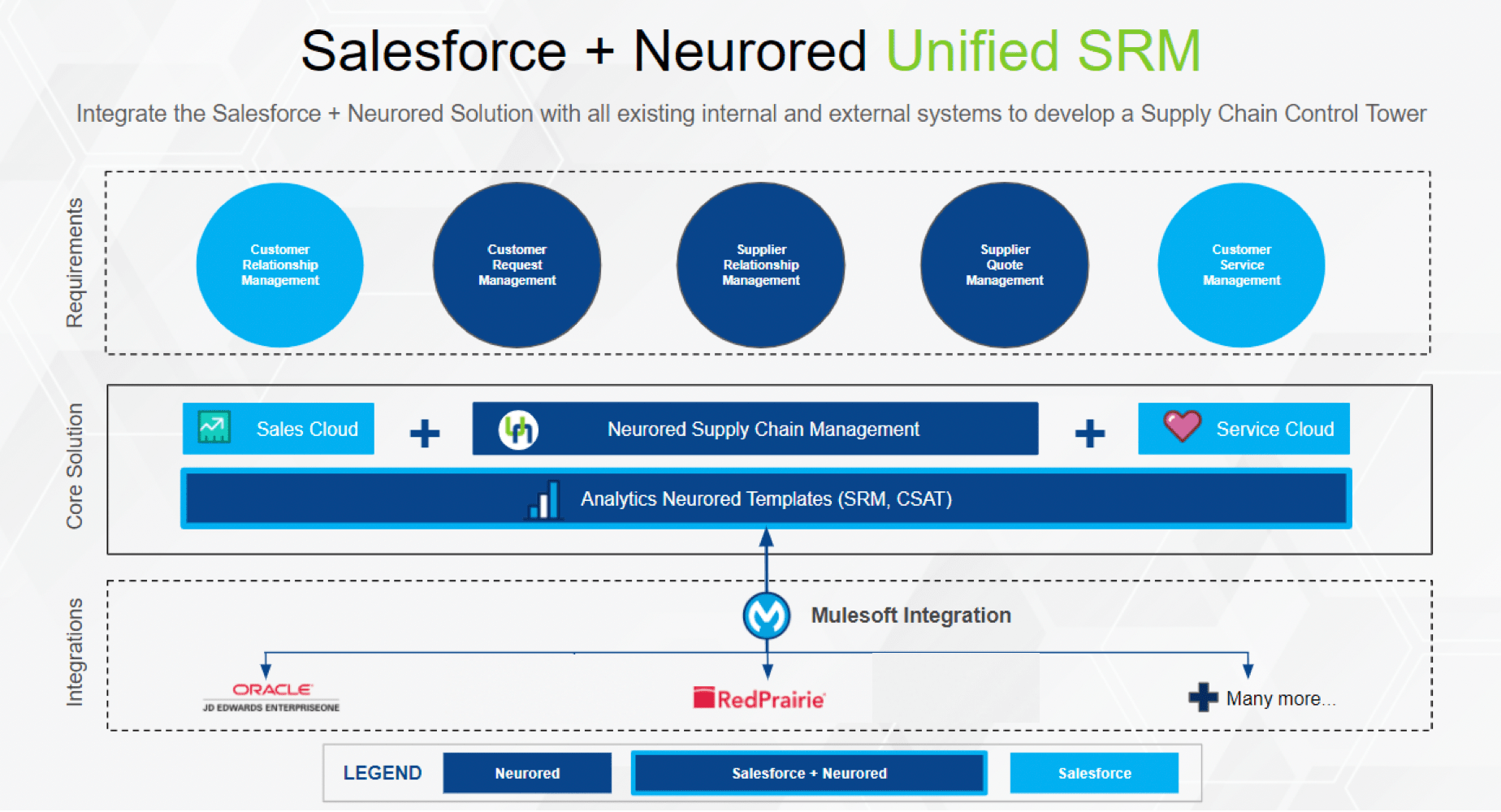 TOP 3 FEATURES FOR SUPPLIER RELATIONSHIP MANAGEMENT SOFTWARE
Neurored Product
Now, more than ever before, there is a need to streamline the operational activities between customers and suppliers. The increasing complexity of supply chains…
Let's Get Started
Schedule a Demo Now