Digital Transformation Benefits for Freight Forwarders
Are you a Freight Forwarder looking for ways to increase revenues and improve your productivity and operating margins? Have you been looking for real solutions to combat the challenges in the freight industry? If yes, this article is for you.
Competition in the Freight Forwarding industry has historically been price-driven, but competing just on price is dangerous because only a 5% price discount can lead to an impact of a third of your gross margin!
Check out how Freight Forwarders can increase sales and improve margins:
Freight Forwarders applying these strategies with Neurored TMS reported:
87.5% increase in operating margins, and
Average Return on Investment of 325%
Here are the ROI calculations: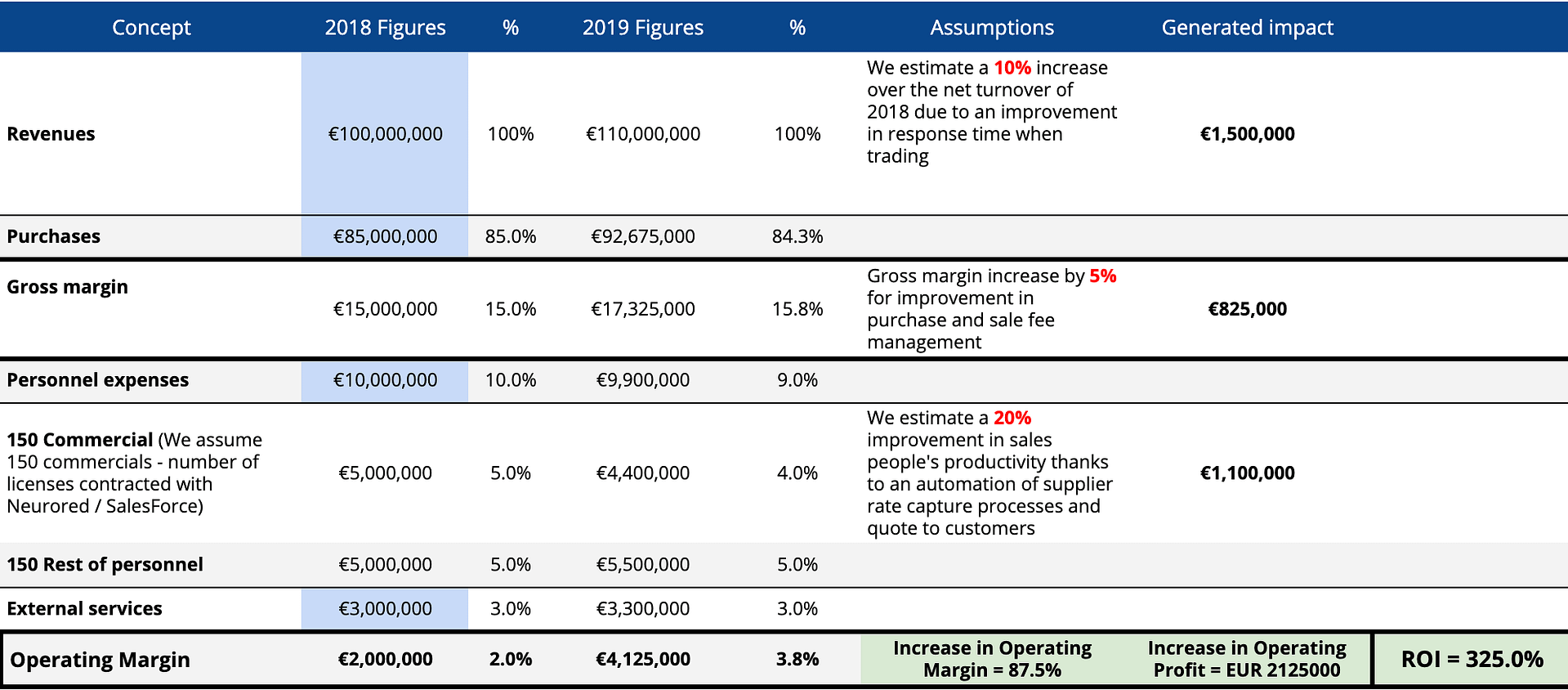 Let's examine the four strategies for Freight Forwarders in greater detail:
1) Build customer loyalty by providing them valuable insights about their operations
Offering new valuable solutions is the best way for Freight Forwarders to retain customers and compete with traditional competitors, as it is a better long-term strategy than competing on pricing.
The strategy that will give you more loyalty from your customers is to enable them to manage their own supply chain on the cloud from your systems using Neurored Shippers Communities.
Neurored offers a unique technology and methodology that enables you to integrate in a record time your customer's supply chain information, like product catalogs and orders into your Freight Forwarder systems, so they can be access by your customers through Neurored Shippers Communities.
2) Identify when it is (and isn't) necessary to offer a discount to customers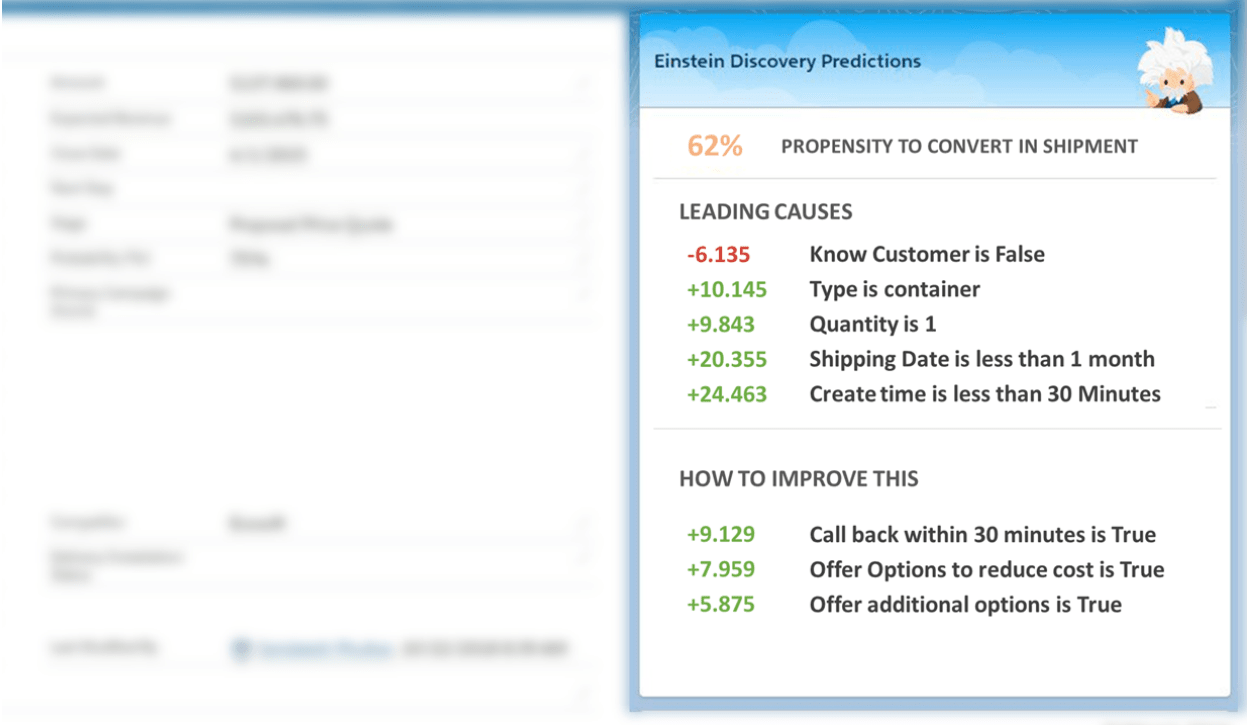 Same old story… be at the right place at the right time!  Understand profit contribution by segmenting your clients based on volumes, frequency or profit; put yourself in your client's shoes to offer the relevant discount at the right time.
How can you manage this?
With "Einstein analytics", as the customer evolves, the sales and customer service teams will always have access to customer metrics in an intuitive and user-friendly format and the best recommendations just in time.
Implementing this strategy allows Freight Forwarders to increase their profits by offering appropriate and reasonable discounts.
3) Fulfill customer requirements by leveraging all available Carrier services and rates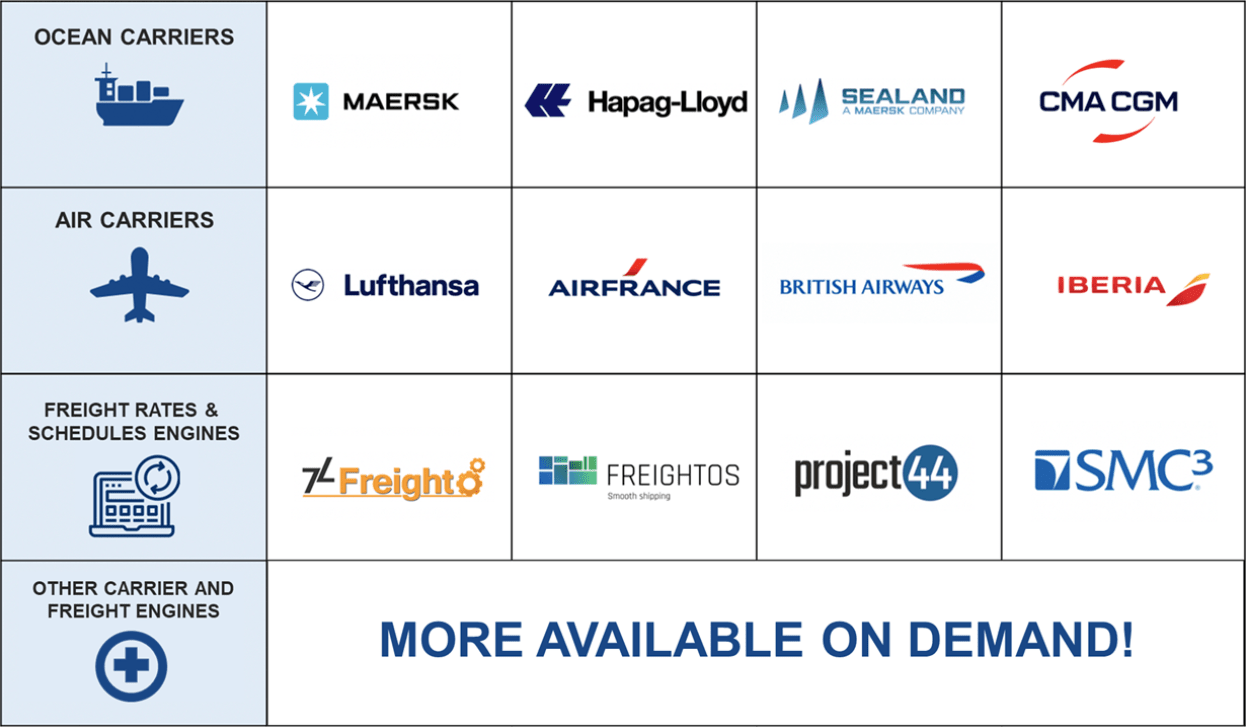 Another way for Freight Forwarders to build competitive advantages is to understand and being able to access in time all the relevant Carrier service and pricing options.  
Currently the processes for managing rates and quotes are very time consuming, inefficient and are subject to many errors, so there is a tremendous opportunity for improvement.
To send the best quote to the customer, sales teams must be able to source the various options of services and provide this information to the customer in the most convenient and timely manner.
Neurored offers a Multimodal Rate Engine to automate rates sourcing with RPA (Robot Process Automation) technology. Implementing a system that can automatically extract, transform, and load all your freight rates data from custom Excel Templates to an Advanced Freight Rating Engine will land an error-free, efficient, and easier Rates Management process.
4) Accelerate the quoting process to reduce response times and get more sales
To speed up the time-to-quote, Neurored helps Freight Forwarders:
Standardize selling processes: with the helpful instructions and resources for salespersons provided every step of the selling process.
Leverage an Advanced Freight Rating Engine: which helps the sales team efficiently search for specific rates, and add them to the quote with markups and discounts.
 Automate Approval Processes:

based on the percentage of discount offered. This ensures that your sales team is not waiting for approvals for acceptable discount levels.

Auto-generate documents: by auto-filling documents with specific customer information that already exists on the system.
Send Emails Without Leaving the App:

by using the integrated emailing capability. Send personalized emails by using custom pre-approved email templates
Following these four strategies will give you tangible results, end-to-end visibility, and great control over operations.
Neurored's solution for Global Freight forwarders delivers real results that speak for themselves. Neurored's Freight Forwarding customers are crushing the competition with 75% improvement in the time-to-quote, an 87.5% increase in operating margins, and an average ROI of 325% within one year of implementation!
Are you looking to digitally transform your Freight Forwarding operations? Reach out to us and we'll have a demo ready for you in no time!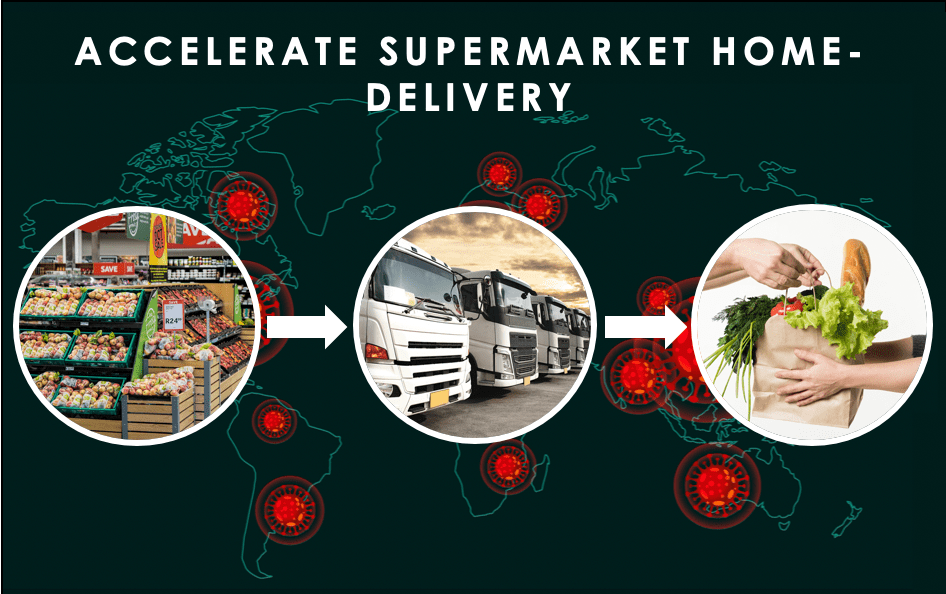 HOW FOOD SUPERMARKETS CAN MEET THE UNEXPECTED HOME-DELIVERY DEMAND CAUSED BY COVID-19
Industry News, Our Products
The best way for Food E-Commerce Supermarkets to ensure on-time home delivery to families confined during the…
EMPOWER CRITICAL SUPPLY CHAINS IN TIMES OF CORONAVIRUS
Industry News, Our Products
Empower Critical Supply Chains of PPEs, Ventilators & Respirators in times of Coronavirus. If you are a Freight Forwarder, Government, or key manufacturer…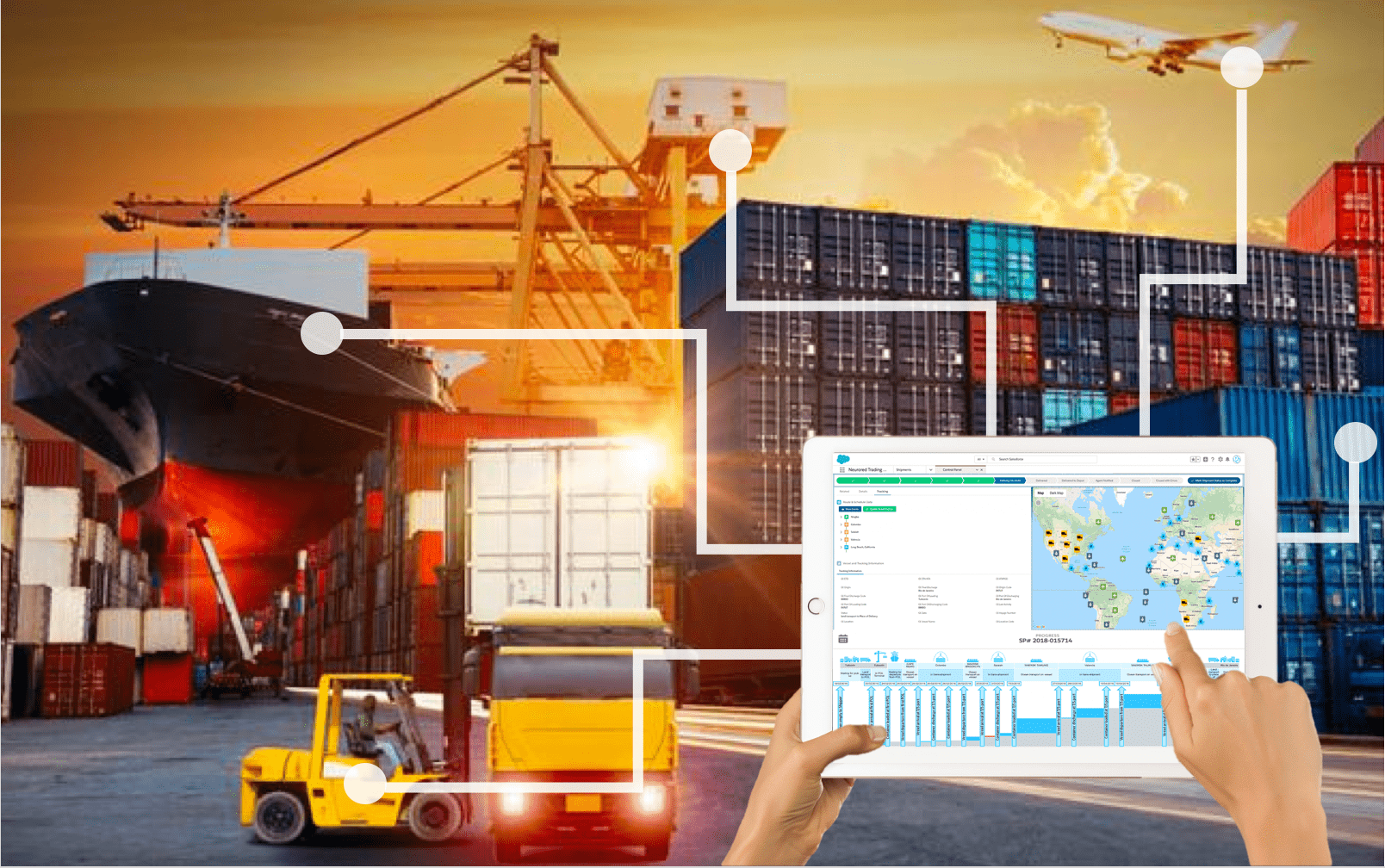 HOW FREIGHT FORWARDERS CAN BENEFIT FROM DIGITAL TRANSFORMATION
Industry News, Our Products
Freight Forwarders need to find ways to increase sales and improve margins without competing on price. This can be done by implementing the following…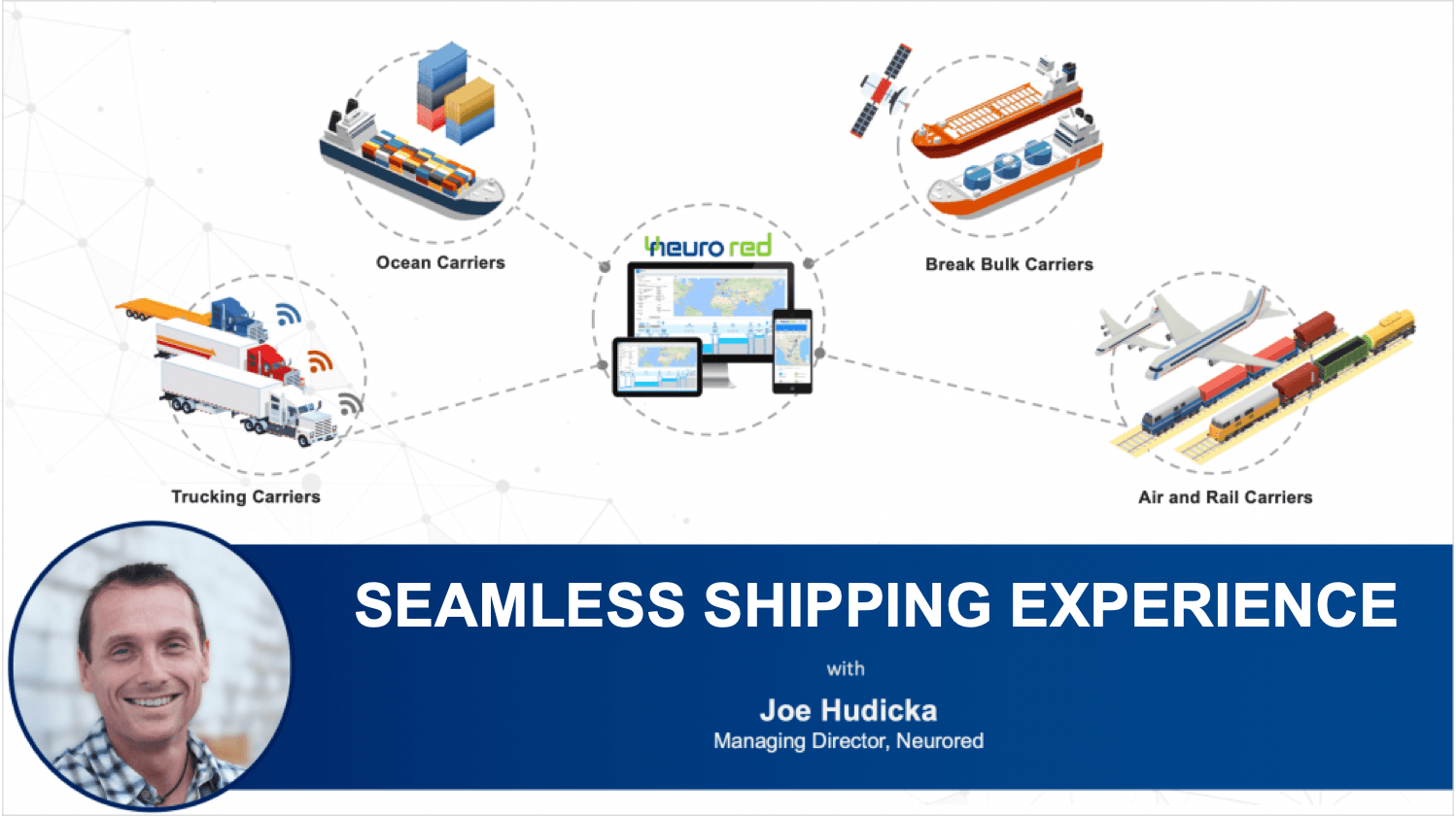 1 MIN INTRO TO NEURORED – THE SEAMLESS SHIPPER EXPERIENCE
Neurored Product
Question: How does Neurored power the seamless shipper experience on Salesforce.com?  Answer: Whether you are a shipper, forwarder, trader, carrier or terminal operator, your business depends on…
Let's Get Started
Schedule a Demo Now