OCR, DOCUMENT MANAGEMENT & BILLING
Streamline documentation, billing & accounts payable processes and get robust accounting integrations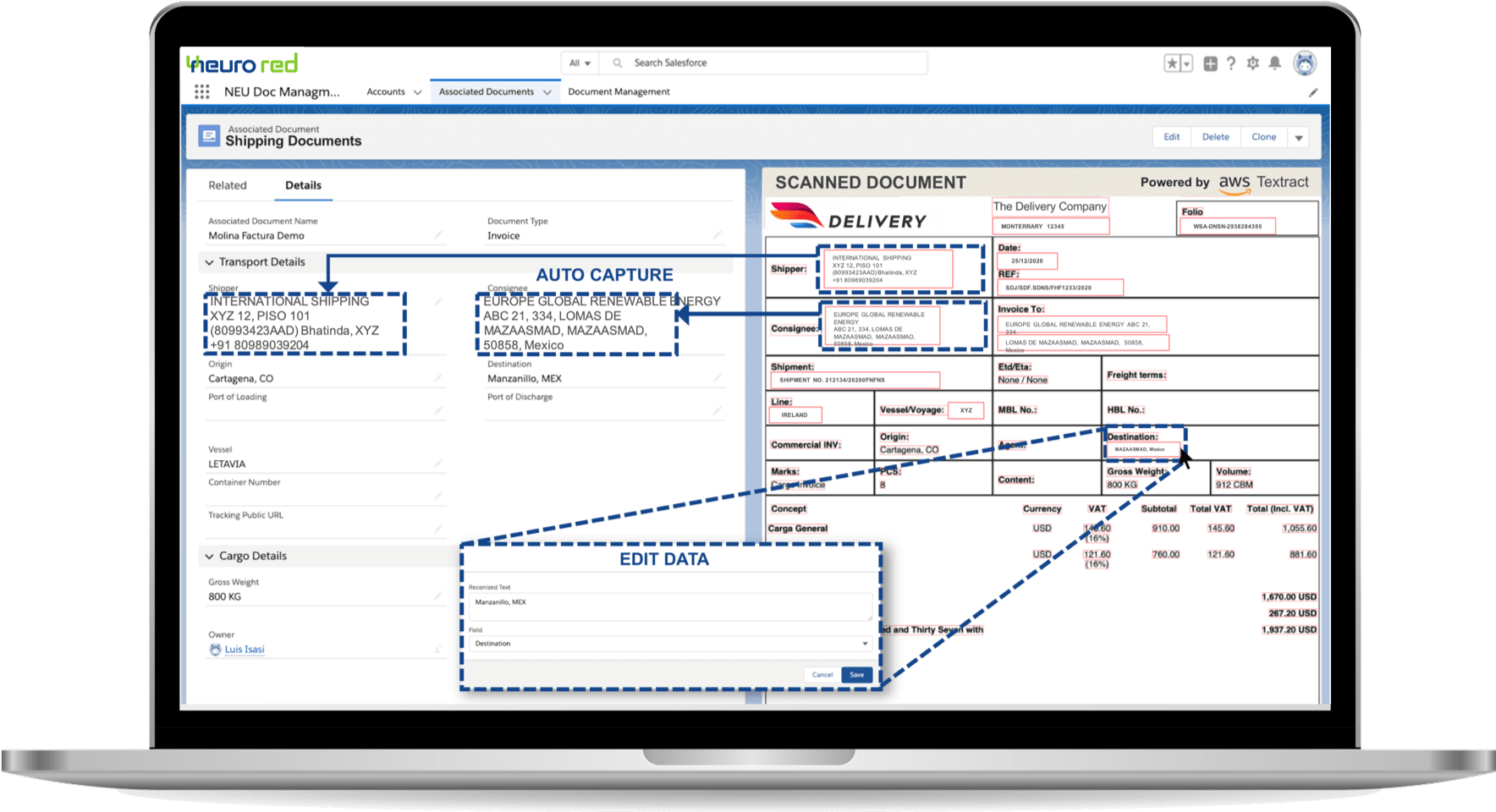 Document Management & Text Recognition
Accurate & Lightning-Fast Billings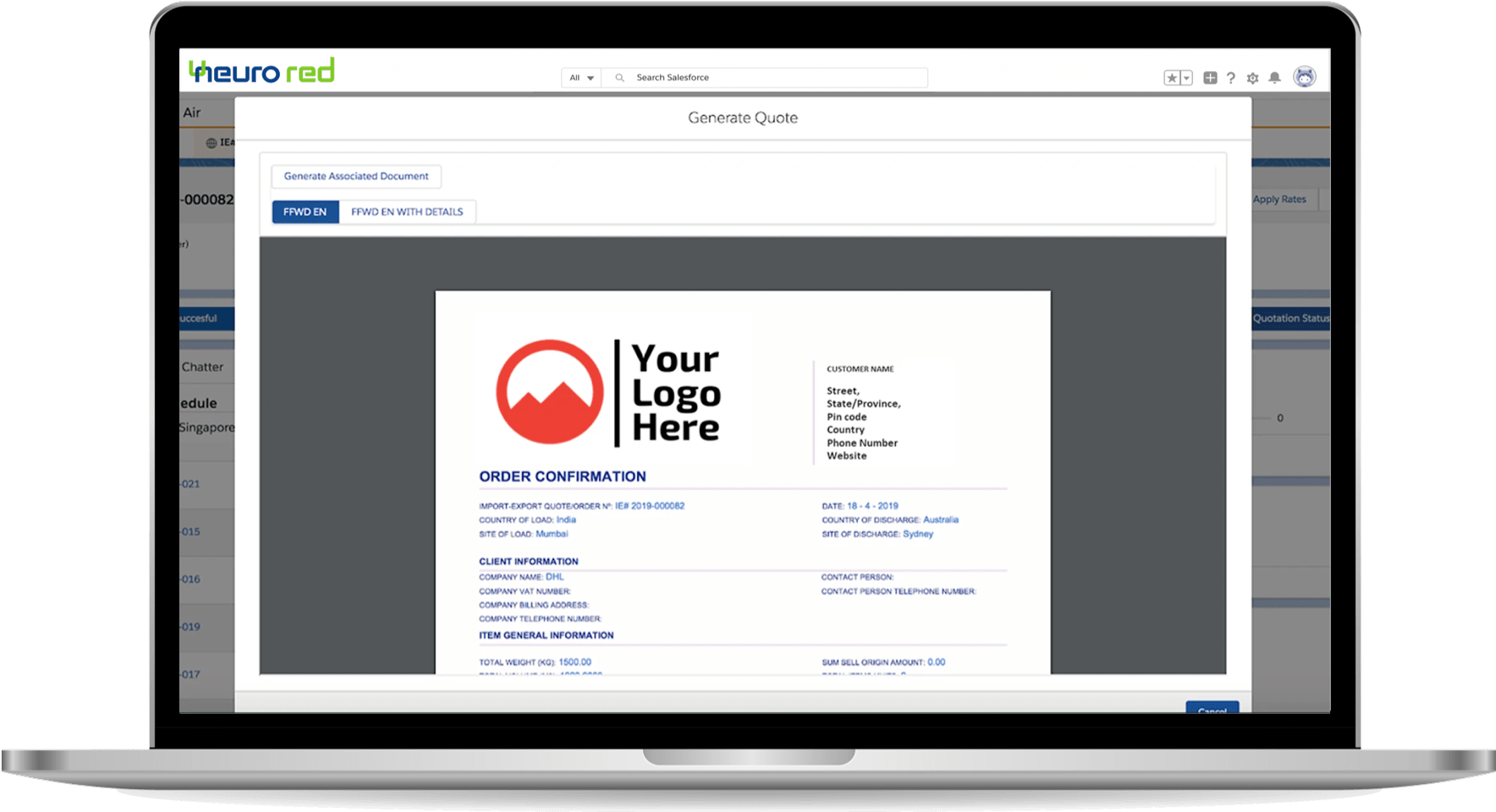 Generate Customized Invoices
Powerful Finance Dashboards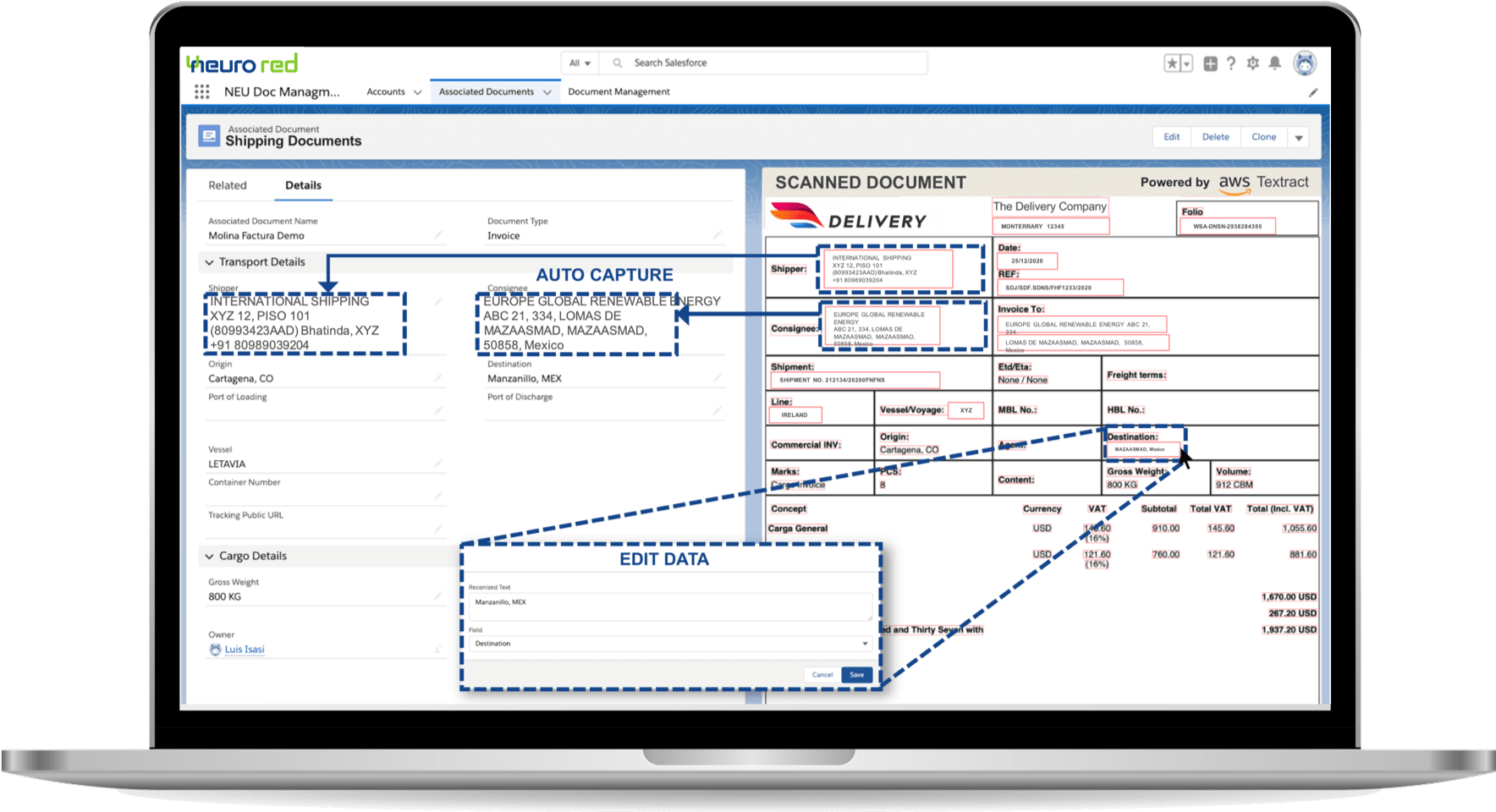 Document Management & Text Recognition
Accurate & Lightning-Fast Billings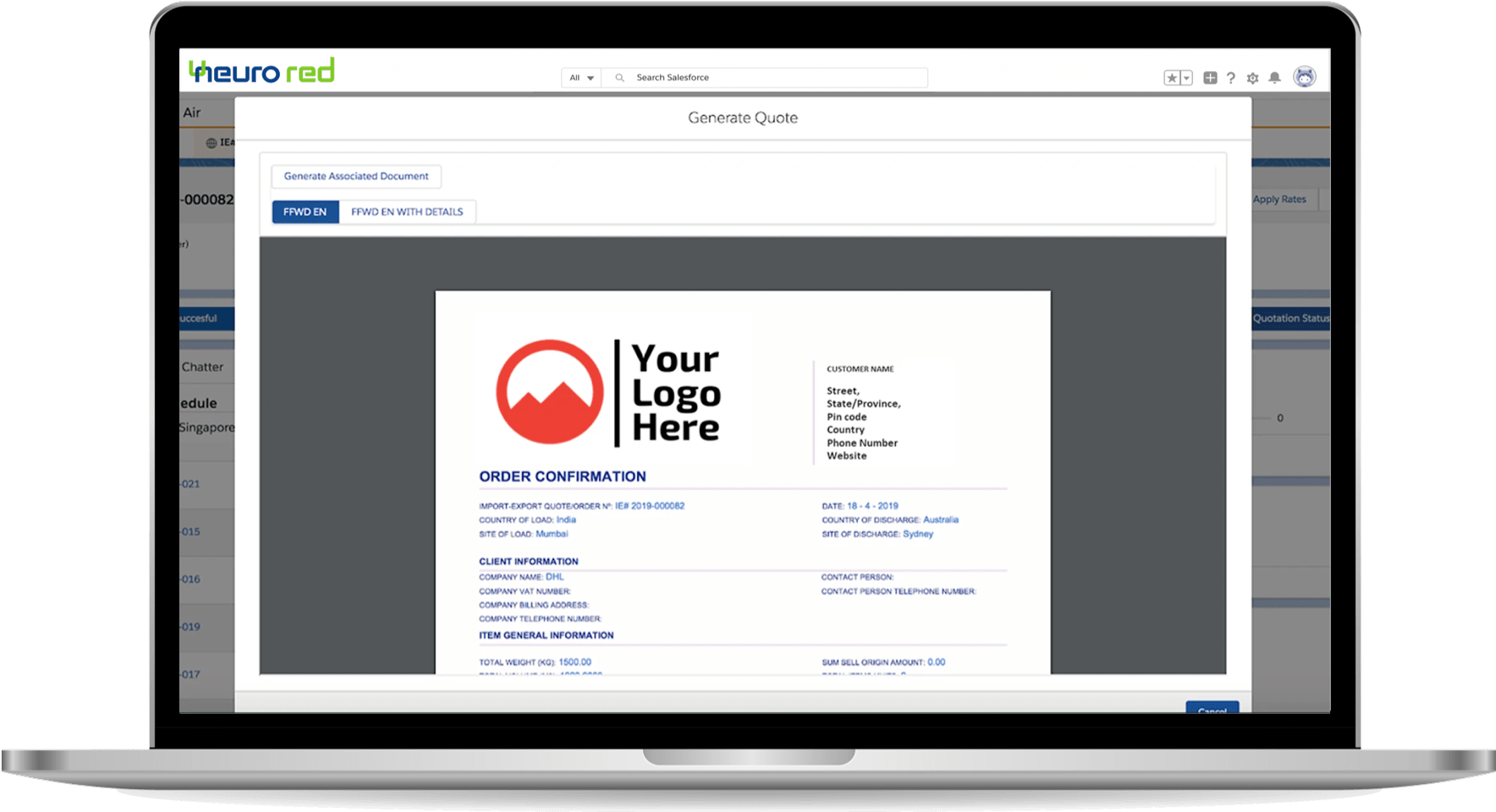 Generate Customized Invoices
Powerful Finance Dashboards
OCR, Document Management & Billing
DOCUMENT MANAGEMENT: Save time by auto-generating, classifying, and storing documents with Neurored's Salesforce-native Document management system. You can customize documents, manage multiple templates, and configure document flows so that employees don't have to stress over the details. Each document is automatically related to the correct Orders, Customer Accounts, Bills and other record types to improve file traceability and intra-team communication across global operations.
BILLING SOLUTION: Streamline your finance process, capture operational details, and get a detailed overview of cash flow, bills, and payables in seconds. From sourcing third-party carrier rates to managing pre-negotiated customer rates, from markups to custom discounts, our app makes it so that you don't miss any details and get accurate bills and receipts at the very first attempt. 
ACCOUNTING INTEGRATION: If you're looking to connect our end-to-end solution with your accounting software, Neurored can easily integrate with any modern accounting solution in the world. We've had successful implementations with many Accounting Systems like SAP, Oracle, Sage, etc. If you're looking to take things up a notch by bringing the reliability and trust of Salesforce to Finance, we recommend the salesforce-native solution – Accounting Seed. We have a very robust integration with Accounting seed which fuses our industry experience with their industry-leading position in Accounting. This results in seamless user experience across your business processes – from quoting to billing. 
Create Bills in Seconds
In just a few clicks you can add all billable items from orders across all service lines including freight rates, demurrages, POD and POL charges, warehouse charges, etc.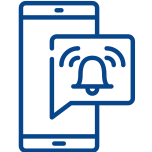 Track Account Warnings
Enable automated credit warnings to minimize internal communications by allowing customer service reps to see which bills are pending, how much is owed, when they were sent, etc.
Generate Actionable Reports
Make better decisions by cross-reference your KPIs like revenue, payables, etc. with operational metrics like transport delays, routes, etc. to build actionable finance reports. Empower Users
Allow your teams to design their own workflows with easy point and click tools
Competitive Pricing
AppExchange competition ensures reasonable and non-fluctuating subscription fees Reduce Maintenance
Neurored's cloud-based solution helps you avoid server maintenance costs
360º Financial Visibility
Neurored's unified solution ensures precise control over every last penny
Use our standard functionality or set up custom tools and processes to boost user acceptance and productivity. Either way, you're backed by our clean intuitive interfaces and the power of the Salesforce Platform.
Intelligent Character Recognition (Powered by Amazon Textract)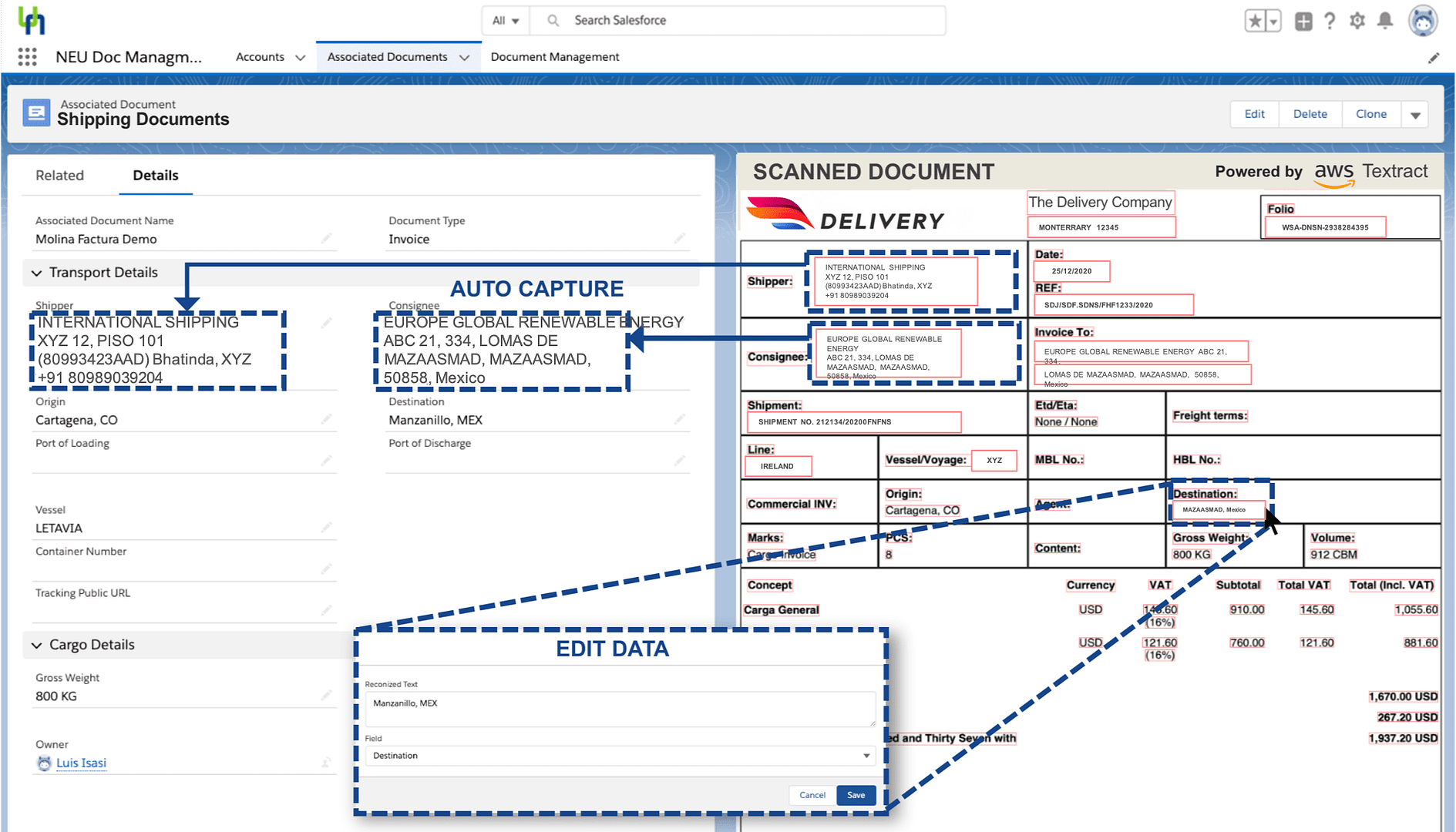 Enjoy document recognition, data extraction, and automatic indexing functionality with Intelligent Character Recognition (ICR/OCR). Speed up data entry by eliminating the need for manual typing and capturing information on multiple fields simultaneously. Our pre-trained machine learning models ensure that you get accurate data capture, and you don't have to worry about how page layouts change over time.
No More Information Silos
Don't settle for "solutions" that make you do all the tedious work of synchronizing data between your ERP, TMS, and WMS, systems. Neurored gets you all your information in one place so you can track your operations and access all the information you need to run your business smoothly.
Accurate & Lightning-Fast Billings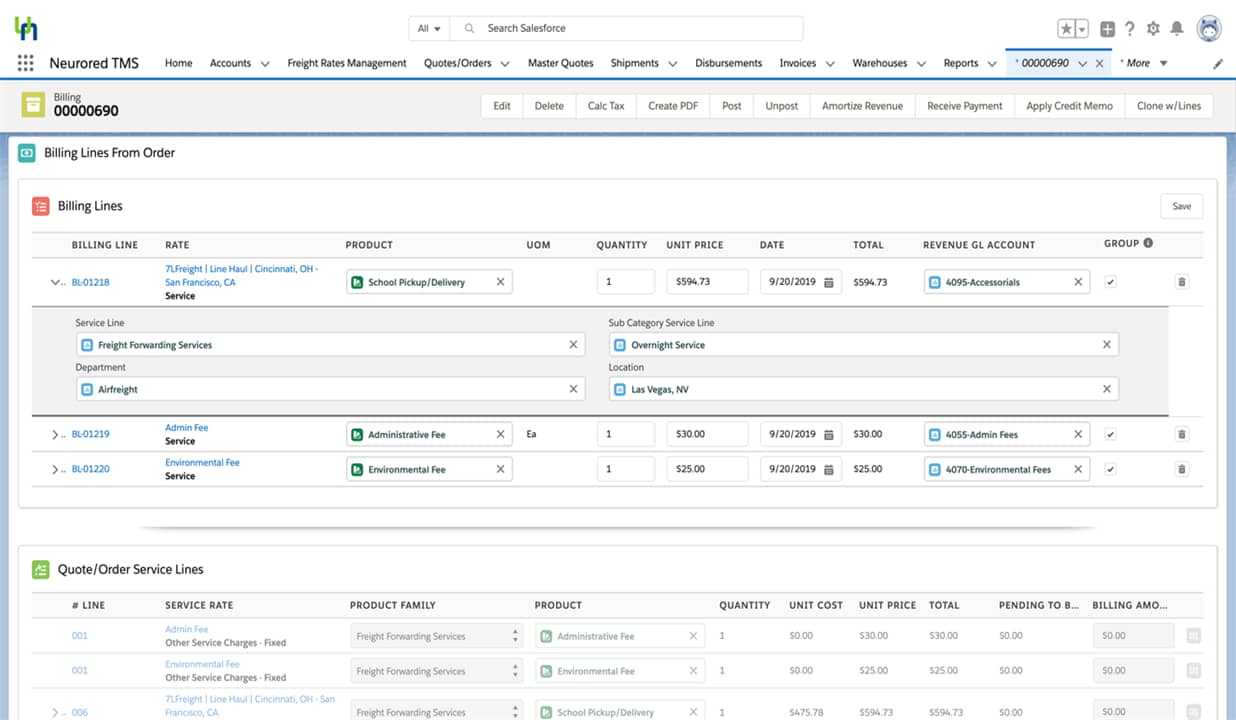 Eliminate duplication of efforts and data-entry errors by creating bills using the Service Order information that's already on the system. Easily account for every last penny and associate services with the correct GL Account to get lightning-fast billings and accurate financial reports.
One-Stop Business Solution on Salesforce
Plug in new Apps from Salesforce AppExchange to enrich your unique product and take advantage of the rich Salesforce ecosystem of developers. Install multiple apps in a single environment and leverage the power of the Salesforce Platform to get secure access to these apps from anywhere, at any time.
Generate Customized Invoices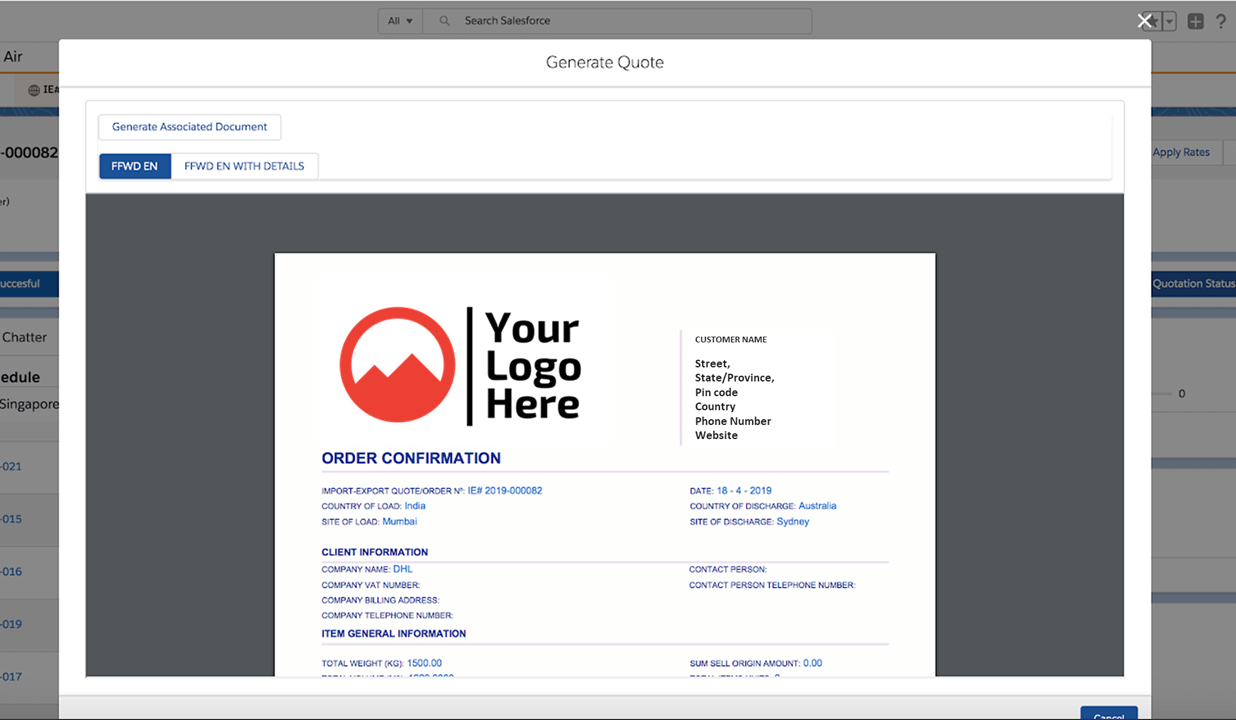 Send documents like invoices, payables, etc. with fully customizable branding and layouts. You can create Invoices within seconds and email them to the customer without leaving the app! You can also configure multiple templates to send documents as per customer preference.
Powerful Finance Dashboards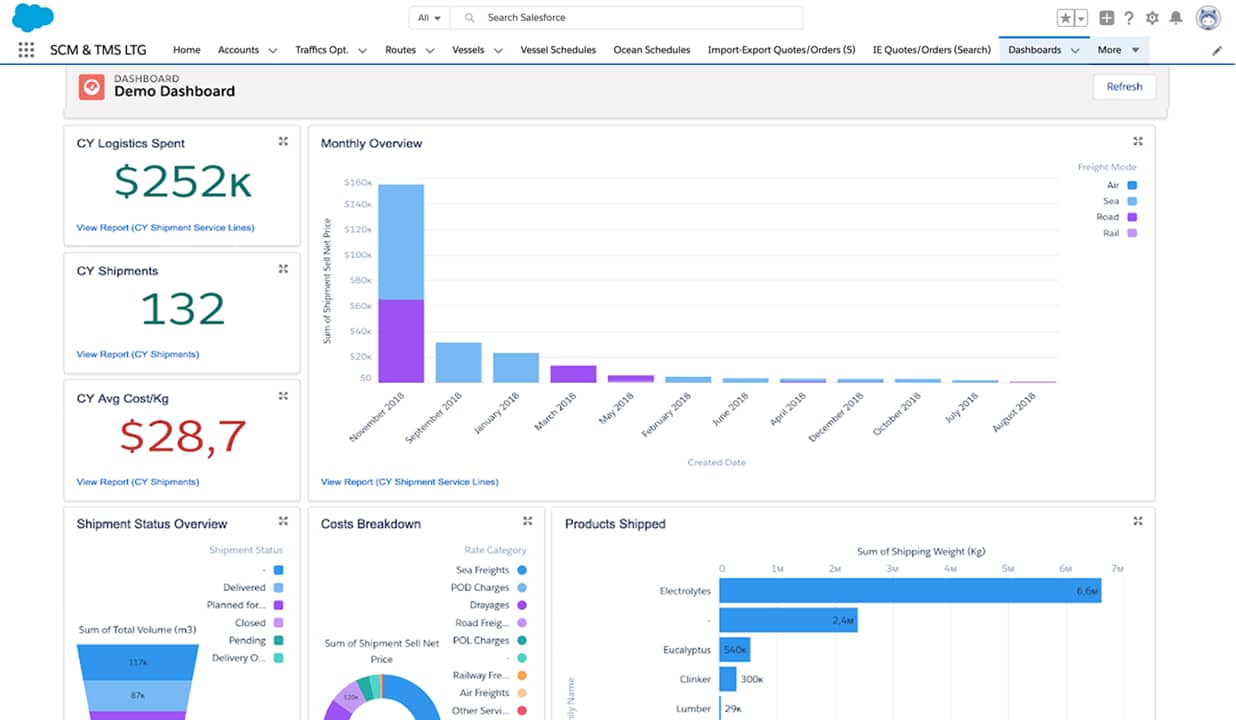 Leverage airtight integrations between operations and finance to get smart insights and make better, data-driven decisions. You can create multiple dashboards with meaningful metrics and slice-and-dice your data to understand which accounts give you the most revenue per ton, per shipment, etc.
Faster Billing Over Traditional Apps
Visibility Into Business Operations
Data Consistency Across Databases
Platform Access Across All Devices
Benefits of OCR, Document Management & Billing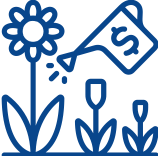 Quick Return on Investment
Seamless System Integration
Secure Multi-Device Access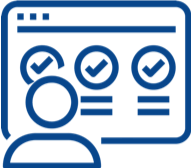 Improved Information Sharing
Simplified Process Configuration
Benefits of OCR, DOCUMENT Management  & BILLING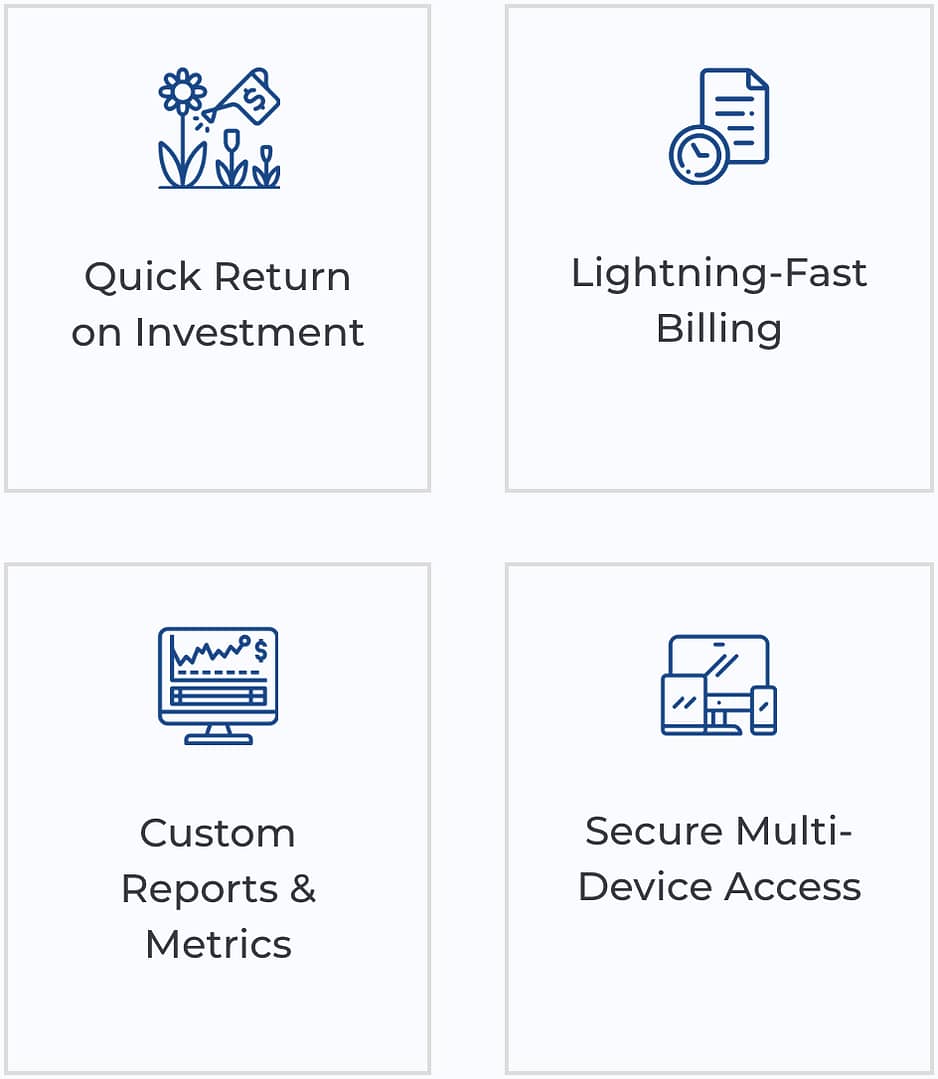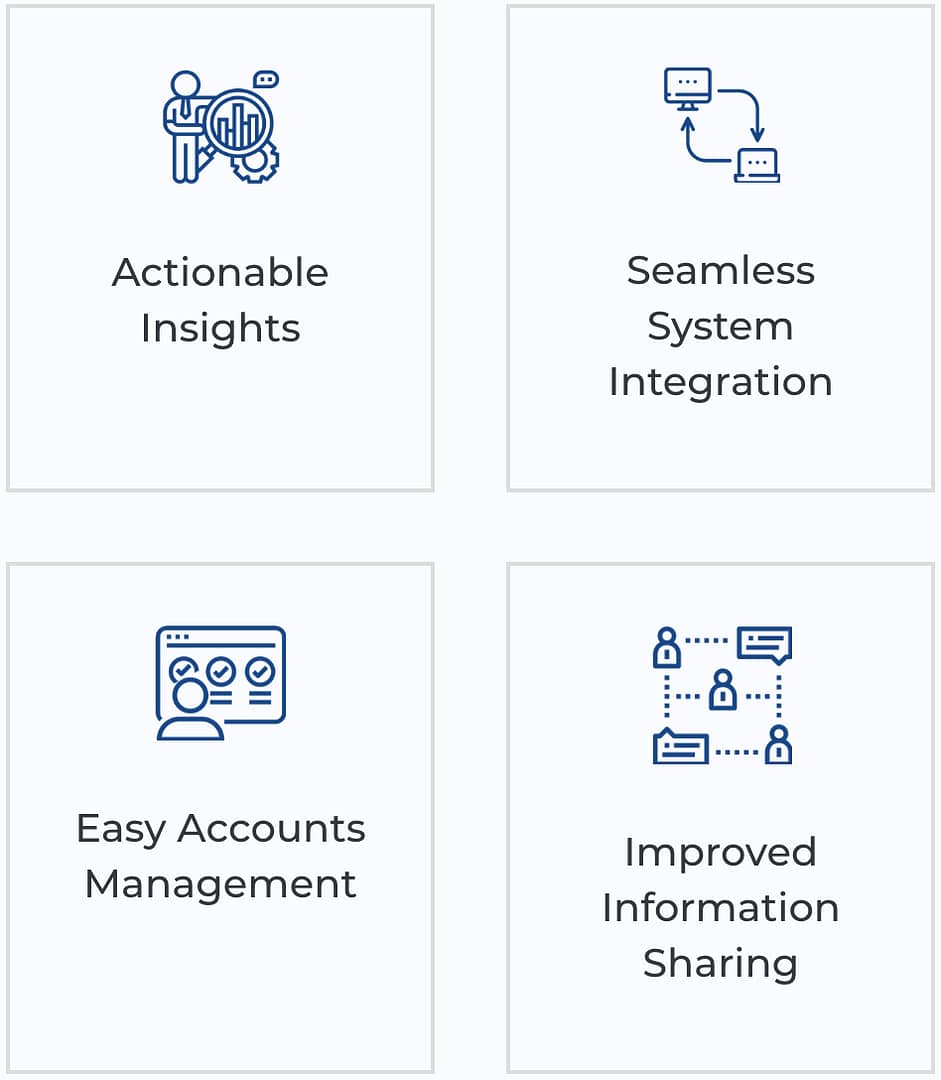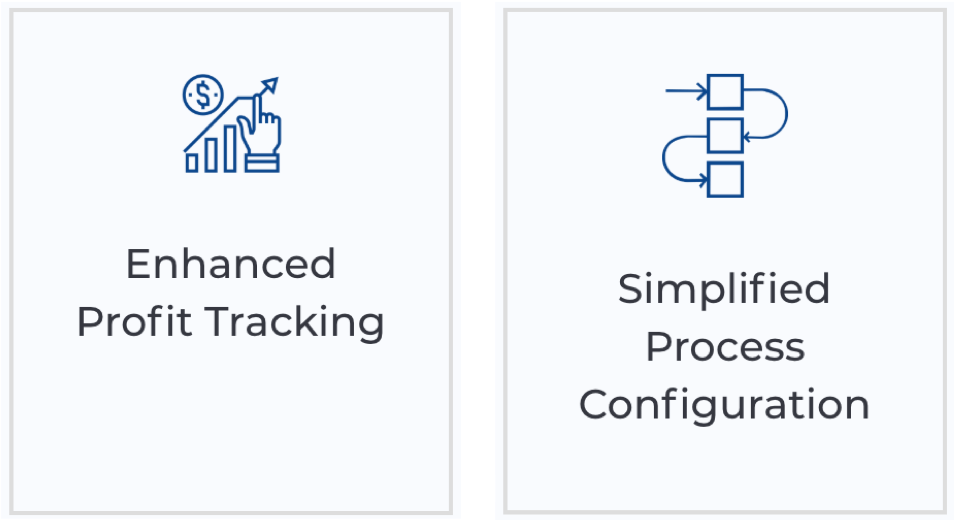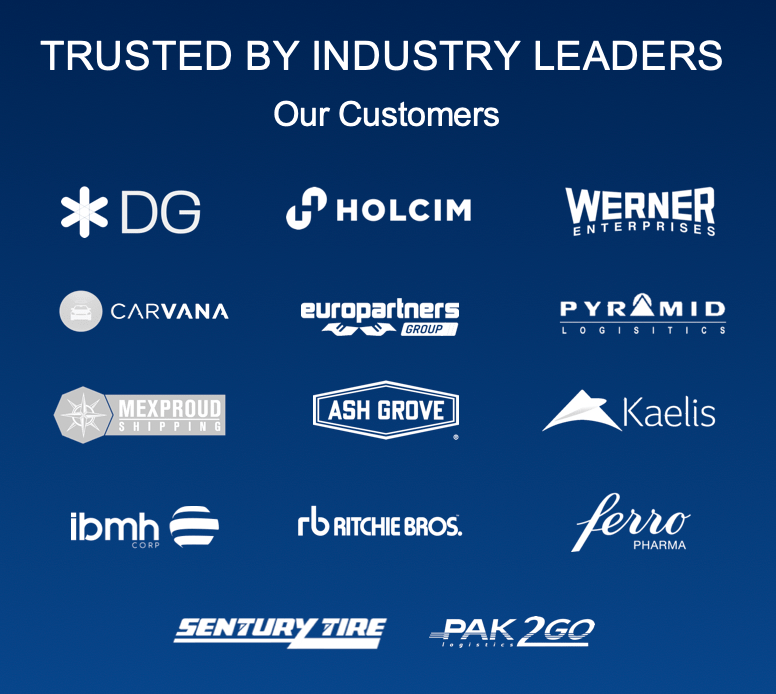 Trusted By Industry Leaders
CUSTOMER TESTIMONIALS
Why Customers Love Neurored
Europartners
"Neurored is 100% aligned to our needs and has become our main tool when it comes to quoting, generating documents, consulting information of our airlines and ocean shipping companies as well as when generating our administrative tasks."

DG International
"Working with Neurored enabled us to go paperless and digital! In a small amount of time, we streamlined our internal processes from Sales to Service, and using the Neurored platform we have managed to digitally transform our business. The team at Neurored is always on hand to support and offer new and innovative ideas. We have really enjoyed working with them!"

Werner Enterprises
"Neurored has eliminated the time we used to spend on bid consolidation for inquiries to be priced and creating Pre-bid Summaries. We have streamlined pricing numerous lanes by multiple teams in their standard interface by having the data all in one place."
Holcim Trading
"We were looking at integrating our middle office, logistics, and invoicing function within the Front CRM in order to simplify the IT architecture, streamline our end-to-end business processes, increase efficiency, and get reports and analytics out of it and Neurored was a very good fit for us."

Ash Grove
Neurored's Transportation Management App has digitally connected our forecasting and importing processes, providing us with real-time visibility into our inventory from source to customer, worldwide. Thanks to Neurored, we now automatically reconcile actual logistics costs against estimates, protecting margins while meeting our customers' high standards.

Let's Get Started
Schedule a Demo Now