DIGITAL FREIGHT AND TRADE NETWORK
Enable Global Trade by connecting all the stakeholders through a trusted member network digitally at your finger tips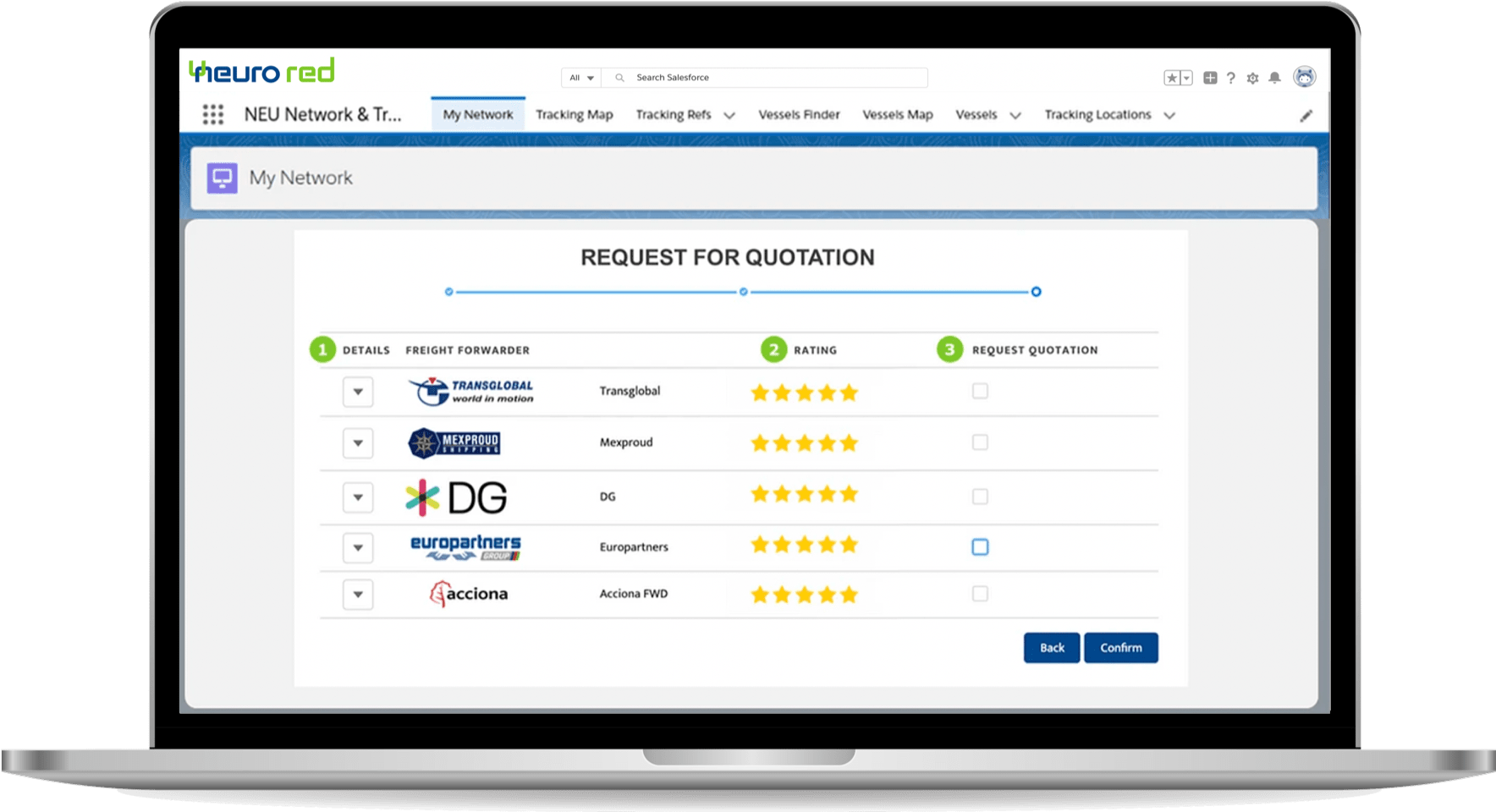 Freight Tendering and Quoting
Electronic Payments
Freight Tracking and Collaboration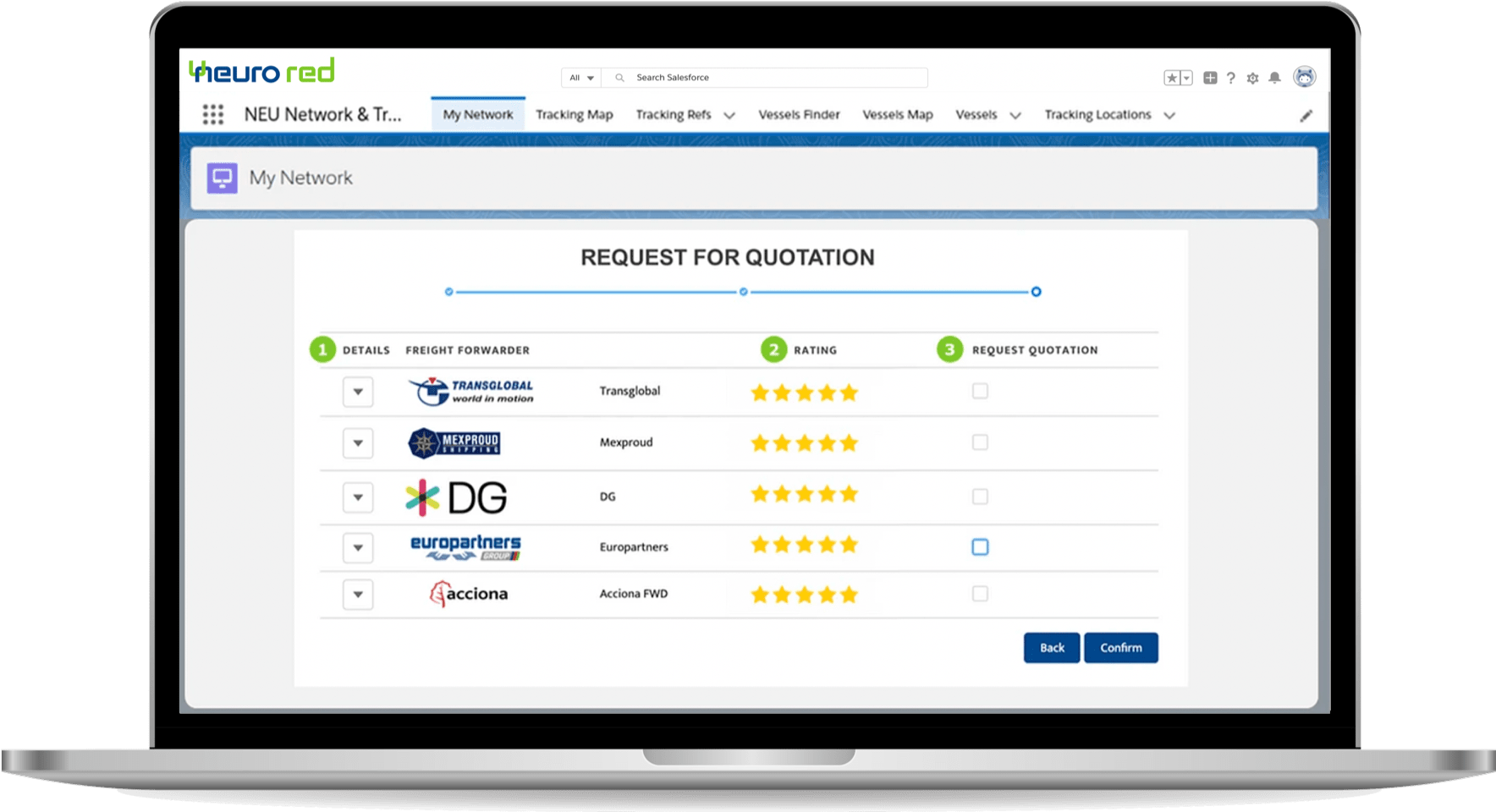 Freight Tendering and Quoting
Electronic Payments
Freight Tracking and Collaboration
DIGITAL FREIGHT & TRADE NETWORK
Combine Communities to Create Your Own Network
The combination of new business models with modern technologies will reformulate, bottom up, the once-and-again recurrent strategic topics; will displace traditional players and raise the expectations of customers to new standards. We have illustrated this with a 2×2 matrix that crosses the dimensions of business model and technology, to discretizes players, closer or farther, to the maximum value performance.
A Digital Freight and Trade Network is the most modern and disruptive concept for 3PLs and 4PLs. This concept drives maximum operational efficiency by leveraging state-of-the-art technologies to collaborate in a very efficient way across all the Global Trade and Transport supply chain.
People involved in the global trade and logistics industry have grown accustomed to the convenience of booking services online. Benefits include clear pricing information, lack of waiting times, and no pressure to purchase are well-appreciated by customers given that wrong decisions could be especially costly.
Watch Our Digital Freight & Trade Network Demo for Sea Freight
The Digital Freight Network is perfect for seamless collaboration between Freight Forwarders, Carriers, and even Shippers. This seven-minute demo video highlights features like Freight Rate Contracting, Spot Quotations, Shipment Tracking, and Effortless Invoicing.
Watch Our Digital Freight & Trade Network Demo for Air Freight
Create a Digital Freight Marketplace for efficient collaboration between Freight Forwarders and Carriers. This four-minute demo video highlights self-service quotation & booking, document management & billing, and real-time business analytics.
Complete Community Collaboration
With a community portal, customers can compare, schedule, book, track, and pay for services at their own pace. Give your customers access to a guided, user-friendly buying process to buy the right goods and services. You can use short, simple, and well-structured questionnaires to understand customer requirements and direct them to the right product or service.
But communities aren't just for customers. You can work with suppliers, carriers, and partners to get end-to-end visibility and control of your supply chain operations. By giving stakeholders access to your community, partners no longer feel like outsiders and suppliers can mass upload their rates into the system pending your approval. This helps bridge gaps in communication, collaboration, and coordination that occur in different processes of your supply chain.
Supplier Communities

Integrate your suppliers through a branded portal dedicated to sourcing
Customer Communities

Provide self-service customer portal to deal with orders and queries
Partner Communities

Create a community to share relevant information with your partners
DIGITAL FREIGHT AND TRADE NETWORK ARCHITECTURE
Demand Driven, B2B Cross-Border E-commerce and Global Transport Network
3PLs and 4PLs could become B2B e-commerce providers for their customers, so that their customers can sell their products through Digital Trade Communities.
3PLs can also enable their customers to search for Schedules and Rates, enable Self-Service Quoting, Bookings, and Track & Trace.
In case the Digital Freight and Trade Network has being developed by a 4PL, they can also enable their customers to search for Schedules and Rates, enable Quote Tendering and Track & Trace.
WAYS TO IMPLEMENT A DIGITAL FREIGHT AND TRADE NETWORK
Option #1: Lead your Own Network
Advantages:
Flexibility to define your own data structure and network business rules.
Fully customizable.
Easily scalable.
Disadvantages:
Longer implementation time
Option #2: Connect with Existing Networks
Advantages:
Connect with existing Manufacturers, Sourcing Agencies, and FFWDs on the network.

Lower Costs of implementation and licensing.
Disadvantages:
No possibility of high-end customization.
Neurored is a trusted Salesforce Partner completely native to the Salesforce platform since 2011. By becoming an Independent Software Vendor (ISV/OEM) on Salesforce, Neurored has coupled its deep industry expertise with the power of the Salesforce platform. Together, Neurored and Salesforce are helping global trade & logistics businesses achieve unprecedented levels of efficiency, visibility, and connectivity.
Network and Track & Trace App
This App is a disruptive concept which allows Salesforce users in your own Org to be connected to Trading and Transport Communities on others Salesforce Orgs.
Network and Track & Trace App
This App is a disruptive concept which allows Salesforce users in your own Org to be connected to Trading and Transport Communities on others Salesforce Orgs.
Configure the Neurored Network App to connect with the Network that aligns with your interests 
Critical Transport Network
This Network is a Salesforce + Neurored initiative to help fight COVID-19
Horizon Network
UK's leading digital Network for multimodal transport and warehousing.
EP4WARD Network
One of the leading multimodal transport and warehousing Networks in LATAM.
DIGITAL TRADE AND FREIGHT NETWORK FEATURES
Offer leading features, backed by the Salesforce Platform to deliver an enhanced and intuitive Digital Buying Experience to customers.
Create a helpful self-service portal for all external stakeholders with purposeful  and consistent branding to improve brand loyalty and trust. Communities are fully configurable to your needs and processes to give users an intuitive and smooth experience.
Customer Product Catalog Upload
Enable customers to upload their own product catalog giving them error-free data and saving you countless hours of manual data entry. Store information from millions of SKUs for use internally and externally. 
Enable B2B E-commerce for Customers
Enable the buyers of your customers to search for and order products through their own Community Network. This saves your customer's sales team hours in coordinating orders and gives them the convenience of 24/7 ordering.
Use Product Catalog for Freight Quotation
Enable your customers to create Cargo Lines with their own Product Catalogs. All this can be done thanks to a tight integration between Customer's Trade Communities and Transport Freight Community which prevents duplicate data entry and makes for an effortless Freight Quotation process.
Freight Tendering and Quoting
Leverage our Veem integration for B2B cross-border payments to make quick and secure payments for products and freight. This integration helps you save commissions and enables you to get unmatched traceability.
Freight Tracking and Collaboration
Get real-time tracking information of all shipments, end-to-end. Easily collaborate with global transport stakeholders through Salesforce Chatter, WhatsApp, or Skype. Send quick messages and documents securely across any device.
Set yourself apart from the competition and increase customer loyalty by giving your customers access to the most advanced analytics in the business. Set up intuitive reports and customize dashboards to help customers uncover valuable shipping insights.
Benefits of the Freight and Trade Network
Quick B2B E-Commerce Deployment
Higher User Satisfaction

Trusted By Industry Leaders
Why customers love Neurored
"Neurored is a complete and adaptable End-to-End Logistics Solution that helped us integrate our logistics and invoicing functions with CRM in order to simplify the IT architecture, streamline business processes, and increase efficiency. We've seen great improvement in functional baseline and in productivity with an incredible 95% user satisfaction!"
"Neurored provided DG with strategic visibility throughout the Covid-19 situation, enabling us to establish new customer relationships in need of Personal Protective Equipment (PPE). DG has delivered more than 30 million pieces of PPE for front line responders, thanks to the resilience Neurored helps us bring to the supply chains of our customers, and their customers."
"Neurored has truly been a Partner for us who have supported us in our growth and development. They took the time to understand our vision before designing a digital transformation solution."
Let's Get Started
Schedule a Demo Now
Europe- Spain:
Paseo Club Deportivo 2, Casa 29
La Finca, Pozuelo de Alarcón.