BLOCKCHAIN FOR COMMODITIES TOKENIZATION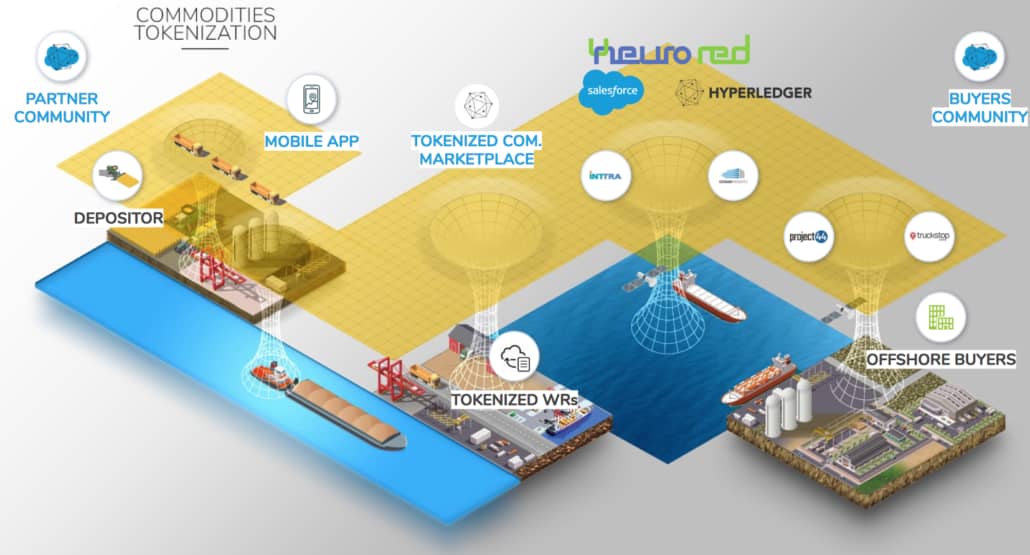 In recent years, technologies such as Blockchain are revolutionizing our society at an exponential speed. In just 10 years, Blockchain went from being essentially what supports cryptocurrency transactions to technology with diverse applications for countless businesses. Naturally, the Supply chain and Logistics industries have developed use-cases solving intricate issues that companies have been facing.Neurored is the leader in delivering real production environments of Blockchain technologies for Global Trade, leveraging the unique combination of the leading cloud platform – Force.com and the leading permitted blockchain technology – Hyperledger Fabric. Our solutions (described below) enable global trading partners to operate with a substantial level of trust, while simultaneously avoiding commercial fraud exposure that is unavoidable in equivalent paper-based processes or unsecured digitized processes.
COMMODITIES TOKENIZATION (DIGITAL ASSETS)
By taking advantage of Hyperledger Fabric, Neurored's platform allows tokenizing commodities by leveraging the security that Blockchain provides. Indeed, trading companies can incorporate key documents to Neurored's secure Hyperledger, saving them both a great amount of time and money by exchanging a trustworthy proof of ownership.
For instance, one application involves the tokenization of Negotiable Warehouse Receipts (WR) issued by authorized warehouses. This process, therefore, accelerates the trading of commodities stored in a warehouse, without requiring any movement of the assets themselves. Digitization of WR encourages trading partners to make secure transactions (WR endorsements) of commodities stored in warehouses and other storage facilities such as silos. Trust between trading partners is based on the digital process and the technology itself, which makes actual commercial fraud impossible. In a similar way, Bill of Ladings (BOL) issued by Break Bulk Shipping Lines can be tokenized to accelerate trade of commodities in transit on vessels.
SECURE MARKETPLACES
Neurored also develops custom marketplaces for its customers in which sellers and buyers can trade commodities through the exchange of these tokens. Our Blockchain ledger of published prices (sale and purchase prices), availabilities, quality parameters, schedules, and orders, encourages trading partners of commodities marketplaces to trade in a safer way.
In addition, our marketplaces seamlessly enable demand and supply of products to meet by agreeing on terms such as price, availability, and quality. By requesting the contribution of a trustworthy third party (e.g. inspection service, warehouse management service etc.) to certify the agreed-upon conditions, the exchange of goods can be carried out in a reliable and unbiased manner.
SECURE FACTORING
Neurored has also built a Blockchain ledger of trade documents (Order, Invoice, BOL…) and related approval processes which enables traders to provide financial institutions more trust over their commercial operations in order to obtain better discount rates for their factoring operations.
At Neurored we have an indefatigable desire to innovate and bring organizations involved in Global Trade the tools allowing them to do business in a highly cost-efficient and sustainable way, as well as gain a competitive advantage by implementing state of the art technologies. Blending blockchain into our cloud platform, thereby enabling easy navigation between the physical and digital dimensions of a business, is just one of the innovations we have conceived.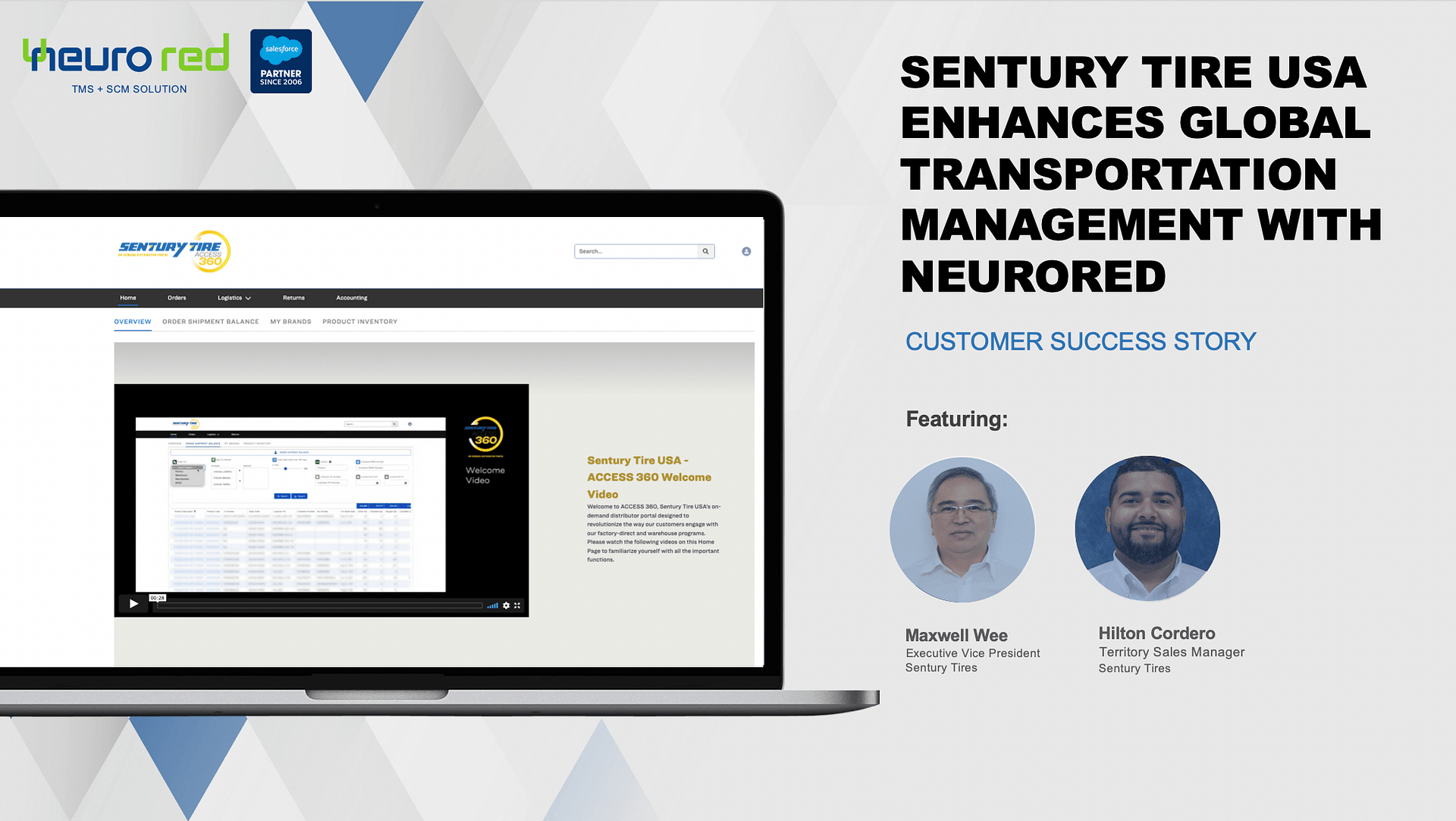 SENTURY TIRE USA ENHANCES GLOBAL TRANSPORTATION MANAGEMENT WITH NEURORED
Success Story
This week, we spoke with Maxwell Wee and Hilton Cordero of Sentury Tire USA (the Executive Vice President…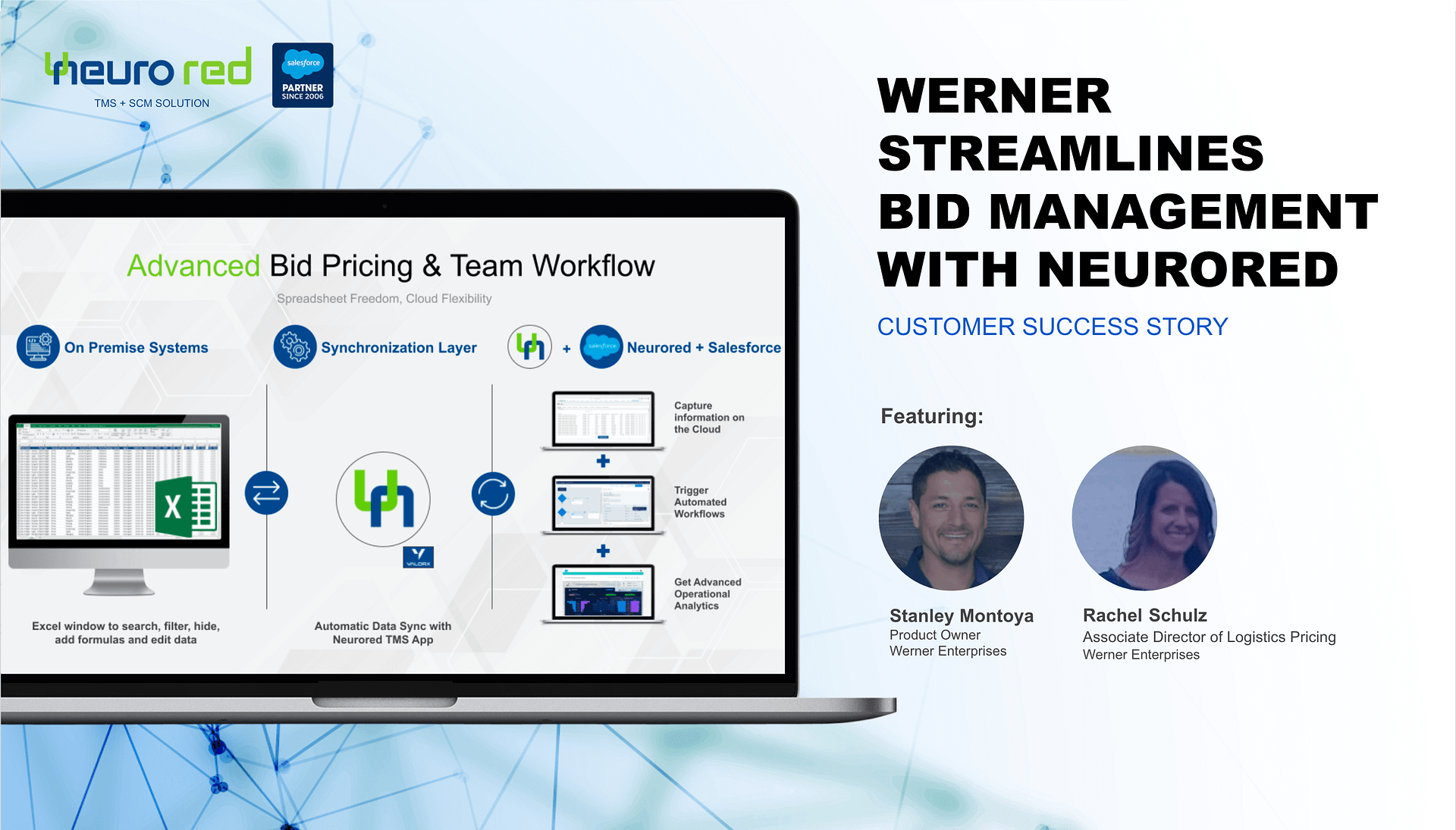 WERNER STREAMLINES BID MANAGEMENT WITH NEURORED
Success Story
Werner Streamlines Bid Management with NeuroredThis week, we spoke with Rachel Schulz and Stanley Montoya of Werner Enterprises (the Associate Director of Logistics…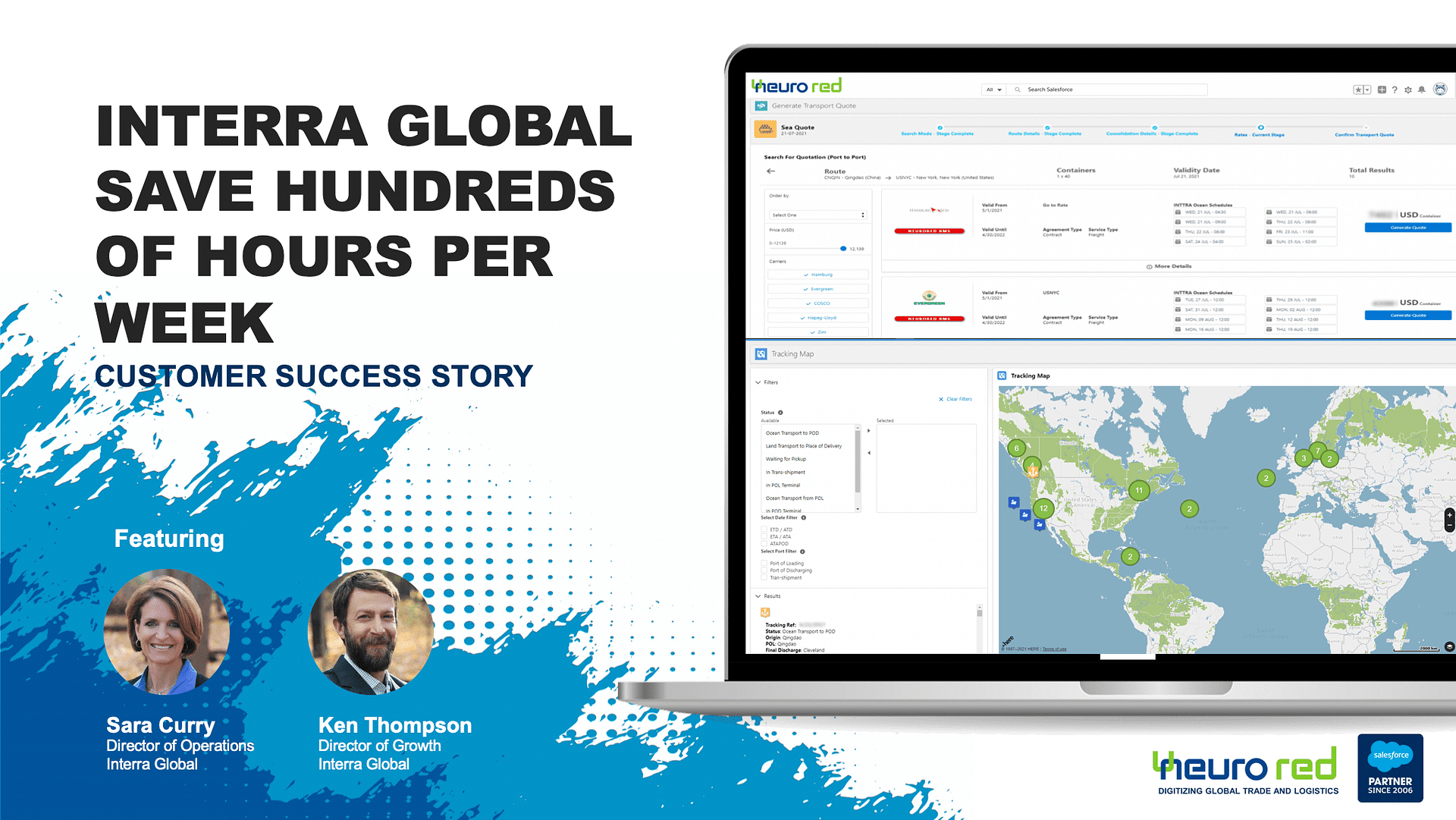 INTERRA GLOBAL SAVE HUNDREDS OF HOURS EVERY WEEK WITH NEURORED
Success Story
In this month's edition of Neurored's Customer Success Stories, we spoke with Interra Global's Sara Curry and Ken Thompson to find out how Neurored is working for them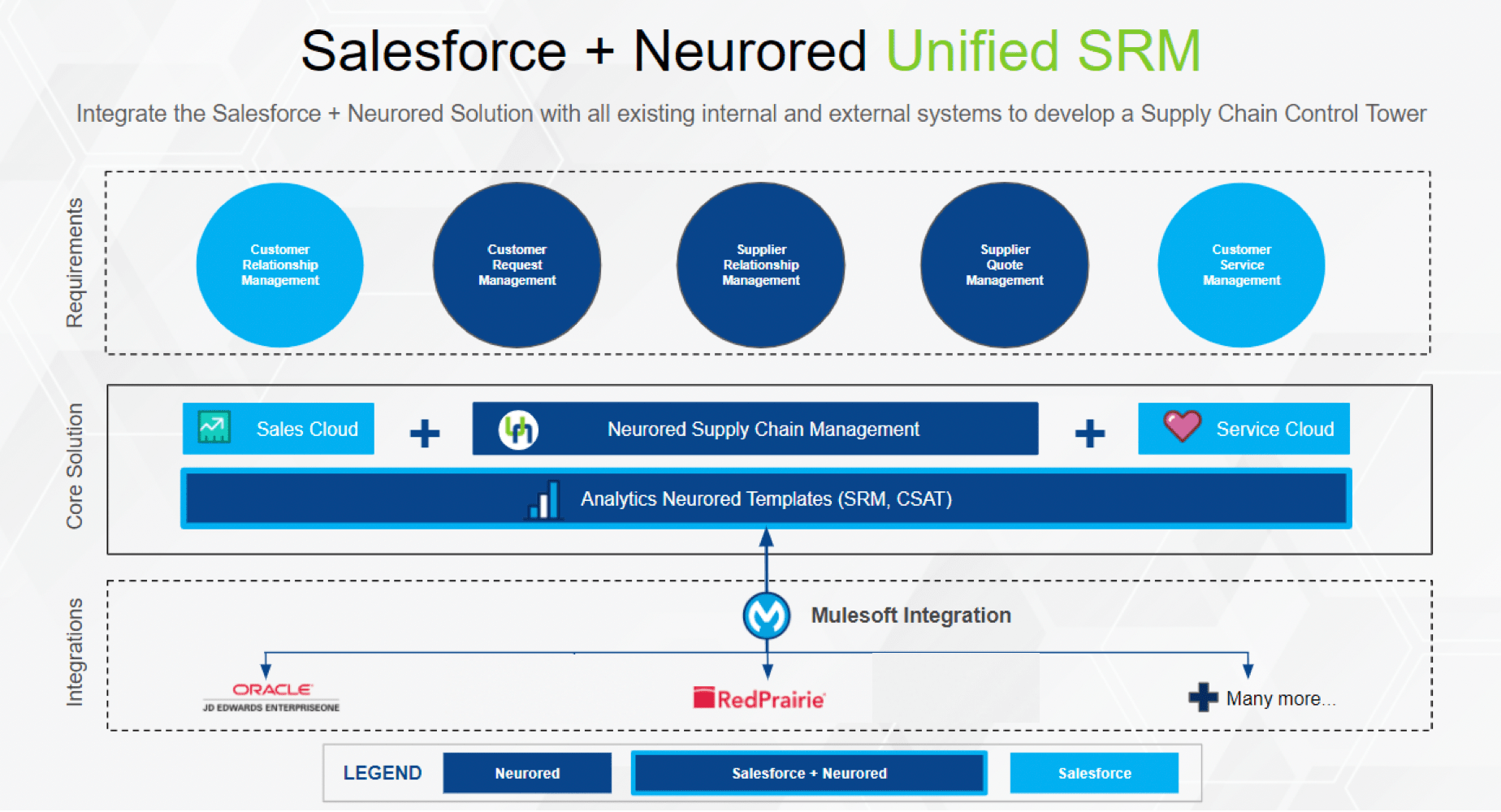 TOP 3 FEATURES FOR SUPPLIER RELATIONSHIP MANAGEMENT SOFTWARE
Neurored Product
Now, more than ever before, there is a need to streamline the operational activities between customers and suppliers. The increasing complexity of supply chains…